Brian Drives Past Cardiac Depression And Heart Palpitations
By Adam Pick on November 28, 2008
There is nothing better than receiving inspirational, patient success stories from my readers.
This morning I opened an email from Brian. As you may recall, Brian experienced cardiac depression following his aortic valve repair earlier this year. As Brian previously wrote to me, "In my opinion, recovery from heart surgery is way worse than the operation."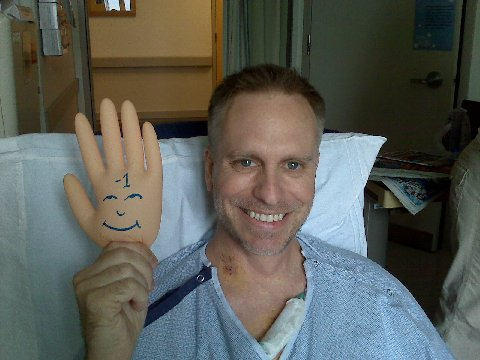 Brian – Holding His Pain Scale
Well… It is now several months later and Brian has a very different perspective to share. Here is Brian's update:
Adam –
I just celebrated my six-month anniversary since my aortic valve surgery. Check me out now! Here's a picture of me at Willows Springs Raceway!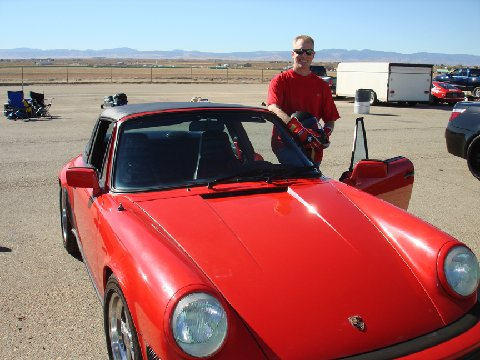 No one could have convinced me that, six months after surgery, I would be pulling high G-force turns on a race track while manhandling a sports car that demands stamina and strength in the heat of the desert.
I remember being so depressed after heart surgery. I felt like a wilted flower. I also remember thinking that my heart palpitations were going to do me in.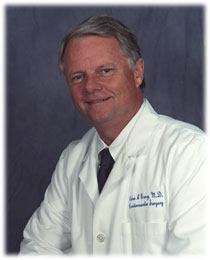 Now… I love my new ticker. Dr. Aidan Raney, my surgeon, fixed me bigtime! I feel like I'm 25 again.
Thanks again for your heart valve book!
Brian

Kevin Hains says

on November 28th, 2008 at 6:15 pm
Brian. Thanks for sharing this info. I am a recent heart value surgery patient, and am in my 5th week of recovery. It (I am experiencing cardiac depression) is the hardest thing I have ever done. I am hoping it gets easier as time goes by, thanks for the positive outlook.
Kevin


Martin D. Goodkin says

on November 28th, 2008 at 9:44 pm
For what it is worth 2 weeks ago, approaching my 4th 'anniversary' of aorta valve replacement, ALL my anxiety attacks stopped–I now take lorazepam just to go to sleep at night and am starting to wean off that–still have other problems but can't tell you how relieved I am to not have anxiety attacks anymore!


Sharon Talbert says

on December 7th, 2008 at 12:12 pm
This is encouraging! My husband, age 47 and a vigorous, otherwise healthy guy, is facing surgery to replace his mitral valve and aorta. Like Brian and others, he repeatedly says that it's not the surgery he fears, but the recovery–sitting around doing nothing and not being able to do work. Maybe if he sees this, perhaps he won't be so down.


Dave McDonald says

on December 8th, 2008 at 8:23 pm
Hello, I am wondering how many folks have experienced anesthesia psychosis or as most MDs call it "ICU psychosis". For me it lasted the better part of two weeks. A week in the ICU and another in general recovery. I'm 75 now and I have done most of the 60's drugs,- during the 60's. I have never experienced the horrific nightmarish visitations of the two weeks following surgery.


Shelby Hudgens says

on February 19th, 2009 at 2:57 pm
Nicole,
Your husband had surgery almost the same day as me. I had a Ross Procedure on November 13. About two weeks after that I started getting atrial fibrillations, which was treated with 50mg Toprol. I did notice that it made me feel down — not totally depressed, just down. Right after surgery, I felt fine, but my surgeon said that if depression was a problem he could give me something. Eventually the down feeling went away.
It has only been a few months since his surgery. These things take time. He may think he can't do what he used to. Anyway, you should talk to your doctor about this. If he is depressed it will hinder his physical recovery. Hope that helps.


Betty Bassett says

on August 19th, 2012 at 5:46 pm
I am 61 and have been married almost 38 years. My 81 year old, otherwise healthy, husband had aortic valve replacement (bovine), aortic root replacement, and a single bypass done August 2nd, so he's about 2 1/2 weeks postop. He has difficulty eating because it causes a stomach ache, so he's been losing weight. He also has great difficulty getting more than a 2 hour stretch of sleep, so that is wearing – partly due to BPH (benign prostatic hypertrophy) urgency, made worse by the catheter. We are both at that place of feeling like this is how it will be from now on. He sleeps upstairs in his electric chair, I sleep downstairs in bed. Your book was a great help, and I knew that the lack of a support system was going to be our biggest problem. We have never had many close friends and depend more on relatives who live over a hundred miles away. It's hard to even write about and leaves me in tears.

Adam's Newest Blogs
Adam's Newest Posts