Pig Valve Transplants For Patients Needing Heart Valve Replacement Surgery
By Adam Pick on March 24, 2008
I just received a question that reads, "Adam, can you tell me more about pig valve transplants? My surgeon thinks that is the best valve choice for me."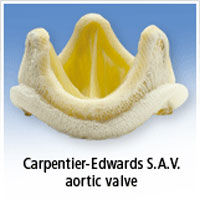 Sure thing. However, I want to make sure you know there are other options for tissue (also called biological) valve replacements besides pig valve transplants. The four key types of biological valve replacements are:
Recently, I was lucky to tour Edwards Lifesciences' manufacturing facility in Irvine, California. As you may know, Edwards is the largest, heart valve manufacturer in the world. Edwards manufactures pig valves and bovine valves used in sternotomy and minimally invasive procedures.
During my visit, I learned a lot about pig valve transplants. It was amazing to see the incredible care and steps required to transform and ready a pig valve transplant for use. From the slaughterhouse, to the measuring, to the treatment, to the stitching, to the testing. It's not easy. On average, it takes about four weeks to transform a pig heart valve so that is ready to transplant into a human heart.
According to The Cleveland Clinic Heart Center, a stented valve was the first generation of pig tissue valves. They have been available for more than 30 years. The pig valve transplants are trimmed and then fixed in buffered glutaraldehyde at high pressure. The valves can be mounted on flexible stents (frames). The bottom of the valve is covered with a seamless knitted polytetrafluoroethylene cloth. This material helps to facilitate the healing and ingrowth of tissue around the implanted valve.
Pig valve transplants have a few major advantages over mechanical valves. One, the patient is not required to use blood thinners (e.g. Coumadin therapy) to prevent blood clots. Two, pig valves do not make clicking sounds like many mechanical valves. Three, pig valve transplants have been around for a long, long time.
However, there is one key disadvantage to pig valves. The life of pig is reported to be between ten to fifteen years. That said, many younger patients question the durability of pig valves. As a result, many younger patients opt for mechanical valves because those valves are composed of materials that are very, very, very durable.
I hope that helps you understand a little more about pig valve transplants.
Keep on tickin!
Adam

Gerald Markoe says

on August 10th, 2008 at 7:42 pm
Are there statitics on how long pig valves last?
I know it says the life of a pig ia 10 – 15 years but
That may be different than how long the valve lasts
thank you
Gerald


Bridget Steider says

on February 5th, 2010 at 8:14 am
question…I have a friend who has had a pig valve used in his heart surgery. he is now experiencing EXTREME ITCHING (this started after his surgery)…CAN HE BE ALLERGIC TO PIG VALVE????? he is also Diabetic…he is now on insulin..they are cautious about giving Prednisone due to blood sugar. what do u suggest???? PLEASE HELP


valdes says

on July 14th, 2010 at 12:24 pm
excuse me if im looking for more information about swine's heart valves do you know where con i foud it??? or what caractheristics does the swine's valves have that they can be transplanted to humans? thank you very much. hope you can help me.


Sarah says

on March 31st, 2011 at 11:31 am
I have recieven a pig valve and im as healther as ever! i know it wont last me my whole life time because im still young, but it will last me a while until my time is up.


Luis Tejeda says

on August 18th, 2011 at 10:16 pm
I am 47 years old and i am diagnose with an aortic isuficiency, some doctor have suggested to do an aortic root replacement and one have suggested just a valve rerplacement as he consideres that the enlargement of my aortic root is not severe. Does porcine prosthetics is good for me? What are the risk involved in a second surgery after 15 years to replace again the valve?
Thanks
Luis


eileen fisher says

on January 4th, 2012 at 12:20 am
My 84 year old father is in hospital now being told his 2life year old pig valve is "leaking like a sieve"i and must be replaced immediately with another one. Cardiologist commented to him "you are old; how much longer do you expect to live, anyway?" Does the Medicare permit patient a choice of replacement valves? He underwent radical masectomy following heart surgery & since this undiagnosed ""leak" problem began earlier this year his lungs were being blamed for many hospital/rehab admissions much weight loss, even malnutrition. Finally now a valid diagnosis after 9I months, and I WANT don't want to lose him any time soon. He has an iron will & is otherwise healthy. Longevity runs in our family


vicki jones says

on June 11th, 2012 at 2:03 am
im 52 with a transposed congenital heart thats never been corrected with transposition of the great arteries going the 18 of this month for pig valve and two other not bad leaky valves and curious if lots or how many about has had this done with good outcome. im in kc mo hope to hear from you and thank you.. vicki 816 3479369


eileen fisher says

on June 12th, 2012 at 4:04 pm
At age 52 it would seem ( I am not M.D. so this is not to be construed as medical advice) that three equally important things should be considered. 1. Select the replacement valve that will last the longest & have fewest trade-offs. 2. Select the best, most experienced team of doctors available for the type of surgery you'll have. 3. Have the surgery done at a facility with excellent record for positive patient outcomes. Knowledge is power. Everything should be fully investigated in advance, all questions should be completey answered & understood by the patient-its always good to have someone accompany you to all visits-all records should be supplied to patient so she can be educated about her conditions & understand, be involved with decision making about her care. It's her life, her future at stake. Not knowing can be as bad as a fatal mistake. If at any time you aren't comfortable or are unhappy with care you're receiving you must take action to have it corrected. Good luck with everything! God Bless.


eileen fisher says

on June 13th, 2012 at 5:35 pm
May I provide update on my 84 year old father? B ack in January 2012 he was admitted for his " lung" problem which was then re-diagnosed to be the failed aortic porcine valve implanted only 2 years prior. After 11 days in a Melbourne FL hospital, with his doctors telling him he was' too old to have surgery' , his health care advocate-me-insisted upon? a physician to physician transfer as he was fortunately accepted as a patient in an Orlando Cardiac hospital, where the surgery was done on octengenarians regularly with excellet outcomes. Immediatly after being transferred , my father, under the care of fantastic team of doctors had surgery; the aortic valve redo-this time a bovine (cow) valve was used instead of the porcine (pig)valve. Under their excellent care he was quickly well enough to go home. He chose to be discharged to home rather than to a rehabilitation facility, receiving the same care as in rehab, but it was on his schedule, not that of the facility or it's staff. His complete recovery was thus hastened due to being with loved ones, in comfortable ,familiar surroundings, familiar food, with less chance for cross-contamination, considerably more rest than if he was in a facility where there is constant foot traffic, noise in hallways, etc. , His full recovery took much less time than the first aortic valve replacement surgery. He is now back to normal, better than he was a year ago(June 2011) when he was at a rehab facility in sights of the grim reaper. My father will soon be 85. He is my hero. I thank God every day. And the team of super doctors who were there when needed.


carthell jones says

on June 25th, 2012 at 3:46 pm
last december i went to jackson general the dr did a thing on me put a tube up my groan found blockage 85%in an arity an aorita anurisum and abad valve now 6 monuths later i am doing great it seems odd that they cut a person open stop your heart lower your body temp to 66 degrees and put a tube in to replace your arota and put a pig valve inside your heart and do a bypass and 7 days later send you home and i feel great how odd is all that oh by the way it did not hurt at all – really – not even a bit dr erik bayer did my surgery dr cunningham is my cartealogist now people i know my spelling is awful if you guys read this hugs all around i love you guys i love the jackson general hospital in jackson tennessee and all the nurses and staff and dawn who walked the halls with me hang in there vickie it gets better i am carthell jones better known as ki4djy@yahoo.com love to all


Eileen Fisher says

on June 29th, 2012 at 12:13 pm
Hello Carthell, What a positive, upbeat & inspirational message. Sure do hope Vickey reads it so she knows she is not alone.


carthell jones says

on July 3rd, 2012 at 1:41 am
hi there eileen what all did you have done i got to where i could not sleep i would go out in the yard and walk and walk did not know what was up was not hurting just could not sleep after about 4 days and nites of this i desided to go see the dr over in henderson he put me on buspar for anxiety that first pill made me so dizzy drunk i could not drive had to call a friend too come after me the buspar did not help at all a couple days later i told mom i had to have something done i called 911 the ambulance took me to the E R down jackson general after getting lasix in an I V drip i felt great had a cat scan it showed a much enlarged aorta 3 times normal a bad valve was also found spent 7days in the hospital then the dr told me that he could not operate until i had all my teeth pulled they were in really poor condition i was sent home went and had the dental work done two weeks later back in for the big deal everything went well
now its 6 months later i am doing good the only thing that was unpleasent was when i was in the i c u coming out from under the drugs and this thing was down my throut i felt like i was chocking glad i went back to lala land anyway i am better well better go for now love to all i am carthell ki4djy@yahoo.com


eileen fisher says

on July 4th, 2012 at 11:20 am
Good morning Carthell. And a Happy Independence Day to all.
It was my 84 year old father who is the patient. As with all of us, when you're faced with the new & unknown, I was suddenly in the midst of a life & death situation involving a topic I knew very little about. My father had not felt well for months. He dropped weight. Continually complained of being tired, feeling weak, having shortness of breath(SOB). His Primary Care Physician (PCP) felt it was due to a problem with his lungs. After several times being hospitalized then discharged to Rehabilitation Facilities, he was no better & no closer to a diagnosis(dx) that would stick and continued to go downhill. On January 1, 2012 he collapsed. Was transported by ambulance("bus") to emergency room (ER) then admitted,having cardiac work up done. Finally someone discovered it was his heart, not his lung, causing trouble. Two days later he was transferred to a second hospital under the care of a cardiologist. We learned the aortic valve "was leaking like a sieve " . Only two years prior my dad had had his aortic valve replacement surgery in the very same hospital. He received a porcine(pig) valve which was supposed to last (probably for the) remainder
of his life.
As it was, the team of doctors now were telling him he was too old to have another open heart surgery, while he just lay there in the hospital bed day after day. Together my dad & I began to question the medical validity of what we were hearing. That's when I found ADAM. So much information , so fast. It was imperative to get my father out of where he was and into a hospital under the care of a team who were confident in their ability to do whatever was necessary to save his life. Dr. Kevin Accola graciously accepted my dad as his patient at The Florida Hospital. His surgery went well. He recovered; is doing well.
Had he not done what he did, I am afraid to think about where he would have wound up. THANK YOU ADAM. THANK YOU EVERYONE AT THE FLORIDA HOSPITAL(ORLANDO) and THANK YOU GOD!


Janice Miller says

on September 19th, 2012 at 11:22 pm
My sister was 9 when she had her heart valves replaced with pig valves. She is 60 now and has no trouble with her valves. She had it done in Cleveland at St. Vincent Charity Hospital by Dr. Earl B. Kaye.


donna carlisle says

on February 18th, 2014 at 2:41 am
for some reason the first portion of my message did not take. My 90 yr old mom had heart surgery years ago. they put in a pig valve. They said it would last about 15 yrs. She suffers for many years now with high bp and has to call the emt.and go to the hospital on a regular basis. Her anxieties about this pig valve running out of time has her in a constant state of fear and anxiety, so please let me know if there is an aklternative to this. At the age of 90, my guess is no, nothing can be done…. but we love her so much and she wasnts to live. thank you inadvance for any input. They have her on about 13 medications. She is high spirited and is a total die hard lady with a lot will to live.


Eileen Fisher says

on February 19th, 2014 at 1:08 pm
Hello Donna,
In response to your question re: your 90 y.o . mother.
No one is "too old" for surgery. Many factors play into decision to have a procedure.
Best thing you can do is locate a top facility with top surgeons in the specialty.
You can find websites with all of the information you seek including what questions to ask
Best wishes. Eileen


koufax55 says

on November 22nd, 2014 at 6:13 pm
Hi,
I had a pigs valve replacement in 2005 and it vegetated in 2011 a piece broke off causing a heart attack..
The fine surgeons at Kaiser Sunset replaced two valves and repaired a third.
I was in Surgery for 10 1/2 hours. I have man other issues including Kidney and Liver and CHF.
God with the help of Pigs valves has given me an extra ten years so far for which I am grateful.


koufax55 says

on November 22nd, 2014 at 6:18 pm
Just a follow up to my last e-mail in both cases it was emergencies and there was not time for informed consent.
Actions were taken to save my life. In both cases it was hail Mary surgeries and God is the one who saved me.


Melissa Valdez says

on January 6th, 2015 at 12:52 pm
Adam, If I had a pig valve replacement when I was 4 yrs old and I am now 43 yrs old, would it need to be replaced again? I had 3 holes in my heart and a mitral valve replaced (with a pig valve), and I am now having troubles with very SOB, bilateral leg swelling, Cardiomegally (the ED said slight Cardiomegally) and a PFO, should I have it replaced again? I don't feel that my Cardiologist is helping me at all, and I am getting a 2nd opinion at the U of M in Ann Arbor, MI. Please help me, what do you think?


Dimegirl says

on June 26th, 2016 at 11:48 pm
I have a friend aged 60 that just got a pig valve and his doctor said 30 years on life span of valve.Maybe your young age made the difference…


Anna says

on September 8th, 2016 at 8:53 pm
Hi my sister at age 7 had the first open heart surgery in middle of chest in Atlanta Georgia children hospital it was in the paper.
This was almost 58 years ago
She still has the pig valves.
At age 64 they still are working.
Last year she had a pace maker put in due to eregular heart beat.
2016
If I had a choice I would use pig valves
I have a few friends that have had problems from useing there Owen blood vessels.
Thank you


Lynn Duff says

on October 6th, 2016 at 6:27 pm
My son had a pig valve implanted about two years ago. He tells me that he cannot exercise because he cannot get his heart rate over 125. Is this true? Are there other limits for patients with pig valves?


shelley lumpkin says

on December 6th, 2016 at 10:17 pm
i got mine in 1958!!!!!!and i am 62 now!!!!!still have the same one…her name is miss piggy!!!!!!!


Tyler Runkle says

on March 6th, 2017 at 4:30 pm
Can you donate plasma after having a pig's valve placed


Alex A says

on April 20th, 2017 at 3:44 am
My dad is 81 and he has valve failer after 15 yrs of use after he got a new one from a pig . Would he make it if he gets another one at his age


racinglawyer says

on April 23rd, 2018 at 7:56 pm
The Dr. who put my valve in said they could last 35+ years…hope he's right….I had mind put in when I was 69years old

Adam's Newest Blogs
Adam's Newest Posts