Mike Gabler, Heart Valve Specialist, Wins Survivor!
Written By: Adam Pick, Patient Advocate, Author & Website Founder
Published: December 15, 2022
Congratulations to Mike Gabler, transcatheter aortic valve replacement (TAVR) specialist at Edwards Lifesciences, for winning Survivor 43!!!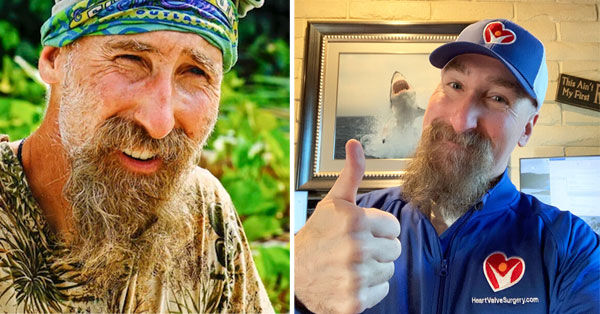 Survivor is one of my favorite tv shows. So, it has been really fun seeing Gabler "outwit, outplay and outlast" the other competitors to become "Sole Survivor".
And… Thanks to Dr. Robert Saeid Farivar, who works with Gabler at Saint Alphonsus Heart Institute in Idaho, I have been fortunate to connect with Gabler during the season. As you can see above, Gabler recently emailed me this picture after I sent him some HeartValveSurgery.com gear.


Shocking Use of Gabler's $1 Million Prize
One of the first questions that Jeff Probst, Survivor host, asks winners of the show is, "What are you going to do with $1,000,000 prize?"
There have been some great answers to that question over the years.  However, I do believe Mike Gabler's response to Probst's question is one of the best.  Watch this video to find out how Gabler is going to use the prize money.
Mic drop.
Curtain fall.
Jaw drop.
Gabler is downright extraordinary!


Transforming His Survivor Dream Into Reality!
There is no doubt about it. Gabler has turned his ultimate dream into the ultimate reality.
I am so inspired by his passion, his spirit, his donation, and his Survivor game play. Go Gabler! Go!
To see more of Gabler's reaction to the Survivor 43 finish at Entertainment Weekly, click here.
Related Links:
Keep on tickin' Gabler!
Adam
Adam's Newest Blogs
Adam's Newest Posts