Mayo Clinic Joins Our Community!
Written By: Adam Pick, Patient Advocate, Author & Website Founder
Published: August 26, 2021
Wonderful News!!!  Mayo Clinic, a top-ranked heart surgery program with cardiac centers in Arizona, Florida and Minnesota, has joined the HeartValveSurgery.com community!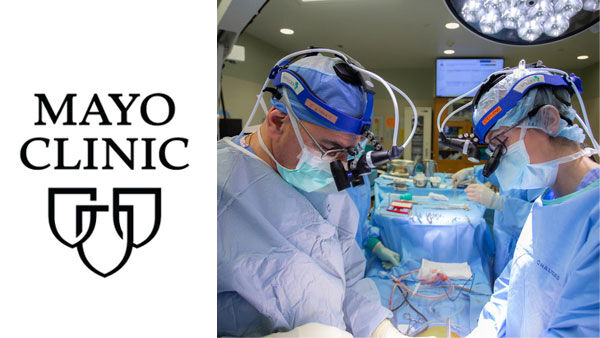 If you didn't know… Mayo Clinic has three fantastic cardiac centers across the United States that have successfully treated many patients in our community including Herman Kanter, Donald Peters and Jane Van Esen.
Mayo Clinic provides complex heart care services in Arizona, Florida and Minnesota
Many patients may already be familiar with Mayo Clinic in Rochester, Minnesota, which performed the first open-heart procedure using a heart-lung machine in 1955.  Since then, Mayo Clinic has pioneered several innovations in cardiac surgery including heart valve treatments.
To provide patients more convenient access to its world-renowned approach to cardiac care, Mayo Clinic opened a cardiac center in Jacksonville, Florida in 1986.  Then, in 1987, Mayo Clinic opened its Phoenix, Arizona campus.
Mayo Clinic is making a big difference in the lives of patients needing cardiac and heart valve operations.  Consider Mayo Clinic's stats for 2020:
Over 4,000 cardiac procedures
More than 2,000 heart valve operations
Over 20 cardiac surgeons
More than 200 cardiologists
Specific to heart valve therapy, each of Mayo Clinic's academic medical centers have a dedicated team of cardiac surgeons and cardiologists to help patients.   Both in-person and virtual consults are available in Arizona, Florida and Minnesota.
Mayo Clinic offers a comprehensive spectrum of valve therapies including traditional, minimally-invasive techniques, robotic and transcatheter options.  In addition, Mayo Clinic teams have specialists that treat common and complex cardiac disorders, including atrial fibrillation, coronary artery disease and aortic aneurysms, which are often associated with valvular disorders. Mayo heart surgeons work collaboratively so that people have access to expert care personalized for their specific condition(s).


Mayo Clinic Microsites Launch
To help educate patients at HeartValveSurgery.com about Mayo Clinic and its approach to all forms of aortic, mitral, tricuspid and pulmonary valve therapies, we just launched three new microsites for each Mayo Clinic location (Arizona, Florida and Minnesota):
Many Thanks to Mayo Clinic!
On behalf of our patient and caregiver community, many thanks to the entire Mayo Clinic team for supporting this website, our community and our educational initiatives!
We look forward to helping your patients and working together!!!
Keep on tickin!
Adam
Adam's Newest Blogs
Adam's Newest Posts