Congratulations to Dr. Vaughn Starnes, My Surgeon, For Becoming the 100th President of the AATS!
By Adam Pick on May 18, 2019
As one of his many patients, I am excited to announce that Dr. Vaughn Starnes just became the 100th President of the American Association for Thoracic Surgery (AATS).  Doctor Starnes succeeded another celebrated surgeon here at HeartValveSurgery.com, Dr. David Adams, at the recent AATS Meeting in Toronto, Canada.
Dr. Starnes is more than a heart valve specialist… He's a heart valve guru!
He performs complex surgery on both adults and children. Some of his former patients include Arnold Schwarzenegger, Max Page and Jimmy Kimmel's son, Billy.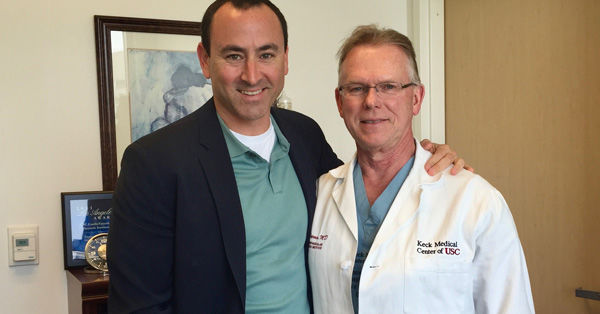 Dr. Vaughn Starnes & Me
Dr. Starnes practices here in my home town of Los Angeles. At the Keck School of Medicine of USC, Dr. Starnes is the Chair of the Department of Surgery.  He is also the Co-Director of the Heart Institute at Children's Hospital Los Angeles.  Under his leadership, USC surgeons have conducted more than 50,000 adult and pediatric open heart surgeries to treat heart valves, perform coronary artery bypass grafts, and to repair complex adult and congenital heart defects.
A Calming Patient-Centric Approach & Superior Surgical Outcomes!
In addition to having extraordinary surgical outcomes, Dr. Starnes is one of the nicest and calming doctors I have ever met.  I'll never forget when my dad, my brother and I met Dr. Starnes at USC for my consult.
We were a mess.
We were scared, nervous and confused.
Once Dr. Starnes walked in the room, all that anxiety simply went away.  During our consult, he explained the problem (severe aortic stenosis) and how he planned to fix it using the Ross procedure.
He was confident but not arrogant.
He was comforting.
Dr. Starnes anticipated our concerns and addressed those concerns one-by-one.
After that conversation, I did not look back.  I didn't hesitate.  I scheduled my surgery immediately.
"That's the guy," my dad said to me. "I was beyond impressed."
Here's a video about Dr. Starnes' approach to cardiac care:
A Wonderful Supporter of Our Community!
While Dr. Starnes transformed my life, I'm not alone in our community.
Over the years, Dr. Starnes and his team have helped so many patients from our community including Debbie Tomlinson, Henry Hoss, Fred Padilla, Andrew Marrama, Steve Plooy and James Coyne.  Click here to see 54 patient testimonials for Dr. Starnes.
Also… Dr. Starnes and USC are long-timer supporters of the HeartValveSurgery.com mission to educate and to empower patients with heart valve disease.  It's been great working with Dr. Baker, Dr. Kiankhooy, Bob, Julie, Eli, Celine, Angie and Brad over the years!
In addition to answering patient questions about heart valve disease (see below), Dr. Starnes recently agreed to develop new educational content specific to pediatric valve therapy and atrial fibrillation.
Congrats to Dr. Starnes and the USC Team!!!
For these, and so many other reasons, I'm thrilled to see Dr. Starnes named the new AATS president.
When we talked about his upcoming AATS presidency at USC a few weeks ago, Dr. Starnes said to me,  "This is an amazing honor that I wasn't expecting.  To be recognized by my peers is very special.  I'm looking forward to it!!!"
Keep on tickin' Dr. Starnes!
Adam