Patient Update: Orest Kozinczuk Applauds New TMVR Feasibility Study!
By Adam Pick on March 22, 2017
Heart valve surgery is in a renaissance.  During the last 10 years, we've seen an emergence of new techniques, new surgical valves, new transcatheter devices and new tissue technologies. To evaluate the safety and the effectiveness of each valvular advance, clinical trials are going on — right now — all over the world. While participating in a research study is not for everyone… Many patients are seeing positive benefits for themselves and for the next generation of patients.
A great example of this is Mr. Orest Kozinczuk from Wheaton, Illinois. Orest suffered from severe mitral regurgitation. He was tired and short-of-breath. Reflecting on his quality-of-life with mitral regurgitation, Orest told me, "My life was going down the drain."  As Orest was at high-risk for a traditional open heart procedure, Orest didn't have many options. Then, Orest heard about a feasibility study for a new transcatheter mitral valve replacement (TMVR). This is Orest's story.
I am so happy for Orest who is such an exceptional person. It was great spending time with him — learning about his time in the Ukraine, his career as an electrical engineer, and his inventions. Interestingly, Orest reminded me A LOT of my Grandpa Zim. Many thanks to Orest for taking the time to share his story with our community!!!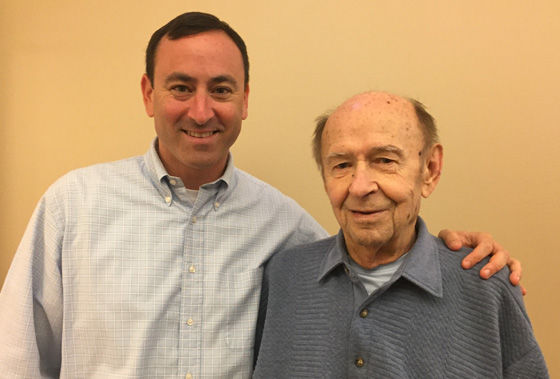 I am also thankful for Dr. Ricciardi, Dr. McCarthy and the entire Northwestern Memorial Hospital team who took such great care of this incredible man during the TMVR feasibility study! From what I understand, running a feasibility study is no small task. There are lots of people and processes required to investigate these new technologies.  Again, thanks to Northwestern for investigating TMVR!
Keep on tickin' Orest!
Adam
P.S. For the hearing impaired members of our community, I have provided a video transcript below.
Orest: I used to do some – a little bit of gardening, and grow peaches in the backyard. I'm quite busy. My name is Orest Kozinczuk. I live in Wheaton, Illinois. I went 15 years without having the valve replaced, but finally, it started getting to the point that I felt weak. I couldn't do anything what I was doing before because I would get tired and short of breath.
Dr. Mark Ricciardi: Orest Kozinczuk was diagnosed with mitral regurgitation. Mitral regurgitation is a disease of the heart which involves the mitral valve, and it occurs when the mitral valve becomes diseased and leaky. When it gets severe, patients' quality of life goes down the tubes. They feel terrible in that they feel very fatigued and short of breath. They have true heart failure symptoms. My name is Mark Ricciardi. I am the Director of Interventional Cardiology here at Northwestern Medicine in Chicago.
Dr. Patrick McCarthy: When you have a severely leaking valve, for most of the patients we see we think about whether we can treat that with medications. There's an occasional patient that will improve with medications, but usually not. Then you're left with surgery as the traditional option. For many patients that's the right choice for them. For Mr. Kozinczuk because of the combination of his age, some other conditions he had, and then the state of his heart muscle, it wasn't such a great option for him. It would have been pretty high risk. For him, that best way was going to be to replace the valve without a conventional operation. My name is Patrick McCarthy. I'm a cardiac surgeon. I'm also director of the Bloom Cardiovascular Institute here at Northwestern right in the heart of downtown Chicago.
Orest: The doctor recommended me to talk with Dr. Ricciardi, and he decided we're going to put a replacement valve.
Dr. Ricciardi: Orest ended up having a transcatheter mitral valve replacement.  Some people call this TMVR, but essentially what it is, it's a mitral valve that can be placed through a catheter. It does not require open heart surgery. TMVR, or transcatheter mitral valve replacement, is the most minimally invasive way we know of, or that we can even imagine, to replace a mitral valve without open heart surgery.  It's an investigational device. We're using it as an early feasibility study. In other words, we're testing the valve, because it's so new, in people who have very bad mitral valve disease and yet have no real good surgical or medical options to make them better.
Orest: They asked me, he says, "How do you feel about the operation?" I says, "Doctor, when I wake up, I'll let you know."
Dr. McCarthy: We were all very happy to see how well he did afterwards. It was really quite remarkable.
Orest: Everything is working fine. The valve is working fine, and I couldn't thank enough Dr. Ricciardi for what he did. Otherwise, I was going down the drain.
Dr. Ricciardi: He's done incredibly well. I've seen him several times in followup and in regular contact with him over the phone. He's a new man. My hope is that these newer devices will give options to patients who are in a jam and stuck with no good options for them.
Dr. McCarthy: I tell my patients they can hear about trials. They certainly don't have to sign up for it. They can just listen to it and decide it's not for them. Look at the other options. There's a whole lot of things that can be done that five and ten years ago weren't possible.

Joanna Prisiajniouk says

on March 23rd, 2017 at 3:38 pm
Hi Adam! Great story about Orest! My Ukrainian father's name is also Orest. Please correct how you address the country of "Ukraine." Never put the word "the" in front of it. It is like saying "the Italy" or the Germany. You say, "in Italy," or "in Germany," just like you need to say, "in Ukraine"….not in the Ukraine. Russian propagandists called it so when it was one of their republics—big insult and grammatically incorrect for all Ukrainians who address it correctly. Thanks for all your hard work in the field of valve replacement. I too had my aortic valve replaced by minimally invasive method at University of Chicago this last July by Dr. Husam Balkhy. Great job! Thanks and best wishes, Joanna Prisiajniouk

Adam's Newest Blogs
Adam's Newest Posts