Patient Q&A: How Fast Does A Heart Surgery Incision Heal?
By Adam Pick on February 5, 2015
I often receive the question, "How fast does a heart surgery incision heal?"
It's a great question. Unfortunately, I don't have a precise answer considering that (i) we all heal at different rates and (ii) many of us will have different incision types — from a full sternotomy to a mini-sternotomy to a thoracotomy, etc.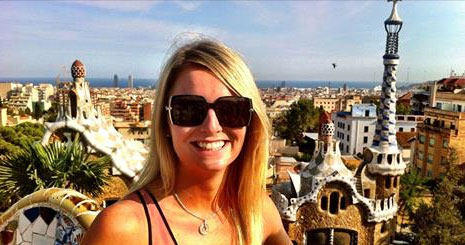 Cristen Marzula – Heart Valve Surgery Patient
That said, Cristen Marzula, from Memphis, Tennessee, just posted an awesome picture in her heart valve journal about the rate at which her incision healed. In the picture below, you will see that Cristen compares her incision 3 days after surgery to a picture of her incision 5 weeks after surgery.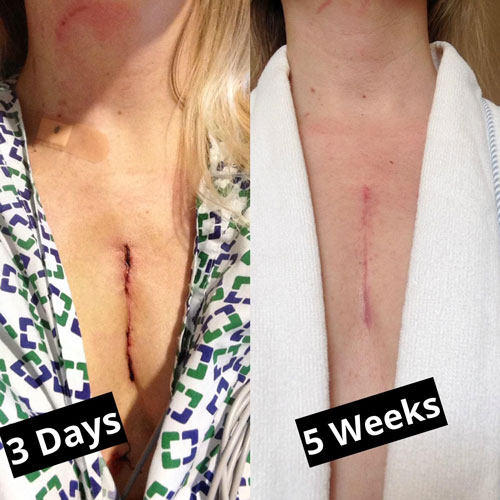 I don't know about you. But, I think Cristen's incision looks great — and really, really small!!!
But wait… There's more to Cristen's story!
So you know, Cristen has a fantastic story to tell about her diseased aortic valve — which turned out to be unicuspid (only one leaflet) instead of bicuspid.
As she writes, "It was during my surgery on December 18, 2014 that Dr. Eric Roselli at the Cleveland Clinic learned that my valve was actually unicuspid. Instead of an entire biological valve replacement, the incredibly skilled Dr. Roselli replaced the partially diseased leaflet with porcine tissue, ultimately creating a healthy bicuspid valve."
Cristen continues, "In essence, my stem cells could potentially grow to replace the porcine tissue, increasing the longevity of the valve and making it my very own – pretty phenomenal! A Dacron graft was used to replace the diseased tissue of the ascending aorta. I feel truly blessed for the surgical expertise of Dr. Roselli and his genuine compassion for his patients. Thank you Cleveland Clinic for EXCELLENT care!"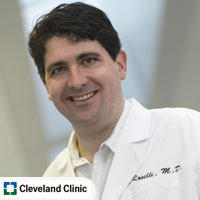 Dr. Eric Roselli – Cristen's Heart Surgeon
Many thanks to Cristen for sharing her pictures and her story with our community. Also, great job to Dr. Roselli for helping Cristen!
Keep on tickin!
Adam
Adam's Newest Blogs
Adam's Newest Posts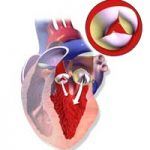 Surgeon Q&A: What Should Patients Know About Aortic Regurgitation? Learn More.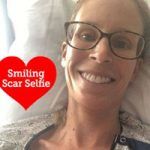 Sara Educates & Inspires 38,443 People About Heart Valve Surgery! Learn More.