Special Patient Update: Little AJ's Wish Comes True
By Adam Pick on December 18, 2013
In 41 years of life, I had never experienced a wish-granting ceremony by Make-A-Wish.
That recently changed, however, thanks to a phone call I received from Edwards Lifesciences, a leading heart valve manufacturer. During that call, I learned that little Abraham Jordan Iqueda (AJ), a courageous five-year old boy — diagnosed with aortic and mitral valve disease, plus CHARGE syndrome — was about to receive a special wish at his home in Lake Elsinore, California.
To share AJ's story with you, I created the video below.
Needless to say, I would like to thank the Iqueda family — AJ, Vicky & George – for opening their home and their hearts to me. It was an honor and privilege to be a part of this wish granting experience.
I would also like to thank the people at Make-A-Wish Orange County and the Inland Empire and Edwards Lifesciences for providing AJ his wish. In particular, I would like to thank Amanda Fowler, Brian McIntee, Amy Singh, TJ Quigley, Sharidan Railsback, Derrick Davis, Patricia Miller, Sieg Weber, Stephanie McCormick and Christina Sandoval for creating a world in which AJ can swing and slide to his heart's content.
To learn more about Make-A-Wish Orange County and the Inland Empire, click here. To learn about The Edwards Lifesciences Fund, click here.
Keep on tickin' AJ!
Adam
P.S. For the hearing impaired members of our community, I have a provided a written transcript of AJ's video below.
Adam Pick: Today, we're in Lake Elsinore, California where two special teams from the Make-A-Wish Foundation and Edwards Lifesciences have come together to grant a special wish to Abraham Jordan Iqueda, also known as AJ.
Vicky Iqueda: What people can learn from AJ is that he's a little kid just like any other. We just have some special circumstances. AJ was born at 37 weeks. He was born via emergency c-section. He was immediately intubated. We were then told that his aortic valve was dented. He has what's called a cleft mitral valve. It could stop moving. It could stop working. AJ has had three open heart surgeries. After every heart surgery, there has always been what I've been told from his cardiothoracic surgeon, "We don't know what his heart will allow us to do. Just prepare yourself for the worst."
George Iqueda: I mean, when he was born, he was supposed to live only a couple of days, and doctors say he will never walk, he will never eat through his mouth. He has surprised me a lot. He's a warrior; he's a fighter.
Vicky Iqueda: He then needed other procedures that came along with CHARGE Syndrome. I have dreams and I have hopes for AJ. He was told he'd never sit up, never stand. He's now walking. We've been told he'll never hear. There's obviously an awareness for sound. So, I hope that he can learn communication and speech. I hope that he can be integrated into our society and accepted, and that he can do something for others in his own condition. I got a call from the Make-A-Wish Foundation, and they said that Edwards Lifesciences was going to give AJ the wish of having a play set in our backyard.
Amanda Fowler: We are in Lake Elsinore today to make a wish come true for a heart valve patient, a little one. We've got about ten volunteers from Edwards Lifesciences coming out and we're building a playhouse, and that's his wish. We're going to make it happen.
Vicky Iqueda: I'm just blessed by Edwards Lifesciences. Having their own people be involved creating a play set for my son, which is one of the wishes he's had that he will enjoy. It's incredible to know that it's Edwards because they specialize in heart valves.
George Iqueda: It feels great to have all these people. They're volunteering. They could've been doing something else, especially with the holidays coming up, and it makes me want to volunteer, too, and it makes me happy 'cause it's for my son.
Brian McIntee: This Make-A-Wish event is important for Edwards Lifesciences because we like to give back to the communities in which we serve.
Vicky Iqueda: AJ's wish for his playground is definitely coming true. He was out in our backyard earlier already trying to get into the play set, even though it wasn't build yet.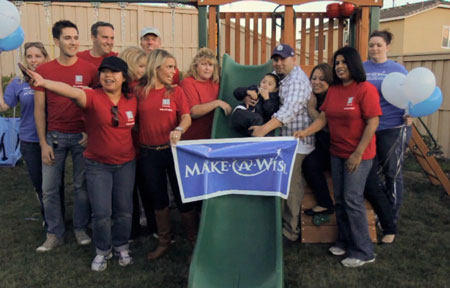 The Iquedas, Make-A-Wish & Edwards Lifesciences Volunteers
Amy Singh: The playground is almost done and just seeing AJ on it and coming down the slide, and smiling, and wanting to go back up, that was it. That was just all that work paid for right there.
Sieg Weber: Each wish presentation is as special as the wish child, and you got to look in their eyes and the eyes of their parents to understand why. You can't explain it. It doesn't get any better than that.
TJ Quigley: It was super satisfying. I saw him come out when we were about halfway done. I'm like, "Oh, we're almost there," so we put up the swings and then he just got to go on the swings, and you could tell he was loving it and then now that we finally got it done, you could see him crawling up the stairs, and going down the slide, and I think it's going to be tough to pull him off of it. He's having a great time.
Brian McIntee: If there's one thing that I'd tell people from the Make-A-Wish event today, it's get involved. So little goes such a long way in impacting people's lives.
Amanda Fowler: I feel so lucky to be an Edwards' employee and to oversee global philanthropy for a company that has an amazing heart. When we say we're passionate about helping patients, it's 'cause we really care. It's at the core of who we are. If you ask employees all across the company, all across the world, they will say the same thing. It comes from deep within. It's an amazing culture.
Vicky Iqueda: To the employees at Edward Lifesciences, I just want to say thank you. Thank you from the bottom of my heart for making my son's wish come true. Thank you for building products that keep heart patients alive, and thank you so much for just working so diligently in what you do. And, if you want, you can build a little valve for little AJ. Thank you.

Diana Babcock says

on December 19th, 2013 at 8:57 pm


LaRena says

on December 21st, 2013 at 8:37 pm
What a heart warming story. So glad that there are people and place who are willing to give from there heart to help others.


Ellen McLean says

on December 22nd, 2013 at 3:07 am
What a wonderful story! So happy for AJ, his family, and the wonderful folks who made this wish happen.


Lorena Carrillo says

on January 16th, 2014 at 11:18 am
Thank you very, very, very much for all that you in this world. Thank you even more for giving AJ this playground. It takes courageous people to give so much and may God continue to bless all of you in abundance. AJ I hope you enjoy your new toy!