Medical Mission Update: In The Dominican Republic, Four Patients Get A "Second Chance" At Life
Written By: Adam Pick, Patient Advocate, Author & Website Founder
Published: November 8, 2013
I recently traveled from Los Angeles to the Dominican Republic for a medical mission to treat patients with heart valve disease. Since I had never been on a mission, I didn't know what to expect. After the mission, I can share that this five-day event altered my perception of human kindness. I was touched, moved and inspired by the patients, their families, the nurses and the doctors who came together for this extraordinary mission.
While in Santo Domingo, I saw four patients get a "second chance" at life. While in Santo Domingo, I saw three medical teams — Mount Sinai Hospital, Piedmont Heart Institute and Hospital General de la Plaza de la Salud — achieve surgical success. While in Santo Domingo, I also had a camera and a microphone which captured several beautiful moments on film. That said, I created the video below to share this experience with you.
On behalf of the patients, their families and friends, I would like to thank the Mitral Foundation for organizing and financially supporting this mission. In particular, I would like to thank Dr. David Adams, Dr. Ricardo Lazala and Gideon Sims for inviting me to Santo Domingo for the mission. I would also like to thank each person from The Mount Sinai Hospital and Piedmont Heart Institute teams including Dr. Gregory Fischer, Dr. Fred Lajam, Dr. Federico Milla, Dr. John Gott, Juan Obando and Mary Joy Santillan.
From Hospital General de la Plaza de la Salud — which hosted us so kindly in Santo Domingo — I would like to thank Dr. Miguel Guerrero, Dr. Bernarda Cedano, Dr. Warenny Montero, Dr. Alcantara Abreu Silverio, Desiree Diez Portela and Greisy Conception. I would also like to thank Edwards Lifesciences, Medtronic and Sorin Group for donating many of the medical devices and equipment that were used to reconstruct the mitral valves of each patient.
The Video Transcript
For those members of our community who are hearing impaired, I have provided a written transcript of this video below.
Adam Pick: Today, I'm thrilled to be with Dr. Ricardo Lazala of the Mount Sinai Medical Center. We're having a conversation about some incredible medical missions that have been going on in the Dominican Republic.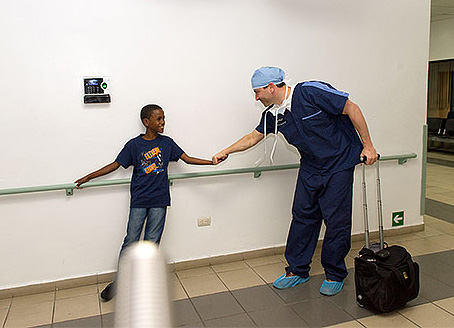 Dr. Ricardo Lazala: My name is Dr. Ricardo Lazala. I am the senior clinical director and assistant professor of cardiothoracic surgery at Mount Sinai Hospital. For this mission, I am the medical clinical coordinator. We have two reasons to work directly in Dominican Republic. The first reason is it's a clinical condition because of the high incidence of rheumatic fever. The second reason is because the Dominican Republic is a developing country and these patients have limited access to the healthcare system. My responsibility is to oversee the relationship between Mount Sinai Hospital and Plaza de la Salud.
Dr. David Adams: We are trying to develop reference centers for mitral valve disease treatment in other areas around the world. We have a very important friendship and relationship with this hospital. So, I've come down with a lot of team members. We've been operating with the excellent team here in trying to broaden our horizons a bit in terms of mitral valve repair.
Dr. Miguel Guerrero:  We are planning to build a special mitral valve repair program that is headed by Dr. Adams and Mount Sinai Hospital. The plan of the hospital to make us a point of reference, in the national situation and international landscape.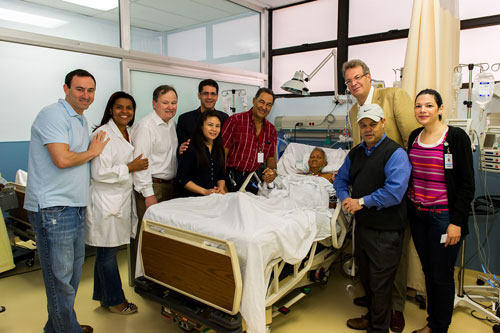 Dr. Federico Milla: This is our third mission here to the Dominican Republic. We came down for the first time about a year and a half ago. We did surgery on two patients who had rheumatic disease. We were able to repair both of those patients' valves.
Dr. Ricardo Lazala: You need a lot of resources. Every mission is different. It's a combination of a lot of factors; instruments, equipment, and staff. It's effort and dedication of a lot of people and technology in order to perform that complex surgery in the Dominican Republic.
Mary Joy Santillan: We brought everything — the instruments and stuff like that, to be able to do the surgery, and to make it work flawlessly, as if we were at home in New York.
Adam Pick: Just in the last operation, I noticed you were not only taking care of the patient with the anesthesia, but you were doing a lot of work on the ultrasound. Do you have more than one function in a surgical setting?
Dr. Gregory Fischer: Yes, the role of the cardiac anesthesiologist is not just to provide anesthesia during cardiac surgeries but also to acquire and interpret ultrasound images, which is done by echocardiography.
Dr. David Adams: The most incredible thing about these trips is meeting patients and families. We've had an especially neat group of patient stories this week. It's really been gratifying and we've tackled some very difficult cases, and so far so good. We've had some great outcomes.
Dr. Ricardo Lazala: The Mitral Foundation means a lot for me because without Mitral Foundation, this cannot be done. It's impossible. I can tell you so far, we need to talk about equipment, we need to talk about instrument and staff, and also the important factor here is the donors to support this mission.
Dr. David Adams: So, this patient had a bileaflet mitral repair yesterday for a prolapse, and you can see he's doing very well. He was symptomatic with mitral valve regurgitation. He has three beautiful daughters and a very caring wife. So, we're very excited for him.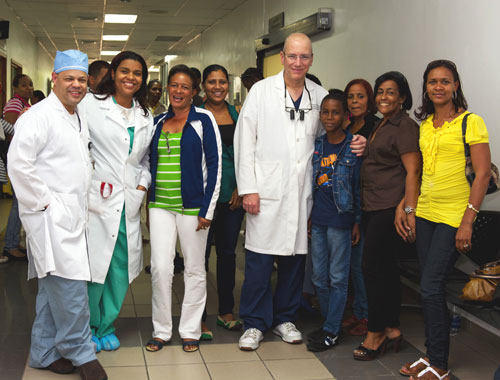 Adam Pick:  Can we go to the next patient and you can maybe just share who the patient is and what procedure they had?
Dr. Bernarda Cedano: This is Mrs. Natalia Santana. She's 72 hours after surgery and she's doing fine.
Adam Pick: There's an incredible story I've heard about a 24-year old during this mission. Can you tell me about it?
Dr. Ricardo Lazala:  Yes, I'm so excited with you talking about that. This was 24 year old female patient. She got surgery when she was a child and that was a very complex case. We learned about this case after the mission is over. So we are ready to leave. We already have our patients in the ICU. But, Dr. Adams said, "We are staying. We won't leave. We need to take care of this girl. I cannot leave this patient behind because this patient will die. It's a very complex case. Nobody can perform that case here in the Dominican Republic. I want to do it."
The outcome was excellent. It was 100% achievement and this patient will have a wonderful quality of life. This patient went back to her family and take care of her chile. We want to bring the same resources to the most needy in Dominican Republic.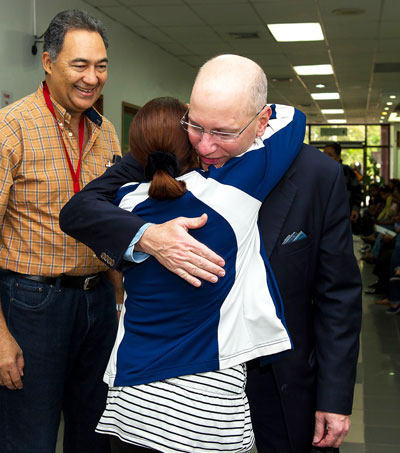 Thanks again to everyone in our global community for supporting this special Mitral Foundation mission in the Dominican Republic!
Keep on tickin!
Adam

Cedano MD says

on November 11th, 2013 at 4:44 pm
Just beautiful !!!!!! Thanks Adams


Susan Smith says

on November 12th, 2013 at 10:32 pm
Adam every story is a miracle. My father had rheumatic fever as a child and was told he would not live beyond his 20's, but he lived to be 47 and then passed. I was 16 years old and now in my 70's. I now know so much more about what his heart problems were than ever before. If he had lived in this day and age he would have had a chance for a normal life . He died of uremic poisoning or kidney failure which was the result of congestive heart failure. Now I am facing AVR myself and find this all very touching. I am moved by the fact that these highly skilled doctors are going to another country and saving lives. They are truly the instruments of God performing miracle and after miracle. Thank you Adam for sharing. God is using you too in a very special way and I am thankful.


shahzaib haroon says

on November 17th, 2013 at 7:28 am
well done ADAM keep it up you are really serving the humanity with the true spirit a great doctor should have god bless you


Maureen Lamarche says

on November 17th, 2013 at 11:54 pm
I am so happy for them. Thanks for sharing. I also appreciated seeing the team at work as in my own case I didn't realize until afterwards how many professionals are involved in this surgery. Maureen

Adam's Newest Blogs
Adam's Newest Posts