Caregiving After Heart Surgery: 5 Tips for a Speedy, Healthy Recovery
By Adam Pick on October 30, 2013
Going in for surgery is not easy, but it can be equally challenging on the caregiver as on the patient. Post-op care requires patience, compassion and a bit of basic medical knowledge to smooth your loved one's journey after heart surgery.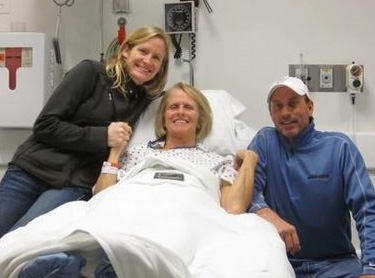 Deb Ziegler, Mitral & Tricuspid Valve Patient, with Josie & Jim
1. Figure Out the Patient's Preferences BEFORE Surgery
As with many aspects of a relationship, communication about surgery expectations is key. Don't wait until your loved one is recuperating on a couch to find out what he or she needs. Instead, have a detailed discussion in the days or weeks leading to the surgery. Does the patient want visitors after arriving home? What types of foods make him feel best when she's sick? Do books, movies or video games relax him? Discuss these aspects of post-surgical care before the operation to ensure you're both on the same page.
2. Get Specific Instructions from the Surgical Team
Medical instructions for post-heart surgery care may vary by individual circumstances. High risk patients, individuals with diabetes and other special populations may have different recommendations for caregivers. Talk to the nurses at the hospital for specific post-op caregiving instructions (most facilities have a detailed checklist for family members). Remember to ask about wound care, mobility, diet and medications if the medical team doesn't make clear recommendations.
3. Wound Care
It's essential to keep the surgical incision clean and dry to prevent infection. Wash the incision gently with warm water and mild soap before patting dry (no rubbing!) with a soft cloth, the University of Southern California Keck School of Medicine recommends. Check the incision periodically for signs of infection. If you notice increased drainage, redness, warmth along the incision, fever or opening of the incision, call your surgeon for advice. These signs of infection may warrant further medical intervention.
4. Be Aware of Dietary Limitations
Typically, surgical patients cannot eat before receiving general anesthesia. After heart surgery, many patients have a diminished appetite for several days or weeks. Discuss your loved one's dietary needs with her medical team. In general, clear liquids can be some of the best foods to eat in the days following surgery, according to St. Joseph's Women's Hospital. Include simple broths, apple juice, Jell-O, tea or crackers in your loved one's diet. As your patient recovers, adding solid food in small portions is fine. Avoid greasy, spicy and heavy foods in the first day or two following surgery. Because many heart surgery patients have a diminished appetite, preparing several smaller meals throughout the day may be easier than sticking to your typical meal schedule.
5. Know the Limits of Your Own Abilities
Even the most caring and compassionate individuals struggle to assume a caregiver role. It is important to consider your own needs when planning for a loved one's surgery. In many cases, professional caregivers are able to provide a higher level of patient care, reducing the toll on your health and emotional well-being. For example, Emeritus offers assisted living communities that provide health care, meals, and recreational opportunities for patients requiring post-surgery care. Finding an assisted living community may be a good choice for caregivers with their own physical difficulties or health problems.
Keep on tickin!
Adam

Henry Brosnaham says

on November 14th, 2013 at 6:27 pm
Hello! I walked into Mt.Sinai(Miami beach) Oct 7(mon)and had a new aortic valve and major repair on my aorta,etc., and walked out Oct 11(fri)2013 and didn't need any pain meds,etc., Dr. Lamelas & staff are fantastic and they only made a 3″ incision above my right chest. I chilled for a few days and then my wife drove us back to Tampa and and I took it easy for about 10 days and went back for post op exam and all was good and I get better each day. Have to remind myself to not overdo it as I have no pain other than the little tenderness around my incision for a few weeks. I am in week #5 and have been driving 2 weeks and selling real estate(I'm a broker), but taking it easy. Lost 20 lbs went from 202 to in about a week and have been trying to keep that physique. BP is good and heart rate is much slower than before..I was at 95-100 most of the time and now a cool 65-75 bpm…Can't say enough about the treatment there at Mt.Sinai…Lucky to be alive as I had 0.5 aortic valve and 80% blockage main coronary artery and 4.5cm aneuyrsm in my aorta,etc.,Hang in there if you have issues…There has to be a place that can fix you up just fine! Think Positive! :)68 and ready for many more good years!


michael greene says

on November 15th, 2013 at 8:58 pm
Dear Adam:
I had my aortic valve replaced about 18 months ago. I am very grateful however, the valve makes a very loud ticks. Are there any special music tapes I can listen to to drown out the ticking noise so I can get to sleep faster? Thank You Michael


Beth Graham says

on November 21st, 2013 at 3:11 pm
I just had open heart surgery on 10/16/13 I am 49 yrs old and one of the best things for me was to have soft couch pillows the small kind the heart pillow was great for the 1st 2 weeks but then I needed a lighter softer one and I also found lap blankets were my choice rather than the regular sized blankets , also for us women that are large chested wearing tank tops without lace .


Tony Mule' says

on November 21st, 2013 at 5:11 pm
It was hard (and painful) to sit up from laying flat on the bed, so my wife folded a futon mattress in half and placed it under the top end of the existing mattress. This made the head of the bed semi upright. It helped a lot.


Pam M. says

on November 23rd, 2013 at 11:37 am
One thing I would pass on to anyone visiting a OHS patient is that people should not overwhelm the person they're trying to help. I know that if I had someone coming over to say hello, or to have tea with me, then I would feel pressure to be entertaining. Remember, recovering people, even though they feel well, still have had a "gross surgical insult" to their body. My physiotherapist, after knee surgery, put it most aptly when she called it an "organized knife wound" instead of an operation. You wouldn't expect a stabbing victim to be energetic and ready to experience long, emotionally charged conversations so it's not really appropriate to expect your valve recipient to be any more able to stand up to it. Please visit, but don't stay long and don't be critical of appearance, tidiness, or attentiveness when you're there.


anne johnston says

on December 3rd, 2013 at 7:39 pm
I had a AVR on January 15th 2013, minimally invasive incision,my surgeon Dr Kenneth Herskowitz,in Ft Lauderdale Florida, I was only in the hospital 3 days, couldnt believe how well it all went.
I was so grateful I signed up for a 1/2 marathon,to raise funds for World Vision, my first time, on November 10th 2013 and completed it successfully, I am 73yrs old.
Your website and your book helped me tremendously, thank you so much, I am sure you have helped many people at a most difficult time of their lives:)


Patricia says

on December 3rd, 2013 at 8:28 pm
Dear Adam:
I had open heart surgery 8 years ago and would like to share with your audience some aspects of my pre-op that were extremely helpful: I let all my family members, husband, 9 & 16 years old daughters know exactly what the process would be during and after the surgery. I explained my fears to my beloved yoga teacher and wrote a letter to each of them mentioning how much I loved and admired them.
My husband says that he saw an angelical, serene expression on my face just before leaving for the intervention.
I thank greatly all that has happened to me since.
Yours,
Patricia