Top 5 Questions About Wednesday's Webinar For Patients
By Adam Pick on November 5, 2012
This Wednesday, November 7th, I am going to host a live, online webinar titled, "Advancements in Aortic Valve Surgery"with Dr. Davidson and Dr. Malaisrie from Northwestern Memorial Hospital.
Already, over 100 patients have registered for this webinar! Given the exciting topic of this educational event, I have received several questions about the webinar from our community. To help you learn more, I have provided below the top five questions about this webinar below.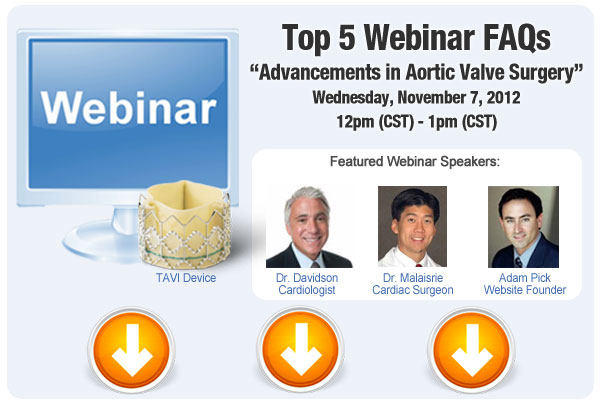 1. Is The Webinar Free To Attend?
Yes. The webinar is free for all attendees.
2. Can I Still Register For The Webinar?
Yes. Registration is still available. To register, click here.
3. How Do I Connect To The Live Webinar?
It is very easy to connect to the webinar. When you register, we will email you the necessary instructions. All you need is a computer that is connected to the Internet — so that you can see and hear the presentation. You will also have the option to "dial-in" to the webinar using a phone line. Or, you can listen to the webinar through your computer.
4. Can I Ask Questions During (or Before) The Webinar?
Yes. During the webinar, you will be able to ask questions. However, if you have a question, I'd encourage you to ask it now by leaving a comment or email me directly at adam@heartvalvesurgery.com. I've already received some great questions.
5. What Will I Learn During The Webinar?
This webinar will help patients and caregivers learn about the latest advancements in aortic valve surgery. In particular, this webinar will focus on transcatheter aortic valve implantation (TAVI), a new form of aortic valve replacement that requires no incision to the patient's sternum. So you know, Dr. Davidson and Dr. Malaisrie both participated in the clinical trials which led to the first, FDA-approved TAVI device last year. That said, these physicians have great clinical and patient experience with this new technology.
I hope that helped answer your questions about the webinar. If you would like to register for this special webinar, please click here.

Keep on tickin!
Adam
Adam's Newest Blogs
Adam's Newest Posts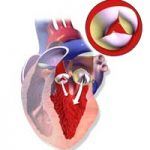 Surgeon Q&A: What Should Patients Know About Aortic Regurgitation? Learn More.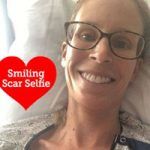 Sara Educates & Inspires 38,443 People About Heart Valve Surgery! Learn More.