"Happy Anniversary!" To Robert Following Bicuspid Aortic Valve Replacement Surgery
By Adam Pick on August 9, 2012
I wanted to extend a big "Happy Anniversary!" to Robert Anderson from Groton, Massachusetts. As you can read in his note below, Robert had a congenital bicuspid aortic valve that needed to be replaced. Here is more from Robert about his journey and his celebration:
Hi Adam – I just wanted to say 'Thank you' for the book. I just passed my 1st anniversary for stenotic bicuspid aortic valve replacement and an ascending aortic resection for a non-ruptured aneurysm at Massachusetts General Hospital in Boston. My wife bought your book a few weeks before my surgery and I still thumb through it (more so the last few chapters now).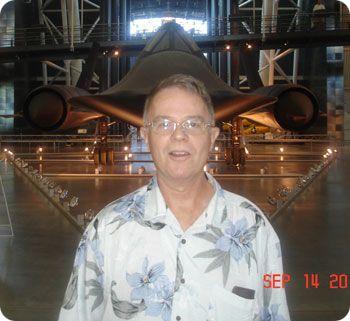 Robert Anderson – Heart Valve Replacement Patient
Here's a photo taken a little less than 3 months after the surgeries.
I flew down to Virginia to visit my siblings and other relatives. I'm originally from there. My brother and I spent 6 hours walking around the Air and Space Museum near Dulles Airport outside of Washington, D.C. It's a great place to visit and a really good workout!
I was in the hospital for about 10 days. I had a little trouble clearing the anesthesia. Also, after almost 10 days at home, I passed out and took a spill. Turns out that I had pneumonia and a collapsed lung. So back to the hospital for 10 days. Then, the real recovery started in earnest. You know, I NEVER remember having any pain after the surgery. I still have the feeling of my heart pounding but it is only rarely noticeable now — versus constantly the fist several months. I still have some trouble sleeping.
I am a young 64 and am so grateful to be here to share my children's and grand children's lives… and to just be here. It was pretty scarey but forced me to 'get all my affairs in order' and your book helped prepare my wife and I for the process.
Best wishes!
Robert Anderson
Groton, Massachusetts

Lisa Moreau says

on August 15th, 2012 at 3:16 pm
Congratulations from a neighbor in Hickory Hills, Lunenburg,MA
Aug. 6th,Tricuspid replacement @ Brigham Womans and doing great here.
Stay healthy!!
Lisa Moreau


elvin curtis says

on August 16th, 2012 at 3:03 pm
I read with interest the vitamin k2 question and answer but, it brought to mind another question; Can additional vitamin D therapy cause increased heart valve calcification? My cardiologist in Sarasota, Fl. stated that a lab result showed a vit D subtherapeautic level and prescribed daily doses to raise the level, which it did. Now my Michigan cardiologist stated that my latest Echo, performed in Florida showed an increased calcification. I recently had my 83rd, birthday and am very apprrehensive about valve surgery as I have just spent a year, getting back into shape following a fall last summer that fractured 4 ribs. I had successful triple bypass surgery 12 years ago, have watched my diet and participate in a weekly cardiac rehab class. My latest regular lab test panel results were all in the approve ranges. Please advise. Thanks. Elvin Curtis