Florida Hospital Cardiovascular Institute Launches 'Heart Valve Clinic Microsite' In Our Cardiac Clinics Section
By Adam Pick on June 4, 2012
As many of you know, Dr. Kevin Accola and his team at Florida Hospital Cardiovascular Institute have been incredibly supportive of our patient and caregiver community. In addition to providing  great surgical results — to patients like Denise Ring, Duane Hunt, Scott Nieman and many others — Dr. Accola and Florida Hospital have provided excellent content to further educate and empower us through heart valve surgery.
Today, I am very excited to announce that the Orlando-based cardiac center launched the Florida Hospital Heart Valve Clinic Microsite within the cardiac clinics section of our website.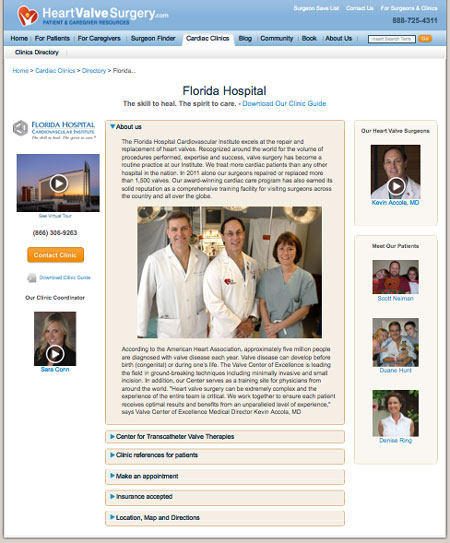 At their microsite, you can go on a virtual tour of Florida Hospital, learn more about their cardiac specialties, see patient success stories, and watch a video about Dr. Accola's approach to heart valve surgery. To visit the Florida Hospital Heart Valve Microsite, please click here.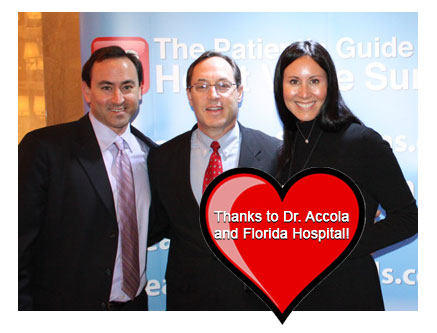 Many thanks to Dr. Kevin Accola, Sara Conn, Kathryn Dolphin, Colleen Monday, Heather Fox and the entire Florida Hospital team for their continued support of our community!
Keep on tickin!
Adam
Adam's Newest Blogs
Adam's Newest Posts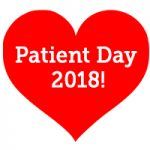 Why Did 100 Patients & Care Partners Get a Standing Ovation at Patient Day 2018 at Edwards Lifesciences in Irvine, California? Learn More.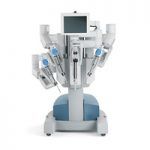 Heart Surgery Innovation: Robotic Mitral Valve Surgery Evolves with Percutaneous Cannulation Learn More.