Holy Moly! We're In The New York Daily News!
Amazing!!! I just learned that our website was in the New York Daily News earlier this week!!!
In an insightful article titled, "Mitral Valve Leakage Can Lead To Heart Failure If Left Untreated", Dr. Anelechi Anyanwu is interviewed about a very common form of heart valve disease known as mitral regurgitation, or a leaky heart valve. The article addresses several facets of leaking heart valves — anatomical issues, potential risks and treatment options.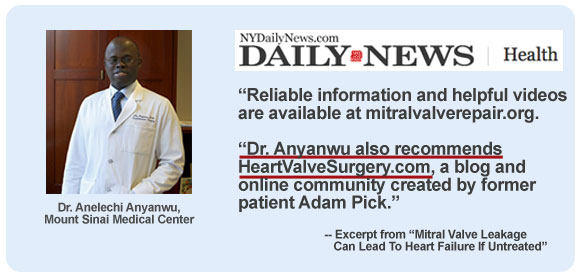 Towards the end of the article, Dr. Anyanwu references websites that offer reliable information for patients and caregivers to consider. To my surprise, HeartValveSurgery.com is one of those resources! 🙂
Woo-Whoo! Thanks so much to Dr. Anelechi Anyanwu for his recommendation.
To learn more about Dr. Anyanwu, click here.
Keep on tickin!