Holy Moly! We're In The New York Daily News!
By Adam Pick on February 26, 2012
Amazing!!! I just learned that our website was in the New York Daily News earlier this week!!!
In an insightful article titled, "Mitral Valve Leakage Can Lead To Heart Failure If Left Untreated", Dr. Anelechi Anyanwu is interviewed about a very common form of heart valve disease known as mitral regurgitation, or a leaky heart valve. The article addresses several facets of leaking heart valves — anatomical issues, potential risks and treatment options.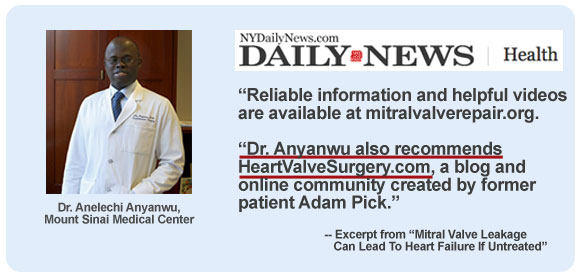 Towards the end of the article, Dr. Anyanwu references websites that offer reliable information for patients and caregivers to consider. To my surprise, HeartValveSurgery.com is one of those resources! 🙂
Woo-Whoo! Thanks so much to Dr. Anelechi Anyanwu for his recommendation.
Keep on tickin!
Adam

Ricky(a female) says

on February 26th, 2012 at 2:16 pm


Karen Pomer says

on February 26th, 2012 at 2:18 pm
Very cool! Congrats Adam! How many more extra hits did you get so far?


Grace Jacobs says

on February 26th, 2012 at 2:44 pm
How wonderful to be in The New York Daily News.
My congratulations to you for Dr. Anelechi Anyanwu recognizing
your blog and online community.
You deserve this recognition. Your articles and updates are invaluable.
Grace


Carol says

on February 26th, 2012 at 2:45 pm
Great news. Now, all you need is a spot on Dr.Oz! Seriously, he might just be interested. After all, he IS a heart surgeon.


Charles W. Taylor says

on February 26th, 2012 at 3:02 pm
Congratulation Adam. Well deserved recognition of your blog and online community.


Karen Pomer says

on February 26th, 2012 at 5:06 pm
Carol, Did you know Dr. Oz is also a co-designer of the MitraClip?  it be great to have Adam on Dr. Oz show. Adam has written extensively about this non-surgerical approach to severe mitral vave regurgitaion.
'The MitraClip builds on the work of Ottavio Alfieri, a cardiac surgeon in Milan who in the mid-1990s first proposed what became known as the Alfieri stitch. Alfieri suggested that instead of cutting out part of the valve, a surgeon could tack together the valve's two leaflets so that they're pulled tight when the valve is closed and are still able to let blood flow through "bow-tie" orifices on either side of the stitch when the valve opens. Mehmet Oz, a cardiac surgeon at Columbia University's College of Physicians and Surgeons, who saw Alfieri present this technique at an Italian conference in 1996, later helped design the MitraClip for doing the procedure percutaneously.'


Emmanuel Ibanez says

on February 26th, 2012 at 6:43 pm
you so deserve this recognition adam…
i am one among many many people who have been blessed by your book and blog.
God bless!


Selma says

on February 27th, 2012 at 9:29 am
What great recognition. Think of all the people this will help. I was just at Mount Sinai for a consult with Dr. Adams, who I heard about right here on your blog. He's an amazing man and a brilliant teacher. The first thing the surgery coordinator did after we scheduled the Big Day (May 11) was give me a copy of your book! While I can't exactly say I'm looking forward to the surgery, I *can* say I have a lot more confidence and far fewer questions than I did a month ago.


Katherine Mierzwa says

on March 2nd, 2012 at 8:31 pm
Congratulations Adam. I know how much your book meant to my husband and myself last year. I had my Aortic Valve replaced last Sept at Cleveland Clinic. I was so blessed to have found your book so I was very prepared for the "whole" event.
It just goes to show, when someone does something for the right reason and not money and greed the blessings just keep following.
It will continue and so will all the friendships that developed thru your efforts.
I was so sorry to hear of Kelly's passing. Keeping all in my prayers.
Sincerely,
Kathy M


Patricia Shabel says

on March 4th, 2012 at 2:16 am
Congrats Adam! You and your blog definitely deserve the recognition! I would have had a much harder time dealing with the before, during, and after my surgery if it hadn't been for your blog and the community. Thank you for making such a difference!

Adam's Newest Blogs
Adam's Newest Posts