"Happy Holidays!" From Robyn, Ethan and Me
By Adam Pick on December 20, 2011
As the year winds down, I wanted to take a moment to wish you all a very happy holidays!
I also wanted to thank you for your ongoing participation in this unique community. This has been an incredible year for this project. So you know, this website had over one million visits during 2011. Needless to say, that is a clear testament to the empowering ways in which we continue to help each other through the experience of heart valve surgery.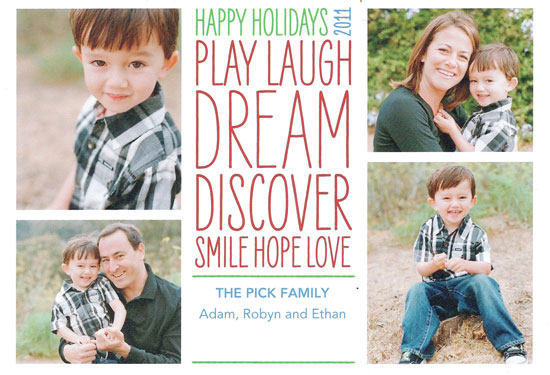 On behalf of Robyn, my wife, and Ethan, my son, "Happy Holidays!" and "Happy New Year!"
Keep on tickin' in 2012!
Adam

John Corzine says

on December 20th, 2011 at 4:17 pm
Adam,
You and your family are very special to us expecting heart valve surgery in the near future. Thank you for taking on this educational role that really helps us cope. May you and your family have a wonderful and safe holiday season.
Best regards,
John Corzine -Port St Lucie, Fl.


John Lund says

on December 20th, 2011 at 4:23 pm
Hi Adam,
Thank you for this website and your book; the information in them and the participants in the website have been extremely helpful in preparing for my mitral valve and maze surgery and during the recovery process afterwards. Knowing there are so many others (unfortunately) who are experiencing similar issues and reading about them and communicating with some of them has been extremely helpful!
Thanks again, and happy holidays and New Year, the best is yet to come!
John Lund


Fran Zilko says

on December 20th, 2011 at 4:54 pm
Well, we wouldn't be here without you, Adam and your selfless work. You are very much appreciated. Am passing your book on to a neighbor who will be having mitral valve surgery at the Cleveland Clinic. Your card covers it all. Enjoy your happy family.


Richard Volpe says

on December 20th, 2011 at 9:00 pm
You are the man –
Happy Holidays,
Richard Volpe


Mike Rehmus says

on December 20th, 2011 at 9:13 pm
Thanks for all the help, Adam and happy holidays for your entire clan.
Because of your book and a few e-mail interchanges we've had, I have to say that my heart surgery has been, for the most part, a non-event mentally. It is hard to really feel it was major surgery. That would not have been the case had I not been prepared and known what to expect.
Most of the physical 'non-event' has to be to the credit of Dr. Guadiani and his surgical team and Sequoia Hospital's matching expertise in patient care. My cardiologist, Dr. McWhirter gets credit for boosting me over more recent slightly hard parts. Hopefully he will root out the arrhythmia bit next month and I'll only have the rehabilitation phase to accomplish.
Please keep up the good work.


Ricky (a female) says

on December 20th, 2011 at 10:08 pm
Hi Adam,You are a special family to many of us.Ethan has grown so much in the last year.God should bless you and yours…..and all the friends we have made on this site……LET'S ALL KEEP TICKIN.HAPPY HEALTHY NEW YEARS!!!


Grace Jacobs says

on December 21st, 2011 at 10:21 am
Dear Robyn, Adam, and Ethan,
Heartfelt wishes for a Holiday Season full of joy. love, and
peace.
All the best in the New Year.
Grace


Richard Anderson says

on December 24th, 2011 at 7:26 pm
Hi Adam, im from the uk i recently had new mechanical valve fitted to my aortic valve, all went very well first time i had ever been into hospital,reading all about you and how you have helped people has really helped me to go back to leading a normal life,and i thank you for that from the bottom of my heart
Happy Holidays from me and my family
Thankyou Richard Anderson in the UK


Judy says

on December 29th, 2011 at 12:39 am
Dear Adam, Robyn and Ethan,
I hope your year to.come will be filled with only good things and that you will enjoy many more together. Thanks your blog is soooo valuable for me

Adam's Newest Blogs
Adam's Newest Posts