"What Are My Aortic Valve Replacement Surgery Risks?" Asks Sharon
By Adam Pick on October 21, 2011
I just received an email from Sharon that rekindled a memory. Sharon writes, "Hi Adam – I was recently diagnosed with severe aortic valve stenosis and I need an aortic valve replacement. Even though I'm 62 and in relatively good shape, I'm worried about making it through. Do you know what the mortality rates and surgery risks are for aortic valve replacement? Thanks, Sharon"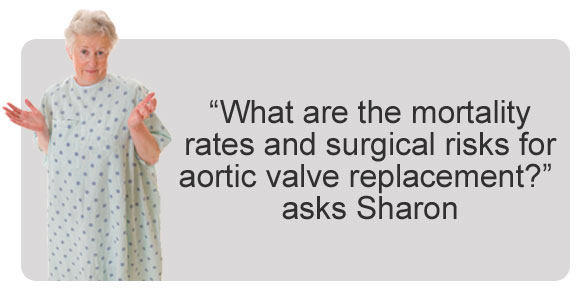 I can relate to Sharon… I distinctly remember wondering this exact same question just seconds after I was told that I needed an aortic valve replacement. Although I was too nervous — in that moment — to ask my cardiologist about surgical risks and mortality rates, I would later research this topic prior to surgery. In response to Sharon's questions, there is good news to share. The good news is that data from The Society of Thoracic Surgeons suggests that the mortality rate for aortic valve replacement procedures is low.
"How low is low?" you might be thinking.
Well, consider this excerpt from The Cleveland Clinic's 2010 Surgical Outcomes Report for Valvular Treatment. As you can see, the STS benchmark shows that the national average for aortic valve replacement operative mortality is 2.7 percent. At The Cleveland Clinic, the mortality rate is significantly below that average at 1.1 percent.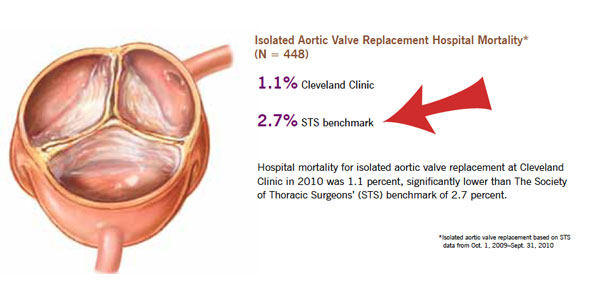 So you know, I was hesitant about answering this question publicly as the topic of mortality and risks often trigger variable levels of fear, uncertainty and doubt for both patients and their caregivers. However, I hope you can focus on the positive reality that, on average, about 97.3% of patients will be just fine.
Still, even with this optimistic dataset, I continue to have ongoing conversations with patients that are scared. In my opinion, this is completely normal. To help patients calm their fears of heart valve surgery, I remind them that life — to some extent — is risky. From the moment you wake up, risk is actually all around you.
Consider the act of driving a car. I don't know about you… But, in Los Angeles, my home town, the drivers are crazy. I have not done the statistical analysis but my guess is that having heart surgery may be less risky than driving through weekday traffic on the 405 freeway at 6pm. It seems like every day I am forced to yell out at some reckless driver, "Are you trying to kill me?"
Finally… There may be more good news for you to uncover regarding mortality rates and surgical risks. As you prepare for aortic valve replacement surgery, I encourage you to interview your potential surgeons prior to scheduling your operation. During those interviews, I suggest you ask direct questions like:
"How many aortic valve replacements have your performed?"
"What are your surgical outcomes for patients similar to me?"
During those conversations, you might learn some very helpful information that will increase your comfort level. Alternatively, if you don't like the answers you are hearing, that might be a very good indicator that you should find another surgeon to perform your aortic valve replacement.
I hope this helped Sharon and those of you wondering about mortality rates and surgical risks for aortic valve replacement surgery. (I promise the next blog will be much more inspirational.)
Keep on tickin!
Adam
Adam's Newest Blogs
Adam's Newest Posts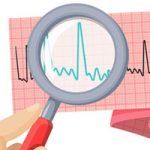 "How Do I Know When My AFib Is Gone After Heart Surgery?" asks Linda Learn More.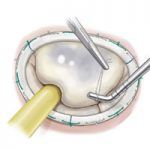 New Findings: Mitral Valve Repair Restores Normal Life Expectancy! Learn More.