Surgeon Spotlight: After 7,000 Surgeries, Dr. Kevin Accola's Heart Valve Specialty Is Praised By Patients & Surgeons Around The World
By Adam Pick on July 12, 2011
It's an honor to shine our surgeon spotlight on Dr. Kevin Accola, a leading heart valve surgeon who practices at the Florida Hospital Cardiovascular Institute.
I first met Dr. Accola in 2008. I called Dr. Accola after several of his patients emailed me their fantastic success stories. During our chat, I quickly learned that Dr. Accola is a super nice guy and a very accomplished surgeon. As you can read on Dr. Accola's surgeon profile, he has performed over 7,400 cardiac procedures and over 2,400 heart valve operations. Mitral valve repair is one of Dr. Accola's specialties.
Over the years, I have become very familiar with many of Dr. Accola's patients including Donna Wilson, Scott Niemen, Misti Blue and Denise Ring. Dr. Accola's patients often use words like "warm", "calm", "humble", "caring" and "confident" to describe his personality.
For example, Duane Hunt, a recent mitral valve repair patient, recently shared with me…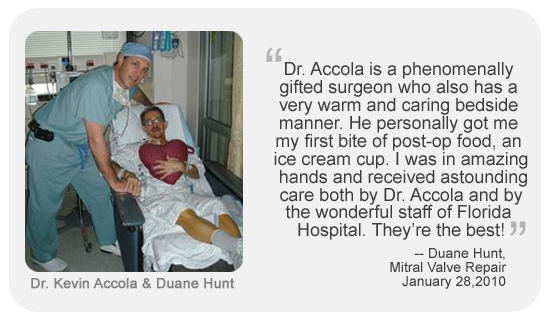 Dr. Accola is also admired by his peers. During a recent, international cardiothoracic conference, another heart valve surgeon said to me, "Surgeons aspire to be like Dr. Accola. He is an incredible surgeon and an incredible person."
In addition to being a great doctor — who has trained surgeons across the United States, South America and Asia — Dr. Accola is married with two children.
Thanks to Dr. Accola and his team at the Florida Hospital Cardiovascular Institute for all of their support of this patient and caregiver community. Dr. Accola's pursuit of healthy hearts is extraordinary!
Keep on tickin!
Adam
Adam's Newest Blogs
Adam's Newest Posts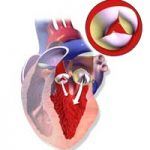 Surgeon Q&A: What Should Patients Know About Aortic Regurgitation? Learn More.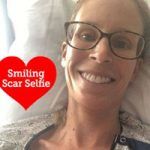 Sara Educates & Inspires 38,443 People About Heart Valve Surgery! Learn More.