Guest Blog: Dr. Stewart & I "Tri" Our Hearts Out!
By Adam Pick on July 11, 2010
[Update: Please note that Dr. Allan Stewart no longer practices at Columbia University Medical Center.]
This is a special guest blog by Greg O'Keeffe. I thought you might really appreciate hearing about Greg's recovery, Dr. Stewart's unique connection with his patients, and their combined athletic and charitable efforts. Here is what Greg wrote me: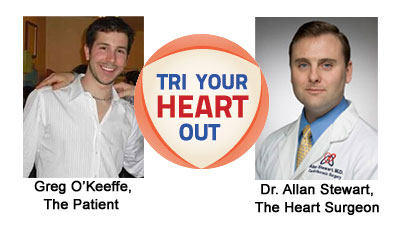 Dear Adam,
The first time I teamed up with Doctor Allan Stewart, MD, I was in an operating room at Columbia University Medical Center in New York City on May 20th, 2008. It was a near perfect match given what we brought to the table. Dr. Stewart brought surgical expertise. I brought a constricted aortic valve that needed a fix. (I was 26 years old at the time of my aortic valve replacement.)
Now, 26 months after surgery… We are teaming up again to compete in the 2010 New York City Triathlon on July 18th.
Personally, I've never had the patience or attention span to swim, bike or run considerable distance – let alone do all three in succession for no apparent reason. And yet, here we are – patient and surgeon celebrating each other.
I felt challenging Dr. Stewart to the New York City Triathalon was the best way I could thank him for helping give me a crack at a healthier life, and offer him the same in return. Plus, how else was I supposed to hold him accountable for his work!?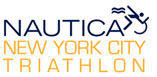 After some initial, dare I say "hearty" resistance to the idea of having to swim in the Hudson River, I finally got a "Let's do it!" email from Dr. Stewart.
I had no idea what I had just gotten myself into. Ever since Dr. Stewart realized that being fished from the Hudson is becoming increasingly unlikely, he has been forwarding me registration confirmations for several more endurance events on a regular basis. We're doing three more triathlons this summer after the NYC Triathlon and a 12.5 mile "mud run" obstacle course designed by the British Special Forces. These days, I've come to fear emails from Dr. Stewart with subject lines that begin, "Fwd:"
The last year of training has had its ups-and-downs. I've done everything possible to ensure I don't let Dr. Stewart, who is the Director of the Aortic Surgery Program at NewYork-Presbyterian Hospital / Columbia, beat me next week. The biggest motivator, though, is simply knowing that I'm 110% healthier (maybe more) than I was before my heart valve replacement. Whenever I'm training and need a little extra to push onward, I don't have to dig too deep to find the motivation. A good heart is a terrible thing to waste!
Earlier this month, our "Patient-Surgeon Triathlon" even caught the eye of Dr. Stewart's colleague, Dr. Mehmet Oz, who is now helping to promote our website: TriYourHeartOut.org. In addition to news about our upcoming triathlons and other events, we've designed the site as a resource for individuals and the families of those who are preparing for cardiac surgery.
We've also teamed up with the Babies Heart Fund to help raise funds for pediatric cardiac care. It may sound strange, but being born with a bicuspid aortic valve may be the most fortuitous thing that has ever happened to me. I feel lucky to have had this surgery at 26 – old enough to gain some amazing perspective from the experience, but still young enough to be able to apply it constructively for the rest of my life. I'm doing my best to make the most of it!
Wish us luck!
Greg O'Keeffe

Tom says

on July 11th, 2010 at 2:50 pm
Given that Greg was only 26, what type of aortic valve replacement did he have (ie did he get a mechanical, and if yes, what type? Thanks


Trevor Major says

on July 11th, 2010 at 10:17 pm
Greg,
What a healthy attitude towards your bicuspid valve! I think that's great! Congratulations on a successful operation and awesome recovery! I am having my bicuspid aortic valve replaced this week, and your story is so uplifting. I can't wait to see what activities in life I will be tackling!!
Thank you for your story!
Trevor

Adam's Newest Blogs
Adam's Newest Posts