Dr. Eric Roselli's Interactive Chat Scheduled For July 7!
I'm hoping this announcement will help those of you diagnosed with heart valve disorders including aortic valve stenosis and aortic valve regurgitation.
On Wednesday, July 7, 2010, Dr. Eric Roselli, M.D., of the Cleveland Clinic, is going to host an exclusive chat titled, "Aortic Valve & Aorta Surgery", with our patient and caregiver community at 2pm (EST).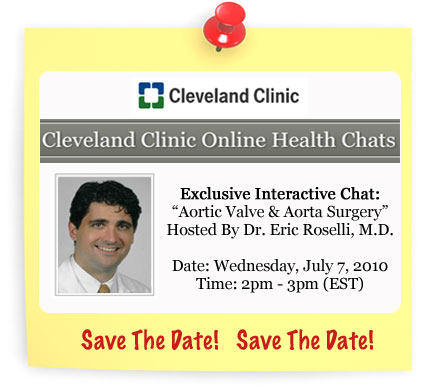 I believe this is a special opportunity to get your questions answered, in real-time, by one of the leading cardiothoracic surgeons on the planet.
How To Ask Dr. Roselli A Question? To ensure that your question gets answered during the July 7th session, please follow these simple instructions:
Click here to post your question online; or
Email your question directly to me at adam@heart-valve-surgery.com
The actual registration for the event will begin on June 28th.  Please remember to check back then or subscribe to this blog to get an automatic reminder message.
Keep on tickin!