Denise Praises Dr. Bleiweis After Eli's Heart Valve Surgery
By Adam Pick on August 17, 2009
I have the privilege of speaking with caregivers from all over the world.
As many of us know, heart valve surgery can be just as trying on the caregivers as it is on the patients. For this reason, many of their stories are both emotional and inspirational. That said, I thought you might like to read an email from Denise about her son, Eli, and his recent aortic heart valve repair: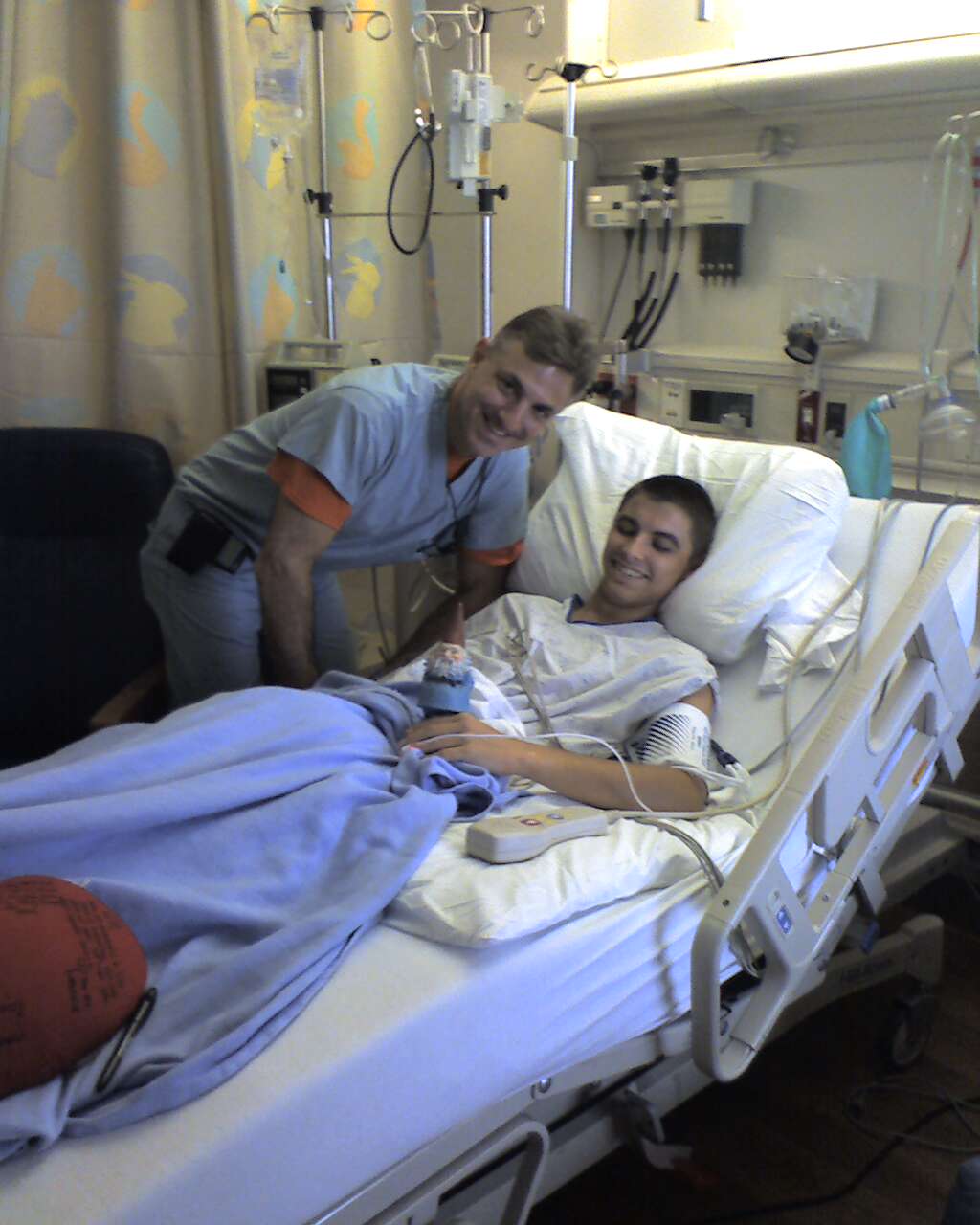 Eli & Dr. Marc Bleiweis
Hi Adam,  I am writing to bring you up to date on Eli's surgery and recovery. We chose to stay at Shands Hospital with Dr. Mark Bleiweis for Eli's heart valve repair.
Eli's surgery was performed on July 13th and went very well. Eli did have some flutter issues while in the hospital and had to be paced several times. Eventually, Eli was placed on medication (Pacerone) to help.
Thankfully, Doctor Bleiweis was able to repair Eli's valve with a tissue patch. Doctor Bleiweis and the entire staff at Shands were the most amazing, compassionate professionals. The medical team made our family feel extremely comfortable in their care of Eli, which greatly reduced my stress level.
You know how we moms are… Dr. Bleiweis' team was sooooooooooo patient with my list of several hundred questions!
We came home with Eli taking Lasix, Pacerone, Baby Aspirin, and Iron. Like you, Eli was anemic after heart surgery. He started having headaches and eye sensitivity to light. I called Dr. Fricke (the cardiologist) and was immediately referred to an eye specialist because Pacerone can cause eye damage. After learning that Eli did not have any eye damage, I was concerned that the reduction in the medications could cause his flutter to return.
Since we live almost two hours from the hospital, we kept Eli monitored very closely for the next few days with no change in his heart rate. We went back for a check up and he is now off his medications and is doing very well.
We feel truly blessed to have people like you, Dr. Bleiweis, Dr. Fricker, and the wonderful Shands staff help us through this life changing experience. Thanks again for your heart valve surgery book!
May God Bless,
Denise Rountree

Eva Villa says

on August 18th, 2009 at 9:55 pm
Adam,
I am unable to EMail you so I will ask my question here.
Can a leaking tricuspid valve be repaired without doing a mitral valve repair? Can this be done in NYCity or Long ISland? Will the fact that I had a mastectomy on the right side cause complications?
Thanks for any help


mercyturan says

on August 19th, 2009 at 9:51 am
Hi, Denise and Eli:
Congratulations on Eli's successful surgery! I am the mother a patient on whom Dr. Bleiweis performed a Ross Procedure on March 5/2008. I, a worried mom like you, also had lists of questions and even brought up Adam's book to Dr. Bleiweiss and his nurse practitioner. He was already aware of the book and thought it was great. That is how I found out that Dr. Bleiweis, (in my frenzy to find a good thoracic surgeon in Florida), was listed in Adam's book and that was after my son had met with him and decided there was a "spiritual" connection and he was going to go with Dr. Bleiweiss anyways, based on his meetings with him.
We found him and the staff at the PediIcu where John recovered to be great in their care and their attention to the family as well.
God Bless you, and may Eli continue to do as well as my John.
(you can look up on the search box on this blog site, under John Turan and read John's own thoughts about this). Mercy, mother of John.


Armaan's Mom says

on June 9th, 2011 at 12:53 am
My son is 10 and has bicuspid valve aortic stenosis. He also sees Dr Fricker, who is recommending surgery with Dr. Bleiweis. I really wNt a surgeon with extensive pediatric experience with repairs/ replacements. Did you do any research on this surgeon or Shands Hospital? Most of my research has referenced Cleveland Clinic (Dr. Svensson and Dr. Pettersson. BTW, I do love Shands, Dr. Fricker is EXCELLENT!


Demetris Taylor says

on March 31st, 2012 at 7:21 am
Hi, I am the mother of a now 3 year old girl by the name of Makayla who has Tetrology of Fallot. She had a complete heart repair at 1 and a half week old by Dr. Bleweis which mad me very confident in him because he immediately informed us he was not afraid to proceed with surgery at the size and age she was at the time. I am pleased today that my daughter is alive. She is so active and daring but she is ALIVE thank the Lord for having his hands on her and the surgeon and staff that attended and took part in her care from day one. My daughter will be having another surgery in April 2012 per Dr. Bleiweis, Dr. Chandron and staff so all prayers are appreciated.