Two Great Questions About The Ross Procedure… From Duane
By Adam Pick on July 20, 2009
I give A LOT of credit to patients and caregivers that really, really, really, really do their homework prior to heart valve replacement or heart valve repair surgery. I can immediately tell from the questions you ask me just how diligent you're being at each phase of the surgical process.
Case in point… Duane Schlosser (55 years of age) from Austin, Texas just sent me two interesting questions about the Ross Procedure and minimally invasive pulmonary valve replacements that I thought you might benefit from. That said, here is what Duane writes: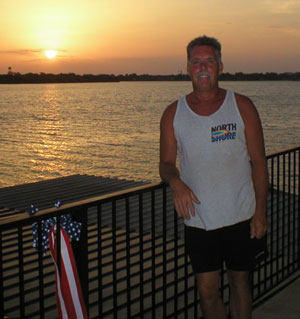 Adam,
Thank you for your heart valve surgery book. It has helped me come to grips with my own situation. I am scheduled for aortic valve replacement in September via the Ross Procedure. I have a two-part question for you.
In the Ross procedure, a donor valve is use to replace the pulmonary valve. Over time, lets say 15+ years, which valve is subject to fail first? The donor valve or the pulmonary valve which is in the aortic valve position?
The second part question is this… With the advent of the "non-invasive" procedure to replace the aortic valve being done in Europe, do you know if this procedure can be done to replace the pulmonary valve if it failing due to a previous Ross Procedure? Forward thinking, I will need to consider a second replacement if the donor valve fails and if the non-invasive procedure will apply to the pulmonary valve.
Thanks! Duane
My Response to Duane
Duane,
Nice to meet you and thanks for sharing your story with me. You raise some great questions about the double heart valve replacement procedure, known as the Ross Procedure. As you may know, I had a Ross Procedure performed on me several years ago by Dr. Vaughn Starnes at USC Medical Center.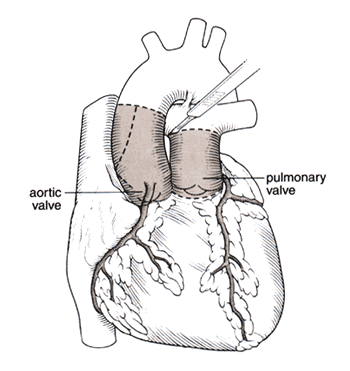 Diagram Of The Ross Procedure (aka "Switch Procedure")
To answer your first question, here is a link that provides some statistical data on the success rates of the Ross Procedure and the failure rates of autografts (the switched valve) and homografts (the donor valves):
As shown in Dr. Raines' clinical study, it appears that – due to the lower pressures of the pulmonary valve position – the autograft is more susceptible to failure. At the time I collected this data, Dr. Raines had yet to have a homograft fail.
Now, as for your second question… Yes, I am very hopeful that minimally invasive procedures (especially transcatheter approaches) will be approved for pulmonary valve replacements in the future here in the United States.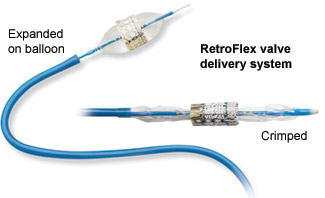 SAPIEN Valve Replacement System
In fact, if you research the SAPIEN heart valve replacement system, offered by Edwards Lifesciences, you will see that this unique technology is currently in trials for minimally invasive pulmonary valve replacements.
I hope that helps Duane (and perhaps you) better understand the Ross Procedure and minimally invasive pulmonary valve replacements! Thank to Duane for your questions!
Keep on tickin!
Adam

Bruce Hale says

on July 20th, 2009 at 1:08 pm
Duane-
I do hope you have spoken to/scheduled your surgery with Dr. Chip Oswalt?…
I had my Ross done December 10, 2008 and only spend 3 days at the Heart Hospital in Austin. Dr. Oswalt is BRILLIANT!!!
Do not hesitate to contact me should you have questions.
Best of luck,
Bruce Hale
Ross Procedure Patient


Dawn says

on July 20th, 2009 at 1:27 pm
I had the Ross procedure last November. I too had the concern about the pulmonary valve and was very reassured to be told about the almost certain ability to have it replaced in a cath lab in the very near future. The decision regarding which procedure to have was one of the toughest I have ever had to make. I did a lot of research and talked at length with the surgeons, my cardiologist, and the manager of the Warfarin Clinic where I would have been followed had I chosen a mechanical valve. I also spoke to people who had had both Ross and mechanical procedures.
In the end, I am so glad I had the Ross procedure. I was 51 years old when I had the surgery and did not want to face certain resurgery in 10-15 years with a pig valve. The more I learned about Warfarin the more I knew I did not want that life style change. Prior to surgery I was out of breath and somewhat limited physically, but I was not on any special medications, diets, etc. The idea of having to change my lifestyle so much AFTER having the surgery because of the medication I would have to take made the idea of a mechanical valve just seem intolerable. The Ross procedure was what I wanted, however it was a difficult decision because my finances and health plan limited my choices of surgeons. I possibly could have fought this with my insurance company but instead decided to trust 2 surgeons at the university where I work. One is an adult cardiovascular surgeon and the other pediatric. The pediatric surgeon had done the most Ross procedures-both on brand new babies and on adults. He had not done as many as I would have liked, but I had great confidence in him. I specifically asked him if it was him which procedure he would choose. He is exactly my age. Without hesitating he said the Ross procedure.
I had a good outcome and feel great now that I am fairly recovered from the surgery. I have very slight mild aortic regurgitation (had moderate stenosis for years), which the surgeons are not real happy with. However, my cardiologists says he has multiple patients he has followed with aortic regurgitaiton for literally decades without it progressing and requiring surgery. At this point it does not concern me and I am not unhappy with choosing the surgeons I chose.


Duane says

on July 20th, 2009 at 4:32 pm
Bruce,
Yes, Dr John Oswalt is my surgeon. My wife works at St. David's and has hand picked the surgical and recovery team for me. I feel very fortunate to have a loving wife with a medical background to help guide me. But I am also grateful to the information on this blog and Adam's book. I can't imagine doing something like this without getting all the possible information available.
Dawn,
Thank you for your input as well. Your story reasures me that the Ross is the right way to go for me too!


mercyturan says

on July 20th, 2009 at 4:42 pm
To Dawn:
If it is not an indiscrete question, do you work at the University of Florida?
and is that where you had your surgery done? I am the mother of a 38 y/o Ross Procedure patient, who had surgery at Shands March 2008. One of my biggest fears (and I later learned our son's also) was that the thoracic surgeon scheduled to to do surgery did not have as many Ross Procedures under his belt as I would have preferred, according to my research. One of our son's concerns was to be close to home and to his family and babies. He was concerned, but after speaking with the surgeon, he was "sold".
To date, he has done very well, though he had a postoperative period NOT without complications, and a long recovery period. He had no other medical problems and had been very active, as Adam, before his surgery.
We have to say that his quality of life is better now in that we do not have that concern and worry, and although we strive to stay abreast of new developments in heart valve replacement, we have all chosen to be positive and expect the best outcome.
By the way, our experience with that thoracic surgeon, Dr. Bleiweiss, was very positive, he is a humble, caring and compassionate individual, as well as is his team. The care at Shands Hospital Pedi ICU was the best.
To Duane: do the best groundwork, get your second and thrid opinions, interview or research as many doctors as your financial condition may allow, chose the best doctor you can find (for your circumstances) and trust . This and a truly positive attitude will help enourmously. God Bless!


Damaris says

on March 14th, 2012 at 2:11 pm
Hi. We stumbled on your site. Our son is having the Ross procedure done on March 20th. He is 14 years old. Just curious, how long was the recovery? I'm thinking – how long will be off school?