"What's The Worst Thing About The Hospital?" Asks Barbara
By Adam Pick on February 22, 2009
Barbara, a 57-year old patient from Georgia, just asked me a very honest question about heat valve surgery and hospitals.
She writes, "Hi Adam – I've been diagnosed with severe stenosis of the aortic valve. I got a second opinion to confirm the diagnosis. Now, I'm mentally preparing for what lays ahead of me. I'm overwhelmed. Just the thought of heart surgery keeps me up at night. Also, I have an aversion to hospitals. I've never had major surgery so I don't know what to expect. Sometimes my brain focuses on the negative reality of spending several days-and-nights among sick people. This may sound like an odd question, but… What is the worst thing about staying in the hospital after surgery? Thanks, Barbara"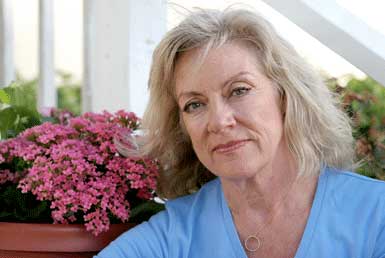 As most of you know, I consider heart valve surgery to be a medical miracle. With this belief, I started this blog and wrote my book with a single passion – to help transform patient fear into patient hope. However, this passion is not oblivious to the fundamental concerns that confront both patients and caregivers as they transition through each phase of cardiac surgery – diagnosis, pre-operation, the surgery and recovery.
For this reason, I really appreciate Barbara's concerns about hospitals. It's a fair question that I will do my best to answer. Then, I will offer some insight about hospitals from the patient perspective. Finally, I will ask the former patients (who regularly visit this blog) to contribute to this discussion.
So you know… After reading Barbara's question, my face actually smiled several times as I thought back through the not-so-wonderful experiences at USC Medical Center following my heart valve replacements. In fact, I just sat at my computer for 5 minutes as I isolated the "worst thing" about hospital life.
Yes, it was noisy in the hospital. Yes, there were strangers (nurses, doctors, respiration therapists) walking in-and-out of my room all the time. Yes, I had an issue clearing the fluid in my lungs after surgery. Yes, my broken sternum was very painful. Yes, waking up with the vent tube was dislocating. Yes, the chest tubes were uncomfortable.
All the factors above contributed to my "worst thing" about staying in the hospital… lack of peaceful sleep. Looking back on it, I don't know if I ever had a good, deep sleep (including naps) during my five-day stay in the hospital. I remember thinking to myself, "When I get out of this place, I'm going to sleep for days!"
Minus the sleep issue, my experience of "being in the hospital" was actually very good. The food was quite tasty and the staff was pleasant.
Please note, I'm not alone in this thought. I recently interviewed over 78 heart valve surgery patients about their hospital experience. As shown below, 80% of respondents categorized their stay in the hospital as good or excellent.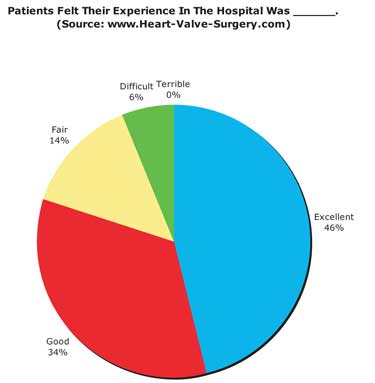 I hope my story and the data provided above helps Barbara (and perhaps you) better understand hospital life for heart valve surgery patients. To see over 25 patient responses to Barabara question, please scroll below.
Finally, I hesitated a little bit before posting this blog. It is not my purpose to scare anybody with this information. Rather, I want to educate all the patients and caregivers about the realities of heart surgery. Obviously, due to the medical nature of heart surgery, that reality may include some uncomfortable moments in the hospital.
Keep on tickin!
Adam

jerry says

on February 22nd, 2009 at 1:30 pm
I had a great surgeon, but the hospital experience was poor, and this was at a supposedly very good teaching hospital.
1. Probably a fluke. My surgery didn't go completely as planned (but I am fine today.) During surgery they pumped me full of fluids. For the next 48 hours or so, I was extremely uncomfortable, mainly feeling very hot, and filled with pain killers. So there I was, barely conscious, mostly unconscious, in a hospital that about 30 years earlier had been a Catholic hospital. I am in a private room in the ICU. With curtains over the windows. Where no one who comes in the room isn't a medical professional or a close relative. In my hot, and very dazed state, I just wanted to cool off. I awoke day two to a respiratory therapist literally yelling at me. Yelling. Because my hospital robe was pretty much completely off and that was too much for her to have to deal with.
2. The call button where I was, was attached to a really heavy TV remote control with a bazillion buttons to control the TV, and one button to call a nurse. I could never find the call button, often it was on the floor. Since the nurses *knew* I had a call button, and I was completely wired up, there was no need for them to check on me. So they would get frustrated with me when I had to shout "Hello!" or "Helo" to them. That seems a fairly common occurrence. Rooms where occupants are trying to get someone's attention. Nurses understanding their poor delusional patients have call buttons and don't need any help.
3. Food and an environment of total separation of responsibility. Nurses nurse. Respiratory therapists respire. The cafeteria is responsible for meals. So when they forgot my meals or completely messed them up, the nurses, busy nursing, would make a phone call, or even two or three to the cafeteria, but do nothing more. So at times, forgotten meals would arrive 3 hours later, cold, and often completely messed up. One very silly example. I ordered a hamburger and the sent me a burger, bun, and absolutely no condiments. The held the pickle, held the lettuce, held the tomato, mayo, mustard, ketchup, relish, held everything. Which was not how I had ordered this thing. So 3 hours later, what shows up? A dish with a slice of tomato and a piece of lettuce. At one point, it was my turn to yell at a nurse, telling her that the meal was late, it would be late, her phone calls weren't going to do a damned thing, and she needed to walk down to the cafeteria and pick up some damn food if she as a nurse thought I should eat. Which is what she finally did. Turns out other nurses knew about this crap and would stash items like boxes of cereal to tide patients over.
4. Meds. I get migraines. Migraine sufferers know that when you experience the start of a migraine, if you can get to your meds quickly, and taken them quickly, the full-blown migraine is stopped. But if you take them too late, you're headed to intense pain for several days. On my initial checkin, I told them this, and told them about the meds I needed (and had with me.) But since those weren't my daily meds, they didn't write that down on their lists. So at a point in time where I started experiencing a migraine aura, the nurses wouldn't give me the meds. They had to check it out with the doctor and the pharmacy, and all of this was after hours. In other words, they were completely clueless. I finally had one nurse who agreed to get me my bag and I got my meds out myself. About five hours later, the migraine pills showed up. Thanks.
The ideal cure in part to all of this would be for better hospital training and procedures, and I said so in my letter to them that they completely ignored.
Short of that, it really is a terrific idea if you can get a relative or friend to stay in your room with you for at least the first day or two assuming all goes well. Bring meds like migraine meds with you.
I was finally rescued by my surgeon who discharged me.


Laura says

on February 22nd, 2009 at 2:21 pm
I think that the answer to this question depends a lot on the hopsital and your own feeings. The worst for me was probably all the tubes going in and out of me. I just wanted those things out and gone. But there was also the feeling of being so helpless, of laying there staring at a glass of water I wanted but could not reach for, and the feeling just after surgery that nobody was there to help me because the person in the other bed in the icu was an elderly man having serious issues.


Robert Zurcher says

on February 22nd, 2009 at 2:42 pm
Hi Adam and Barbara. I just completed surgery to repair my mitral valve 5 weeks ago. I'm a big fan of your book which was a great help to prepare mentally for the experience. This was my first major surgery, so I was nervous about the hospital stay. I am happy to say that my overall hospital experience was great and Barbara shouldn't worry about her upcoming hospital stay (I guess it really depends on the hospital – I stayed at Peninsula Hospital, Burlingame CA). Everyone was kind, professional and responsive and the atmosphere was friendly and upbeat. I think a positive attitude is also key to a smooth hospital stay.
I've been very happy that I went through the surgery at 49 years young. Overall, it's been a good experience and my doctors were truly awesome. My only complaint has been that I wasn't warned about constipation that is caused by narcotics given during surgery! I won't go into the gory details but it can lead to a very painful lower intestinal problem that lasts for weeks afterwards! My suggestion to Barbara and your readers – ask your doctor if you can begin taking stool softeners BEFORE surgery. I've been told that will help patients avoid a lot of pain and discomfort that can arise otherwise!
Thanks again for your book Adam, I've recommended it to many doctors here in the San Francisco Bay Area.
Go Irish ('81)
Bob


Joanne Harris says

on February 22nd, 2009 at 2:49 pm
Here's something I learned on the LAST day of my hospital stay following mitral valve repair — that if I'd learned it on the FIRST day, I wouldn't have any complaints at all about the hospital stay itself: I learned that I could have told the people who draw blood each morning at 5 a.m. (and thus totally wreck any chance of a good night of sleep), that they weren't to wake me til 7 a.m. to do the draw. How cool is that?! Wish I'd known it 12 days earlier.


Debbi Rose says

on February 22nd, 2009 at 2:58 pm
My hospital stay was very good considering the post operative helplessness and discomfort. The staff was very attentive and efficient. I also have MS which made me a fall risk. The poor nurses had to assist me to and from the bathroom every time! I really got to know each of them! The food was fine,although I wasn't hungry. My major complaint was that my TV didn't work. I couldn't read (percocet fog ) and found the nights long. I could nap all day, but couldn't sleep at night. The hot flashing from the anesthesia had me using ice bags on the back of my neck for two weeks post-op. The nurses were so nice about refilling my ice and laughing with me about it. All things considered, I don't believe I could have had a better experience.


helen holmes says

on February 22nd, 2009 at 3:23 pm
Have been to both Mayo and Cleveland Clinic and appreciate their idea of your staying in a hotel or motel overnight so that you get out of the hospital during test taking period. You only get a room I believe after going through ICU for a day or two. I did NOT enjoy ICU at Cleveland where I had an aortic valve replaced. I was way too awake and kept asking for my husband and he wasn't allowed to see me until very late in the game. And two unpleasant nurses – one a guy with bright lip stick and a smart aleck mouth – obviously had no training in dealing with awake patients. Compassion was missing in that area where is was all over the rest of the hospital.
I seemed to be the only patient who was awake and talking and it might have been better to put me to sleep. Pain control was great when you get to your own room if you asked for the pump where you press it when you need relief. At Cleveland though discharged four days after surgery for 12 hour drive home. The only pain Rx was for vicdodin which was just not capable of helping. We had rented an RV so I could lie down but the pain level was unbearable and I should have been given stronger drugs. I don't even know if they asked my husband HOW we were going home and HOW LONG it would take. They need to know that and they also need to know if you have a history of pain problems. Seven broken ribs and a huge still unhealed large scar forming required heavy duty medication.
If I have to return I will enquire up front. I often go to the U of Pennsylvania for other surgery and the trip is only two hours but they will give me a bottle of morphine pills to keep the pain level even and low. They realize that people heal faster if they can eliminate or hugely reduce the pain problem.
My advice is to ask all about AFTERWARDS and what the physician's pain policy and theories are. Never again will I go through any surgery without knowing all about the various stages and forms of pain and if they will help. Also if you are going out of State, check with your local pharmacy to be sure they will fill RX's from four states away. If not, get to your gp BEFORE you leave and work it through with her or him.
The surgery worked fine but it did take several months to heal because the pain would prevent me from getting good, health building sleep. I do not have an addictive personality as proven by years of hospitalization and I think they should have arranged to have a pump put by my bed at home and have a doctor or nurse refill it. Most patients tend to take less and less of the stuff as their conditions get better and I for one have never minded when the needle in my hand was finally removed. It was done always at the appropriate time so the pain was way down and I could move on to pills if necessary.
But you do have to bring all of the things up because the only time pain is mentioned is when the anesthetist visits right before surgery to tell you what he is doing. I am concerned much more about the pain I will have to handle alone and question why people should be put through so much because it is debilitating as anything can be.


Diane White says

on February 22nd, 2009 at 3:41 pm
Barbara
My experience with my heart surgery was fairly good. I had my mitral valve replaced and my tricuspid valve repaired on September 30, 2008 at St. Thomas Hospital in Nashville, Tennessee. I made every attempt to educate myself with the surgery and had a lot of trust in my surgeon (Dr. Jon Lea). He is a perfectionist and I knew that I was in good hands. My faith is strong and I was pretty much at peace going into surgery. I can honestly say that my only thought was "What if they cannot restart my heart". I did not dwell on this though. I knew that I had made it through when 1 hour after they took the breathing tube out they got me up. I was so groggy yet that I did not care. I stayed 2 days in the intensive care unit and my second night I had a bit of trouble with the nurses (I am a retired nurse) not responding to my light. They were also noisy and I think that the problem was they were young and not fully mature. I did report the incident to my physician who immediately took care of it for me. The rest of my hospital stay was great. The staff was very kind and caring and were diligent in their care. I can honestly say my pain was not too bad. I really think the worst thing was the removal of my chest tubes but it was momentary. I came home on day 6. I am 5 months out and feel great. I went through cardiac rehab starting at 21/2 weeks post op. This program was instrumental in getting me up and running. I feel great.
I did read Adam's book prior to my surgery and found it to be very informative. If I can be of any assistance in helping you through this I would be glad to talk to you. Please communicate this through Adam's website.
Diane White
Crossville, Tennessee


Jim HAYDEN says

on February 22nd, 2009 at 3:53 pm
Barbara: I have had my original aortic valve replaced twice in 7.5 years. My hospital was Yale New Haven, and both times the surgery and hospital stay was very good. Relax is my best advice to you – start right now, through the surgery, and through your recovery. I was 63 years of age and 70 years of age at the time of surgery and I will be 72 next month. I am very confident in both Yale and my surgeon Dr Sabet Hashim Chief of Thoracic Surgery.
The pre-admittance meetings with the Surgeon and hospital staff provided me with good information on what would happen. I have no memory of the surgery itself, the ICU is your first experience of discomfort. The breathing tube is cumbersome. But the nurses were ever present and controlled the discomfort. Yale gives you a menu to choose your daily meals, which are excellent. The "candy man" comes regularly to be sure that your pain never gets ahead of you. The nurses had me on my feet on my second day and I was released to go home in 4 days and 3.5 days respectively.
The surgery is not something that I look forward to or want to do again. But, considering the alternative it makes you uncomfortable for a short period of your life. In six months, I finished re-hab (a must) and on the tennis courts.
So relax, do your homework, pray and go for it.
Jim Hayden


Mark Harper says

on February 22nd, 2009 at 4:41 pm
I had an aortic valve replaced in Dec, 2006. My age at that time was 76. My spouse in an RN. We did an extensive online investigation of hospitals having experiences in heart valve surgery. You do not wish to select one that, for example, only performs 50 or 60 per year. The same with the surgeon. We did not chose the local hospital even though they performed heart valve surgery. We chose one that was among the top ten in U.S. That was an excellent choice. Pre-op and surgery were very professional and non-stressful. Post-op was great. Private room. No noise problems. Excellent individual attention. Team of three (RN's, etc.) assigned to each patient. Meals ordered from menu when desired. TV, telephone, nurses call all wireless. Could even view my e-mail from my bed on TV screen.
Stayed in hospital four days. Excellent treatment. Pain was not a problem. Team made sure that I was performing my lung excercises.
All-in-all, I had no negative feelings going into this surgery due to the excellent pre-op work and no negative experiences of my hospital stay. I will have to say that I have stayed at hotels that provided worse service that I received at this hospital.


Rebecca Roberts says

on February 22nd, 2009 at 4:44 pm
I had mitral valve repair surgery at The Hospital of the University of Pennsylvania 7 weeks ago. It was my first surgery. I can't say enough about the entire staff there.
The nurses were in my room so often, just to check on me, that I rarely needed to use my call button. If I did, they came immediately. And I was probably the least sick patient on the floor. They addressed all my concerns, even minor complaints like " I just want to wash my hair". They were pleasant, efficient, and competent.
My "worst" things:
1. I found it difficult to be in the "patient" role, being helpless and dependent on others. It conflicted with my self image as a strong, independent person.
2. The days were so long. I love to read, but I was unable to concentrate – anesthesia, pain meds.
I was in the hospital for 8 days so I got really bored, especially when I felt better.
3.Initially, I was given Lasix at night due to fluid retention. I was then up all night, using the toilet. When I complained about getting no sleep, they switched dosing to day time.
4. Before my surgery, I was concerned about a few things like past problems with nausea from pain meds. I had spoken to the surgeon about my concerns, but it was a real relief to know my husband was in the ICU to express my concerns for me. I recall feeling reassured when I sensed his presence there; it calmed me and enabled me to sleep. So you may want to check out the ICU policy about visitors.
5. Couldn't take a shower for 8 days!
6. re: Bob's comment on constipation: I had been forewarned about this.
So I was really careful about the pain meds…used the very least I could. Also, from my first meal, I ordered fresh fruit and fruit juice with every meal. I was given Colace daily, also. All this worked…I had no problem!


Jeanie says

on February 22nd, 2009 at 5:04 pm
I am 43 years old and had tri-cuspid valve repair on Sept. 17, 2008. My hospital experience was wonderful! Yes, there were moments that I do not ever want to relive, but all in in, everything was great. My surgeon prepared me and I read ALOT (including Adam's book, which became my bible), which I was advised against, but I really wanted to know what to expect. I have told everyone that this was so much easier than I expected. My chest tubes were the most uncomfortable part of the whole experience…they were uncomfortable (not unbearable) while in and uncomfortable (again, not unbearable and this was momentary) coming out. Again, my surgeon prepared me for the discomfort. I had some issues with my blood levels that kept me in the hospital for 6 days, taking Percocet for pain. I came home with Vicoden that wasn't really necessary after the first 2 nights. I actually took 2 Advil each morning after that, only because I was stiff from sleeping upright in an armchair. I'm 5 months out and feeling like nothing ever happened. Even my scar is suprising…not much to see at all! Be positive. Relax. Have faith.


Leslie Lafayette says

on February 22nd, 2009 at 5:15 pm
Hi Adam and Barbara…I stayed at UCLA Med Center before they moved over to the new Ronald Reagan Center. The building was old and there was a shortage of private rooms. I really did not like sharing a room as it was very small, there was one TV we both had to share (not that I cared too much about TV yet) and it was noisy! The hallway outside had people coming and going all day and all night and sometimes the nurses and other hospital personel would shout, laugh and otherwise live their lives while we were trying to sleep. The beds were not comfortable either. Once I got into a private room on the third night it was a little better. I agree with Adam that there isn't enough sleep and you don't really catch up with that until you are home in your own bed. But most of my hospital experience was okay – just be sure you have someone with you who knows what's going on and can question things for you about meds and procedures.
Leslie (Lil)


Kerrigan says

on February 22nd, 2009 at 6:42 pm
The worse was the night after moving from the CRU to the ICU when the Pain Control System failed. It indicated I was getting pain medication when I was not. Finally managing to phone my wife, thank God she arrived and set the situation right. My big lesson; there is no substitution for having a "Guardian Angel" with you at least for the first couple of days and nights.
The second bad trip was the horrible bed. It was very difficult to sleep on that and finally the staff gave me sleeping pills just so I could rest.
The best part was getting out of the hospital just as soon as I could, five days after surgery. One doesn't get well in the hospital; one gets well at home.
The staff was tremendous and very helpful once problems were identified.
I've been home 4 weeks now and looking forward to starting the all-important outpatient Cardio-rehab program.
Looking back on it, the surgery was the easy part, but all the rest is very do-able. Never give up the faith and everything will work out fine.


Joe W says

on February 22nd, 2009 at 6:46 pm
It saddens me to hear some of the bad experiences noted above. But then that's what the question asked by Barbara was all about. I had a very good experience at Cleveland Clinic. My aortic valve was replaced on 12/29, so tomorrow (02/23) is my eight week aniversary!
Being a healthy 55 year old guy who'd never had major surgery, I went into this hoping for and expecting the best possible outcome, and it held true. Before surgery, the hospital staff bent over backward to educate me on what to expect before, during, and after surgery and I was given a large binder with many helpful documents and references (for my family and me) as to what would be happening and what my responsibilities as the patient were.
One day in ICU with my family present and with a great staff I couldn't have asked for anything any better. Yes, all the tubes and wires coming out of me were somewhat uncomfortable, but they didn't last long. The best thing I've every heard was "Wake up — your surgery went just fine!" My biggest fear going in was the breathing tube. Once that was out, life was good again for me mentally. Keep in mind, Barbara, that much of what happens over the first few days after surgery is very likely going to be only a blur, and quickly forgotten due to medication during that time.
Once in my own room after ICU, the staff was constantly checking my pain level. The push-button was taken away on the 2nd day and it was made very clear to me that if my pain was not under control, recovery could not progress as needed, and it was MY job to make the nurses aware of my "0 to 10 level" so they could address it accordingly. I was gotten up after day #2 and it was MY job to try walking several times daily (with help, of course). Once you can get out of bed, the patient is the only one able to determin the rate of recovery, assuming the operation was successful. The more motivated you are to get those muscles working again and keep them in shape, the faster recovery will go.
Fortunately, I had family with me most all of the time that could help me when needed. But I did start getting bored, and the food did start tasting worse, and the TV shows seemed to get worse, but that was all mental. The most difficult thing physically was moving around in bed — learning to shift from side to side with the least amount of pain in the upper body. At rest, things were fine, but shifting around, and getting in and out of bed were tough things to do. But each day it got better for me!
Hang in there, Barbara — you'll do fine! As long as you are confident about your doctor and the hospital you choose, you'll do great mentally and that's half the battle Think and be positive! If you're healthy going in, you'll be healthy coming out. If there are other issues and concerns, your doctors will compensate for them and explain things so you understand and are well-informed. These surgeries are done thousands of times every year so you're not having something done that's new and experimental. These people know what they're doing and how to handle things. It's your turn to be another success story!
Joe


Vicki Natividad says

on February 22nd, 2009 at 7:14 pm
Hi Barbara & Adam,
It really does depend on the hospital… My hospital stay was at Sunrise Hospital & Medical Center here in Las Vegas. I was lucky in that cardiothoracic patients remain in ICU until discharged. Also, each patient had his/her own room. My first 2 nights, the nurse to patient ratio was 1:1. The subsequent nights – the ratio was 1:2 then 1:3 by my 5th night. I was discharged on my 6th day.
My worst things were:
1. No sleep!
2. The repeated blood draws (I have tiny veins and became anemic, so the technicians had trouble finding veins) and blood sugar testing (I also became hyperglycemic after surgery – back to normal by the time I was discharged).
3. The removal of the chest tubes. That was momentary as Diane stated.
4. One of the nurses forgot to flush the IV when she gave me my potassium drip and that felt like liquid fire. I'm almost 5 weeks post-op and my wrist where I had the IV is still slightly bruised. Even with that, she wasn't the worst nurse.
All my nurses were professional and responded to my calls within a reasonable time frame (when they had 1-2 other patients besides me). Only one nurse was very curt with my husband telling him visiting hours were over (this was while my husband was helping me in the bathroom!). She was also constantly checking her phone/PDA. None of the other nurses were bothered when my husband would stay beyond visiting hours.
It really helped to have my husband there asking questions especially since I kept drifting off to sleep. Also, Adam, your book helped prepare us. I used to think that doctors and nurses don't like being questioned about every little thing. I found out that wasn't the case at all.
I just asked my husband for his opinion on what he considers the worst thing he observed while I was in the hospital. According to him, whenever I needed to go to the bathroom or when I went for my walks, it was cumbersome having to readjust/plug/unplug all the tubes and wires. He said in this day and age, you would think someone has engineered a "nurse-friendly" design for monitoring equipment, IV, oxygen, fluid collections.
Vicki


Sarah in McKinney, Texas says

on February 22nd, 2009 at 7:35 pm
Barbara,
I had an excellent experience at Baylor Heart Hospital in Plano, Texas. Here are some suggestions:
1. Be very honest about your pain level, (they will ask you to rate it 1 to 10).
2. Ask lots of questions: I was concerned at one point whether a certain pain in my chest was "normal". It was – but I asked!
3. Learn nurse's names. Mine wrote them on a white board in the room, along with when their shift started and ended.
4. Bring some comfort items from home. My daughter sent me with one of her stuffed animals and a note. I also brought my own PJs which they let me wear starting day #2. That in itself made me feel 200% better!
5. Have a smile when you can, and a positive attitude that all will go well.
6. Don't forget to thank the nurses, and let them know when they do things just right for you!
Good luck! I have had four major surgeries, and all have been very positive experiences.
Sarah
McKinney, Texas


Sherri Hendry says

on February 22nd, 2009 at 8:37 pm
Barbara,
I have my MVP repaired (minimally invasive) on January 7th @ INOVA Fairfax in Virginia. I looked at this as my new journey in life….and considering the circumstances, I couldn't have asked for a more pleasant experience. The only negative things were:
1) lack of sleep – part of that was my fault..I felt like I had to be awake to see what was going on at all times….to be in charge….(problem being a type A person.)
2) chest drainage tube…was touching both of my ribs and anytime I moved it cause excrutiating pain.
3) neck tube w/ the multiple lines I felt like I was being choked….I can't stand anything around my neck like turtlenecks or high collared sweaters.
I also got scared on my last night…apparently my blood pressure drops really low at night and just as I was dozing off to sleep the alarms would sound. I freaked out..hit the panic button and the nurses came in and told me the problem.. said not to worry…that they were monitoring it out at the station were well aware of what was going on and said my pressure drops low all the time when I doze. So i practiced my relaxation breathing techniques. They do help..it calmed me.
Other than those couple of things ….I had the best nurses, techs, folks that brought me my food, etc. They did everything they possibly could to make me comfortable – including laughter. Hopsital environment was pretty good. Everyone was nice, curteous, professional, and seemed happy, upbeat.
As for the blood being drawn they had this pump device that all they had to do was hook up the sample tube and open the device and the blood came out then they flushed the line and closed the connection. No poking for blood every time, painless. It was hooked up to my arm inteveniously. I loved it. I didn't end up looking like a pin coushion!
I will say doing your research before surgery and having a positive attitude does help in both the prepping and the recovery. I wish you well.


Ed Williams says

on February 22nd, 2009 at 9:47 pm
Hi Barbara,
I had an aoritc valve replacement for severe stenosis done at Sequoia Hospital in Redwood City, CA on November 4th, '08. I'm 55. After 8 weeks I was back at work (could have been back after 6) and after 12 weeks I was swimming and doing my first pushups. I'm totally fine. My surgery was performed by Dr. Luis Castro of Pacific Coast Cardiac & Vascular Surgeons, (PCCVS). http://pccvs.com . Overall, I give the whole team 11 out of 10. Couldn't have been better, and I recommend them unreservedly. You'll notice that the hospital is not listed in the big US News and World Report Review of hospitals. I asked my cardiologist why he recommended them to me and he said that it was too small a hospital to make the US News report, but that the doctors at PCCVS were ones that OTHER cardiac surgeons went to for THEIR surgeries. I see why. They specialize in minimally invasive surgery, and they left the top and bottom of my sternum intact, opening a three rib wide "French Window" in the rib cage, so the healing is much faster and much less uncomfortable than with a full sternotomy (see their web site). My incision was tiny! About 3″, and the edges were sealed with an adhesive rather than stitches (no big highly visible cross-stitches), and made right along the edge of my pectoral muscle, so it almost doesn't show at all on a first glance. For women, they also have other incision routes along the ribs, that won't show with typical "plunging neckline" clothing.
When I met with Dr. Castro he really listened to and addressed my concerns about the surgery (like you, I had no previous surgeries and had no idea of what to expect). During the time leading up to the surgery I was able to contact him or his staff and get my questions about the post-op time answered in detail so I was well prepared for the hospital stay and beyond. Took a huge load off my mind.
The Sequoia staff were equally professional. From the time I "turned myself in" I knew I was in great hands and was very at ease. After wondering "gee, I'm not sure this anaesthesia is working" and waking up an instant later in post-op, the staff were immediately talking to me about what was happening, asking if I was uncomfortable, and letting me know what was going to happen next. I had been told that post-op I'd wake up with a tube down my throat to help me breathe while unconscious and with a few wires dangling from an incision in my chest and an IV line secured right into my neck. I was very apprehensive about the tube down the throat and just couldn't imagine not being completely freaked out. But when I woke up, the staff was right there, and it wasn't uncomfortable at all. The first thing they did was tell me they were going to remove the breathing tube. And then…hey, it was perfectly fine. It took just a second to pull out, and felt slightly odd coming out, but none of the gagging and hysterics that I thought I'd go through.
Next unpleasantness was that my throat was unbelievably dry and I was so thirsty. But they were right there witrh a cup of crushed ice for me to take little bits of and suck on. DELICIOUS!!!
After that, it was just lay back, relax and be wheeled around a bit. At Sequoia, I got another surprise — a private room! Very comfortable with a nice California view of pines and redwoods.
I did have a chest tube as well. That was uncomfortable and sometimes painful, but when I mentioned it, the nurses adjusted its position and re-taped it down adn it was fine. No pain when it was removed.
Now certainly I was drugged to the gills at this point, but never so that I felt anything less than alert. As others have said, there's basically no pain when I was laying still, either on my back or sitting up. Even moving my arms around to reach for more of that luscious shaved ice was basically fine. (I got a big jug of water the second day and picking it up was also fine). They constantly asked me to rate my pain, 1 through 5, kept it below a three, which meant yes, I'm aware that my sternum was broken, but I'm a grown up and it hurts about the level of any broken bone or sprained ankle — it aches, and it's annoying, but never to the level where I was feeling ANY real distress. Also odd, is that it's ONLY the sternum pain you feel. There was absolutely no pain or any sensation of any kind from my heart itself that let me know what had been done to it. As Joe and others said, it DOES hurt when it's time to move to get up and down or move side to side. But you have a GREAT deal of control over that. They will teach you a technique for getting up which will involve hugging a pillow to your chest, rolling to the side and swinging your legs over the bed and letting their weight help bring you upright. If you take your time, and do it carefully it's fine and doesn't hurt much at all. Just don't rush. Also, this gets easier every single day, and you'll do it several times a day, to get up for meals and to take several walks each day down the corridors.
They will strongly encourage you to get up and sit in a chair for your meals and help you take your daily walks. The walks will be very short at first, just down and back, maybe two or three minutes round trip (and you'll be tired!) but over the course of the 4 or 5 days you're there, you'll take longer walks of up to maybe 10 minutes.
They will wake you up in the night to give you meds and take blood etc. It's really not so bad. You'll get used to half waking, taking a pill, chatting with the nurse, and going back under. Since you can also essentially sleep all day, I found that I was never missing out on sleep.
That's basically it. The food was very good at Sequoia, and it was mainly very comfortable. But the food isn't superb, and you're not perfectly comfortable all the time. So what? It ain't Club Med. You're not on vacation. You're supposed to want to go home, not stay. It's a hospital; they've saved your life and while they're all very nice about it, like I did, you'll hear and see people in other rooms who are far worse off than I was or you'll be. And those poor folks will be getting the extra pillows and whipped cream.
After about 4 or 5 days if everything's gone ok, they'll let you go home. I slept in my own bed, no special prep. I HAD to sleep on my back for the first three weeks. You probably won't be able to sleep on your side. Also, it WILL be hard to just squirm around and get comfortable once you're down. That'll move your sternum and hurt. I found that I had to carefully position my pillow, and sit just the right distance away so that when I did my pillow-hug-lay-down-roll-onto-my-back routine my head was in the right place on the pillow. You will find you are planning this out like a moon landing, and you'll get good at it after a couple of tries. Get a nightstand for your meds and water. At first an alarm clock is good, because you'll want to take your pain meds when they say to. If that means every four hours through the night, do it. You don't want to sleep for eight and wake up in pain and try to catch up. Stay ahead of it by wathcing your doses.
You'll have great medications, but probably you'll wean yourself down to Tylenol within three weeks. I had Tavenol, which was great, but which can make it VERY hard to sleep for the first few nights without it. Resist the urge after a night of tossing to grab a Tavenol instead of a Tylenol just to get back to sleep. The sleeplessness will pass after a few days.
Since I'm a bachelor, I was lucky enough to have a cousin come and stay with me while he looked for work in California, so he did the cooking, shopping, etc. I got up every day, bathed (you'll be able to do all your own hygiene — I took a shower by myself before leaving the hospital) and shuffled around, read, took my walks (the docs will want you to increase by a couple of minutes a day until you're doing a half hour after a couple of weeks. Again, take it slow and you'll be fine. Stack up some good books, talk to your friends. You'll soon be doing a little cooking. Let someone else do the dishes. After three weeks, you'll really feel like yourself again, and by six weeks, you'll be ready for your first drive!
So…bad things? Get a good doctor and hospital and there won't be BAD THINGS. Inconvenient? Yep. Uncomfortable? Yep. But you'll do fine. Think of it like when the astronauts go to space. It's certainly uncomfortable, but it's fro such a good reason (you'll feel terrific later) that you just have to put up with a bit. And if there is real PAIN or distress or anything that really threatens you, your nurses and doctors will certainly be right there to stop it.
Oh…Here's A BAD THING. Coughing and Sneezing. They are violent events. But fortunately, they will teach you how to deal with them, by clutching the pillow to your chest when you're going to cough. DON'T FORGET TO ASK THEM TO SHOW YOU HOW TO DO THIS!!! For the first 3 or 4 weeks, if you do it right, it's a little painful, but manageable. If you don't do your technique, and just cough, a cough will feel like getting hit in the chest with a baseball, and a sneeze will feel like a cannonball. So rid your house of things that might make you sneeze or cough (cooking smoke, strong fragrances from cleaning products, etc)
So, what's the WORST THING??? Probably dealing with your friends and relatives who are SO ALARMED and flustered and overly helpful when you get up, take your own medicine, march out the door for your walks, and start living your life again so quickly after this surgery. Because they'll be expecting this invalid and because you've got all this oxygen and energy, you're going to feel great! So no growling, Barbara. Be nice. They love you.


Kathy says

on February 22nd, 2009 at 10:07 pm
Hello Barbara,
The worst experiences for me were the ventilator, and being terrifically ill upon waking from the anesthesia. I did talk with the anesthesiologist BEFORE THE SURGERY, and warned him, I become very ill! Nausea was A BIG PROBLEM. So are certain pain killers. Any opiate derivative meds, are a big no no! Being ill with nausea, and vomiting definitely is NOT what you want (or need) after surgery!
Also, you are half asleep really, but when I finally became aware of the ventilator, I remember trying to tell the nurse over, and over again, I CAN'T BREATH! The nurse kept telling me Ms Mccain it's okay, you CAN BREATH! Hope they didn't think I was too big of a pain in the butt!
So that's about it for me. Other than that it was pretty much okay. The feeling of helplessness is difficult, but was manageable for me. One last suggestion. You might ask for something to help you sleep. It is kind of noisy at times.
By the way. My surgery was last Feb 11th. I was 56 yrs. I too, had severe aortic stenosis, due to a bicuspid valve. It is normal to be nervous. You will get through it, and go on to live your life.
Best of luck to you! Regards, Kathy


Sandra says

on February 23rd, 2009 at 1:14 am
I had mitral valve repair and atrial/septal aneurysm repair in London, Ontario last July and I would say the worst thing about the hospital would be the chest tubes. I, like Adam, also had difficulty with fluid draining from the lungs and still had the chest tubes 5 days post op. One of these tubes shifted on the 5th day and rested on my lung and this was the worst pain I experienced the whole time I was in hospital. I had a lot of vomiting the first couple of days after surgery but the chest tube shift was the worst. All in all the surgery is not near as bad as you think it's going to be. Good Luck!
Sandra


Doug Atkins says

on February 23rd, 2009 at 8:19 am
Barbara,
I had a wonderful experience in the hospital…and YES, that's possible. I had the luxury of having my Ross procedure at the new Heart Hospital in Plano, TX. This hospital is STATE-OF-THE-ART and very new. Every room is a private room…and huge! The food selection is more of a resort-style…they have a pretty large menu that you can choose each meal (and the food is good…though I didn't have an appetite for about a month after surgery and nothing tasted good). The care at the hospital was excellent. Dr. Ryan was amazing. BUT, I would agree with Adam…I didn't get a good night's sleep the entire 6 days that I was in the hospital (and while napping during the day). I'm not sure if it was because I couldn't get comfortable, or if because I was fluctuating back and forth between freezing and sweating, or what. But I just couldn't rest very well. Even after being home for about a week, I didn't rest well. But, in my mind, if all I have to worry about after open heart surgery is resting well, then I'm ahead of the game.
I wish you the best with your upcoming surgery. It really isn't bad at all.
God Bless!
Doug


Adrian Bishop says

on February 23rd, 2009 at 8:42 am
Hi Barbara: Adam's stats are interesting. They reflect my experience, but I did not realize so many of us appear to have had good experiences.
Like you, I have had very few hospital experiences in my life, and the ones I remembered were not terrific. I am 61 and was very surprised to learn about my aortic stenosis. My cardiologist was very open about my learning as much as possible before surgery and encouraged me to use the web. I did not learn about Adam's blog until afterwards, but found many, many other resources. My doc and others encouraged me to choose the very best situation I could for this procedure. He had several surgeon suggestions, and we checked them out, and he had an immediate suggestion hospital-wise, when we told him we had many friends in the Washiungton DC area. There are no cardiac surgery facilities any where close to our home in St Thomas, US Virgin Islands. Even tho we had made choices we continued to check them out. Friends also searched the web and their info corroborated our choices. When I called the surgeon's office, his office manager immediately put me at ease (from 2000 miles away) saying: "Dr Kanda is going to hold your heart; you want to know everything you can about him!"
I only met one person during my 5 days in hospital who was less than kind and gracious, and I only saw her once. Her supervisor the next day asked how my care was, so I told her it had not been up to par the previous night. I never saw that nurse again!
I did find the lack of sleep tiring, but in my case I found even during the changes of room-mate, I slept really well every second night.
There were two 'things' that really helped me through this process. 1. It has been so interesting! I had no idea that we could do this to people, let alone me! 2. The loving and care I received from my wife and friends and family. I did not know it was possible that people loved me so well.
None of the above says this will be easy. Although the overall results are great, not everyone survives it. The person next to me in recovery did not, and the constant flow of room-mates I experienced were people who had come from other doctors and hospitals who were experiencing issues. But do your homework during preparation; research the choices and choose the very best surgeon and hospitals. Tell your family and friends what is happening and don't be shy about asking for their prayers and love. Then relax, and go with the path that you have chosen, given the situation. You and your body will be much better off, going in relaxed and prepared.
I wish you all the very best; I expect you will really like the results. Oh, it may take a little longer, but you will feel much better!
Adrian Bishop
St Thomas, USVI


Jodi Carroll says

on February 23rd, 2009 at 9:36 am
I am replying for my husband, who had his aortic valve repaced 10 days ago. The worst experience for him was waking up in ICU with the ventilator still down his throat. When that happens you supposedly don't remember it, but he definitely does. They had told him that he would not wake up with the ventilator in there so when he realized it, he became quite agitated. I don't think you can prepare yourself for how you would react if that were to happen, but the best thing is to remain calm(easy for me to say, right). The next in line to that would have to be coughing all of that fluid up that accumulates in your lungs. Just make sure and hug a pillow, that really helps as well as getting up and moving around.
I would also say, please prepare your family members that if they get to see you in ICU shortly after surgery, that you will look totally different. I was not prepared for how my husband looked, even though people had told me. He was soooooo swollen with fluids from the surgery that he didn't even look like himself. His head was HUGE! But, I will say 24 hours makes a big difference. When I saw him the next day he looked so much better.
If possible, have someone with you in the hospital at all times the first few days. No matter how good the nurses are, they can't compare to what a loved one can do. And you will not be in the right state of mind to ask all of the pertinent questions or maybe even to remember the answers.
Good luck Barbara, be positive and I know things will turn out great!
Jodi


Joan Parkinson says

on February 23rd, 2009 at 1:01 pm
Hi, I am a 67 year old female who just 3 1/2 weeks ago received a new aortic valve. I agree with Adam that the worst part about being in the hospital was the noise and lack of darkness which interfers with your sleep. My husband's health plan covered a semi-private room which I had upgraded to a private room for an additional $25 a day, it was well worth it at least I didn't have to deal with other people too. I also travel a lot so never go anywhere without earplugs which helped, but not entirely,I finally had to get my husband to bring my eye shade as well. It was so good to get home to your own surroundings and a good night's sleep.
I got a wedge for my bed and use lots of pillows to keep me from moving around too much at night. I still keep a pillow between me and my husband cause I don't want him to give me an elbow in the chest.
I am happy to say that the whole experience was a lot easier than I expected. Since I got home I have been able to manage my pain with regular Tylenol during the day and just one prescription pain med at bedtime. My incision has healed nicely and I feel better and stronger everyday.
The worst part was the anticipation and the unknown. Good Luck


Jennifer From Charlotte says

on February 23rd, 2009 at 4:28 pm
Well I didn't care for my hospital or hospitals exprience at all.
OK this isn't a very warm fuzzy experience at all but I made it through every curve. I have to start from the beginning; my Mom had passed away six years before I had my open heart surgery from the same heart disease, Hypertrohic Cardiomyopathy. So I felt I was doomed from the start. I started to experience some symptoms and the reactions the doctors started to give me told my story in their eyes. So I was headed for open heart at 32 years of age. Just to be sure I went to the Cleveland Clinic to get another opinion and when I went for a walk ouside in between appointments is when I new I was truely in trouble. I used to be very active but I had no idea how much my physical strength had weakened; I was winded just trying to walk around hospital campus. Needless to say I had surgery less than two weeks later.
My surgery was set my aunts (mom's sister's), dad, sister and brother were all set; ready for service the morning of my surgery. All of a sudden we all were terrible nervous and uncomfortable being together with my mom's memory still very fresh in our minds. Hear I was terribly concerned for everybody's well being but my own. Before I new it I was out; for about 4-5 days. I was meant to just have a septal myectomy and the valve being replaced was an after thought. Needless to say not alot of information out on heart valve replacement over 5 years ago. So I had a septal myectomy (shaving of the wall or walls of the left ventricle) and my mitral valve was not able to be repaired so it was replaced with a St. Jude mechanical valve.
After my surgery I was in my own room and my sister's friend was a nurse on the floor, very nice too bad I don't remeber it. Unfortunatley I wasn't getting better after surgery, I was actually a little wacky and very nonresponsive; oh and my sister says I was very very mean. Hmm, I still unfortunatley don't have any clear memories from those days. They started to wander and come to find out my liver had stopped working. So my cadiologist decided to move me to the other major hospital where the liver specialists in town practiced. This is when my memory started to kick in; I remember the ambulance ride, the new stereo system just installed in the ambulance and that was their first ride, and the rush of cold air that made me feel alive. Then when I got to the other hospital (a little history here-this is the hospital where my mom passed away suddenly after developing a-fibb and her cardioversion went bad) they for some reason load you up with moriphine for your journey and after for concerned for your pain, obviously not concerned about your mind or well being.
I was feeling very out of it and this is when I was struggling to get better in my new surroundings, but I new I was getting better and my liver was back in the game. This is when I would have requested a "do over" because my new hospital stay was not something I would wish upon anybody.But then just for fun I was on a critical care unit floor and my nurses thought I was there for liver failure ONLY, not knowing I just had open heart surgery 5 days ago, it wasn't easy. So I thought my family looked scared before my surgery now we all had reached a new level of fear. I was scared to see my family and I was scared not to; this was a very scary time during my hospital stay. Oh how could I forget my wonderful corner room that actually had a view of the park in the winter with the skating rink, very nice. But when I was actually able to get up on my own and enjoy the view is when I got a new roommate. She was a weekend stay over with a suitcase ready to stay in the hospital until a heart catherization was preformed because she was sure she had something clogged. That's just the introduction to my new roommate she eventually with all her huffs and puffs from under her face mask and ear plugs caused me to feel that I was to sick for her enjoyment. This situation caused me to experience some atrial fibb myself. I felt as if my regular heparin and naussea episodes were an inconvenience for her and I was nervous about bothering her stay. We'll all the nurses and my family thought I was crazy because the lady seemed very nice them. Maybe it was the moriphine either way I was inconvinience to my new roommate. Needless to stay I moved.
The sad part was is I had to beg for a cadiologists and I couldn't even tell you what the liver specialists looked like. So much for the move from my nice single room at the original hospital where I had my open heart to the hospital where I cried with relief to see it pass away in the rearview mirror, and I'm thankful for that sight still today.
I'm sorry to unload but I guess that's what this is for. Nobody has really ever asked me about my hospital stay but I have been telling little bits of my hospital stay ever since. I know my story also had a bit of an emotional side unfortunatley we all know this experience doesn't go without an emotional side.
My advice is without any complications or with the complications you can get through it. Once you get out of surgery recovery is a small feat considering the rollercoaster we're on before surgery. Not to say recovery easy, its just at a bit more of a managable level.
Take Care and Good Luck!!


Alex Lang says

on February 23rd, 2009 at 6:05 pm
Hi Barbara,
I am now 9 months on from my aortic valve replacement and double bypass. What do I have to say about my stay in hospital? That is a very good question, and one I have never been asked. or considered much before now. I suppose the fortunate thing is that I don't really remember all that much about it. Yes, I remember my admission, the examination, bloods etc, getting settled in to my room which was very comfortable. The visits from nursing staff, medical staff, my surgeon. All very friendly and re-assuring. I certainly remember the extensive shaving! Not something you should have to worry about, Barbara! I also remember being wheeled off to theatre, but after that, well there isn't much on the cerebral record. Vague memories of coming round in Intensive care, comforting nurses only too willing to ease the pain on request. I vaguely remember drain tubes being removed and being returned to my room. I think the medication made it all at an acceptable level, whatever that is. Yes there was pain and yes there was discomfort, but it was bearable with the medical support offered. The next six days were all much of a sameness, same visits by nursing staff, doctors, the surgeon. breakfast, lunch, dinner – bloods, medicines – medicines, bloods. How much blood do they need? And of course, the visits and support of my family. One thing I certainly remember was my first trip along the corridor to get the legs moving. WOW! Energy level – zero. However, very slowly it did come back – very slowly! And then, it was home. Where did the week go? ….The medication!
Now, looking back, it seems such a long time ago and I have come a terrific journey to be where I am today. Was it worth it? – of course. Do I consider myself lucky? What a stupid question! We are the luckiest people to be in the hands of such fine surgeons and medical staff.
Barbara, go with the flow and look to the future, and by the way, you will not be amongst sick people. You will be amongst fortunate people who are being given another and better chance at life. Be strong, we are all with you, and you certainly still have a lot of living to do!
Remember, it's all in the medication. Who wants to remember their time in hospital anyway?
Visit Adam's Blog regularly, it is simply one of the best tonics on the market and with the greatest membership.
Regards from the UK.


Midge says

on February 23rd, 2009 at 9:19 pm
Barbara, I just got a new aortic valve on 2/1309, came home from the hospital yesterday.I went to a large HMO provider in Los Angeles..who is moving next door to their new hospital next month. So, conditions were not all extremely new and modern, but the attitude of the people caring for me more than made up for it. Yes, there was noise but you could just make sure they shut the door. And, yes, sometimes it was an interruption to have a nurse or tech come in but I really felt well looked after. I am one of those people whose response to Percocet was "far out", but that wasn't all bad. The last thing I remember before going totally out was being wheeled into surgery at 7:30 AM Friday. My next memory came sometime Monday afternoon, so I missed all those tubes down the throat, being wired, etc. My husband told me I answered people's questions, asked for water on my lips, but I have not one memory. When I finally did wake up, I was snuggled in a bed with water, etc. available and someone checking on my roommate and I often. I enjoyed having a roommate…we had so many good laughs about our "non-responding brains", out "races" down the hallway when we started walking, etc.
But, from the other side, I'm glad I went with a mechanical valve and should not have to look forward to another one of these unless some goes astray.
My valve does not click as some mechanicals do but I can feel my heartbeat in different places around my body, which I believe I'll get used to before long.
Midge


Bill says

on February 23rd, 2009 at 9:19 pm
I had Aortic Valve replacement last May and I know you will do very well. I am from Atlanta myself and had the procedure done at Piedmont Hospital. The time after the surgery is not pleasant, but not all that bad either. I found my time and orientation were distorted and I had trouble keeping up with day and time. I think that was a result of lack of sleep. There is precious little of it. Also, I found the pain medication really dulled my senses and awareness. Take as little as you need to maintain comfort! What really surprised me, was that I found visitors to be very annoying. Not sure why, but I only wanted one or two people around me and almost begged that the other friends and family stay away for a few days. I even found the flowers and gifts annoying. I think I was trying to focus on ordering my environment and that extra stimulus just irritated me. That may have just been me….but I was not expecting it.
Best wishes for your surgery and recovery…
Bill in Atlanta….


Mary Ferraro says

on February 23rd, 2009 at 11:29 pm
For me, the worst thing about being in the hospital for 8 days was almost constant (day & night) various alarms and one or two loud patients every night. . . one of whom really should have been sedated. The two best things about being in the hospital was the compassion of the Mount Sinai Medical staff in NYC and the family who stayed with me for the first three days & my family and boy friend who also visited me thereafter. You can do this and it is soo worth it. I am 17 weeks post-op and now my sternum is only a little achey but I have energy and can breathe like never before. And I am full of hope for my long future!


Maggie says

on February 24th, 2009 at 6:42 am
I had my surgery 4 months ago and I am still having some chest pains due to the stiches. Is this normal and how long does it take?


Bill says

on February 24th, 2009 at 11:27 am
Maggie,
I know we are all different and perhaps Adam has better insight, but I think your pain should be easing by now. The more I did and the more active I was the better I felt. By the time I resumed full workouts a the YMCA, any remaining pain went away. Check with your doctor. Chronic Pain should be addressed…
Bill in Atlanta


Cindy McGinn says

on February 24th, 2009 at 6:37 pm
Hi Barbara. I had my aortic valve replaced with a mechanical valve 3 1/2 weeks ago. I know the feeling of not being able to sleep at night. I only had a few weeks between diagnosis and surgery, but I had to fight to keep the panic down. I am very happy it is over, but I'm just as happy that I had it done. The hospital stay was not too bad, and even the dreaded ventilator was not as bad as I feared. My surgeon does not 'step-down' patients, so the entire stay was spent in ICU. The thing I hated most was that this meant my family could only visit 1/2 hour in the morning and evening. Nights were long, but I just kept thinking I'm breathing, talking, and walking. Life is good! And once I got home and FINALLY got a shower life was great! Good luck, it will be OK.


Jim Morris says

on February 25th, 2009 at 12:55 pm
I was fortunate to have a private room in the heart surgery wing of the hospital here in Asheville. My care was excellent. I had no pain after my aortic valve and double by-pass surgery on January 12, 2009 , after the chest tubes were removed a couple of days after surgery. I was only in ICU for about 24 hours. Hospitals do tend to wake you every hour on the hour to weigh you, stick your finger, take your blood pressure, etc. I had very little appetite (the food was not good and my taste buds were impaired for several weeks due to the heart lung machine. My heart stopped for 18 seconds a couple of days after surgery which precipitated a "Code Blue" response by the staff. It stopped again later briefly, so my cardiologist decided yo put in a pacemaker, which kept me in the hospital for a total of about 9 days. I was weak for about a month after surgery but after that have felt good, and able to participate in a rehab program, and seem to be making steady progress. The whole process was much better than I had feared it might be, especially in regard to pain. Everyone who attended me, from my surgical staff to my hospital staff to my rehab staff have all been wonderful.


Stanley Kogelman says

on February 25th, 2009 at 7:14 pm
I just returned home today from having minimally invasive surgery for severe aortic stenosis. As the hospital faded from view (New York) and we we started to see the trees and grass of the suburbs where I live, I experienced a rush of relief and looked forward to forgettting the six days in the hospital. The medical team was world class and very caring. The same was true of the nursing and other support staff. I feel weak but happy that this medical miracle took place. The worst part was as you said, severe sleep deprivation from lights, talking, constant testing. I barely slept for three nights. Lying hour after sleepless hour increased my anxiety enormously as nights rolled into days into nights of tubes, oxygen masks, injections, etc. I don't know what can be done about this. My surgeon offered a great quote "a hospital is a place to get fixed, you get well at home."
On day two post surgery I went into atrial fibrillation which was truly terrifying as I was surrounded by doctors pumping all sorts of things into my body. Afterwards I was informed that this was quite ordinary, occuring in about 30% of patients. It delayed my stay by a day, but added one more sleepless night.
My advice from the patient's perspective is that this surgery will save your life! Not a bad payback for five or six days of misery. Also, the medical teams' experience is critical. My surgeon and team have done over 4,000 of these procedures. Knowing that kept me confident, albeit occasionally terrified and totally exhausted. Now just six days later I am at home. I just completed a very slow path down 15 steps, followed by sitting for three minutes, followed by an even slower upward climb. But I still have the strength and energy to write this note.


Don Henry says

on February 26th, 2009 at 3:14 pm
Hi Barbara,
I celebrated my 9th year of aorta valve replacement Feb14 ( Valentines Day-Heart Day) I was 55 years old and received the Carpentier Edwards Bovine valve. I anguished over whether to get the mechanical or tissue and my surgeon thought the tissue would be best for me. I know I will have to have another surgery within a few years and I will get the tissue valve again. The new valves are lasting up to 20 years now.
To answer your question: I was in the hospital 5 days. I don't remember the first day or the throat tube. I do remember days 2 through 5. The key to your recovery and pain management are the nurses. I had horrible nurses on the night shifts and great nurses on day shift. The night shift nurses didn't respond to my calls for pain medications. My biggest pain was in my back. It may have been from lying on the operating table for 4 hours and of course your chest hurts, but can be managed with meds. The tubes came out the third day. Drawing your blood 3 times a day wqs something I hated and some nurses don't know how to flush your IV's causing some pain, but looking back this operation was very doable. I have had other major surgeries ( gallbladder and intestional surgery for GI bleed and these surgeries were much worse than open heart. Try and go into this with a positive attitude and ask you surgeon questions and if the nurses are not responding to you, then report them. I know you will be fine.
Don


MJ Samer says

on August 14th, 2010 at 2:08 pm
My heart valve replacement surgery was Oct., 2009, so awhile ago, but I remember it pretty well:) I agree that it's better to focus on the positive aspects of heart surgery and not worry about what could be bad, painful, uncomfortable, etc. Also, I agree that good nurses are key. You depend on them so much while in the hospital. Ask the nurses about themselves so they become real people to you, not just someone who brings you pain meds or sticks needles in you. I found it relaxed me to hear their stories and when you are relaxed you heal better, I think. Be good to your nurses! If someone brings you a box of candy, share it with them when they come in your room or have someone take it to the nurses station for them all. Their job is hard and stressful and I think you will get better care, if you're a pleasant patient. Nurses always told me I had such a good attitude and was doing so well. A lot of it is mind over matter.
Think positive and remember that attitude is a huge part of the healing process. Also, it is so helpful to have a good support system — friends and family. I would never do it alone. No, no, no. Even if you are only getting phone calls from friends and family, keep that option open.
Take a deep breath and just do it. You'll be fine.
MJ


Kathy J says

on August 14th, 2010 at 7:24 pm
Hello Barbara! First let me say good luck to you on your upcoming surgery! There were 2 aspects of my hospital stay that I consider the "worst".
1. The hospital I was at (Hillcrest) has a nursing shortage. One day it took almost 2 hours for me to get my pain meds. I was screaming in pain and the cardiologist (mine is from a different hospital than my surgeon) that came to check on me did NOTHING to go get me some pain meds. It took my mother & husband camping out at the nurse's station to get me my drugs after I had pressed the call button every 1/2 hour. Also, I was so nauseated from the anesthetic & the heart-lung machine that all I could eat was jello & juice. I vomitted one night & the only person who responded to the call button was a tech to help clean me up! The nurse NEVER checked on me that night.
2. Lack of sleep. Especially since the lab sends people at 3 am (yes, 3 in the morning!) to do blood draws. On top of that – they would barge right in & turn on the light – no warning. FInally I just asked the tech doing my blood draw if she woud PLEASE knock beofre coming in, since I could not get them to change the time that they do blood draws.
I did however, have one of the best surgeons (Dr. James Whiteneck) who did a wonderful job on my surgery. I just wish he had stayed at St. Francis (much better nurses there) than going to Hillcrest. He was aware of the nursing shortage and was very helpful making things better for me.
Definitely have loved ones or friends with you at the hospital who can be your advocate – that will help you. And do your research as for the best surgeon in your area. Confidence in your surgeon is paramount to you having a good outcome. And, like some others have posted, attitude is everything. Try to maintain a sense of humor (i know the ICU nurses appreciated me for it) and know that this is going to make your life a million times better.


Arlie Rauch says

on April 16th, 2014 at 5:37 pm
I had mitral valve repair eleven months ago. I was 65 at the time. My diagnosis was sudden and surprising, so I had no opportunity to read ahead and prepare. My recollection is that overall the medical providers were excellent. So I would give them high marks. But several items could certainly have been better.
The hospital was noisy. One night I was sure the nurses were having a party just outside my door, and it went on for a long time.
I did experience pain. When they asked about my pain from one to ten, I sometimes told them eight or nine. I was surprised by the intensity of the pain. Also, they put in the tubes and wires when I was sedated, but they removed them all when I was not. The external pacemaker wires and the catheter were both quite exciting removals! Why can't they do that when you are sedated?
The food was a disappointment. I believe they removed from the food everything a heart patient should not have, and did not add anything good to replace it. (My wife is an excellent cook considering taste and nutrition.) And over half the time the food delivered to the room was not what we had ordered. We could correct the order, but then we would have to wait another forty minutes.
My son-in-law believes that I could have been discharged one day earlier (I was there eight days) if all the staff had had the same information. I was kept another day to do another angiogram because some numbers were not what they wanted. Finally they called in a cardiologist who said the external pacemaker was set wrong; once he corrected it everything was good. (At another hospital where my wife was a patient for a month, a medical team met outside her door once a day to discuss progress and the road ahead. That probably would have helped here.)
I was blessed to have my wife with me. To have someone with you who loves you is priceless!
That's my experience. It took me almost nine months to feel good again, but my heart is behaving now, and I can play trumpet better than I have in a long time! It was certainly worthwhile to have the surgery in spite of the sometimes sensitive 'zipper' now on my chest.