Mechanical Or Bioprosthetic Heart Valve Replacements?
By Adam Pick on August 29, 2008
Earlier today, Helia wrote to me, "Adam – I have been diagnosed with severe aortic valve stenosis. My cardiologist recommends surgery within the next two months. I'm confused by everything right now. Especially, I'm confused by all the different types of valve options. Which is better for me – a mechanical or bioprosthetic heart valve replacement?"
I really feel for Helia. In fact, I feel for all patients that are going through the very, very, very, very awkward and fearful experience of being diagnosed with heart valve disease. As I remember, it's not fun. Still, I'm not going to wallow in the negative because I know that heart valve surgery is a medical miracle for most patients that need valve repair or valve replacement.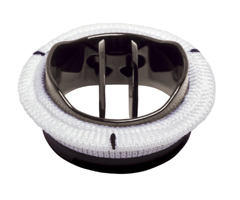 On-X's Mechanical Heart Valve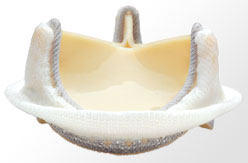 Edwards' Bioprosthetic Heart Valve
As for Helia's question of, "Should I get a mechanical or bioprosthetic heart valve replacement?", that is a great question. As you would imagine, selecting a heart valve replacement – mechanical or bioprosthetic – is not unlike selecting anything else (a car, a home, a new computer, or even a spouse). There are trade-offs, or pros and cons, for both mechanical heart valves and bioprosthetic heart valves (including pig valve replacements or cow valve replacements).
Here are some of the key advantages and disadvantages of mechanical heart valves, as shared with me by several patients and caregivers:
Advantage – Mechanical heart valves are very durable because they are made of strong materials like carbon, titanium, Teflon, polyester and dacron. As I've written, some mechanical valves are still ticking 38 years after implant. Because these valves are so durable, the patient risk for future valve replacement re-operations is decreased.
Disadvantage – To prevent a risk of blood clots forming on the valve, blood thinners are used by patients for the balance of their lives. The anticoagulant, Coumadin, is the most common drug therapy used by mechanical valve replacement patients. Some patients have no issues with the ongoing monitoring (prothrombin time level) and consumption of Coumadin. Others, feel that there are some risks associated with Coumadin. (Please note that some mechanical valves – specifically the On-X Mechanical Heart Valve Replacement – are being tested for lower Coumadin intake post-implant.
Disadvantage – Mechanical heart valve replacements are known to loud and noisy in some patients. That means the patient, and the people around them, can hear a "clicking" noise as the valve opens-and-closes in the heart.
As for bioprosthetic heart valve replacements, here are some of the key advantages and disadvantages:
Advantage – The patient is not required to use Coumadin after surgery.
Advantage – The valves do not click, therefore patients can not hear them.
Disadvantage – The bioprosthetic valves are made from a pig's heart valve and a cow's heart tissue. That said, the bioposthetic valve are not as durable as mechanical valves. Pig valves last between 10-15 years while cow valves can last beyond 20 years in some cases. That means a young patient receiving a bioprosthetic valve may require another operation later in life.
The information shared above is not exhaustive for why a patient might select a mechanical or bioprosthetic heart valve replacement. It is intended to show some of the trade-offs for patients considering heart valve replacement selection. Please take the time to discuss this topic with your surgeon, cardiologist and your support group.
I hope this helped explain a little more about mechanical and bioprosthetic heart valve replacements.
Keep on tickin!
Adam
Adam's Newest Blogs
Adam's Newest Posts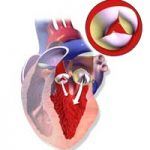 Surgeon Q&A: What Should Patients Know About Aortic Regurgitation? Learn More.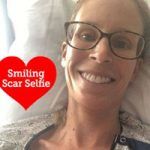 Sara Educates & Inspires 38,443 People About Heart Valve Surgery! Learn More.