Iraqi President, Jalal Talabani, Has Heart Valve Surgery At Mayo Clinic
By Adam Pick on August 15, 2008
The list of political figures having heart valve surgery continues to grow. In addition to Governor Arnold Schwarzenegger and former Senator Jessie Helms, I just learned that Iraqi President, Jalal Talabani, was discharged Thursday from the Mayo Clinic after undergoing successful surgery on a heart valve.
The statement by the presidential press office said Jalal Talabani initially went to the hospital in Rochester, Minnesota, on August 2nd for knee surgery but that "the medical team found out that he suffers from a problem in one of the heart valves."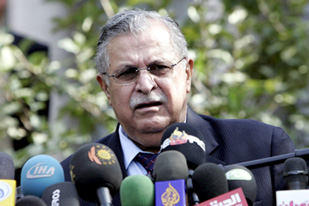 "This has required surgery and it has been done with success," the statement said. It said the president left the Mayo Clinic on Thursday morning and was "in good health."
The 74-year-old Jalal Talabani collapsed and was hospitalized in Jordan and the United States in February 2007 after suffering from what aides called exhaustion and dehydration caused by lung and sinus infections. Mahmoud Othman, a prominent Kurdish lawmaker who is close to the Kurdish Jalal Talabani, said the Iraqi president would receive treatment for his knee at a later date.
Mayo Clinic spokesman Bryan Anderson said that at Talabani's request, the clinic had no comment.
Keep on tickin' President Talabani!
Adam
Adam's Newest Blogs
Adam's Newest Posts