Thanks For The Blog Feedback Everybody!!!
By Adam Pick on August 2, 2008
Hey everybody,
I just wanted to take a quick moment to thank you for all your incredible feedback and constructive criticism (following my request for ways to make this blog better). So you know, I received a ton of great ideas to enhance this fast-growing community of heart valve patients and caregivers.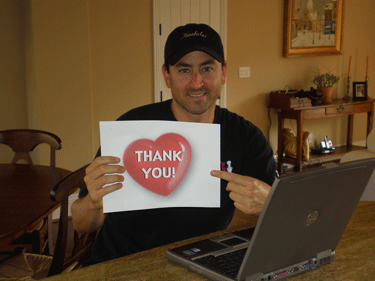 Some of the key feedback items included:
Add a video playback device into the blog that plays heart valve surgery clips and patient stories;
Provide chat functionality so that our users can communicate in real-time;
Create a patient success story directory;
Enhance the navigation (links) throughout the blog;
Consider adding a forum or Wiki-like tool to let users actively contribute content to the website.
I could go on-and-on-and-on. Instead, I'll simply let you know that I will be working to improve this site over the next six months.
Again, thanks for all your excellent thoughts and guidance!!!
Keep on tickin!
Adam
Adam's Newest Blogs
Adam's Newest Posts