Open Heart Surgery Diagram After Chest Incision And Sternotomy
By Adam Pick on February 12, 2008
Every few days, I see a picture or image on the Internet that REALLY captures my attention. Many times, those pictures are diagrams and illustrations that relate to heart valve surgery.
As I remember it, before my aortic valve replacement and pulmonary valve replacement surgery, I had a difficult time grasping what actually occurs during the operation.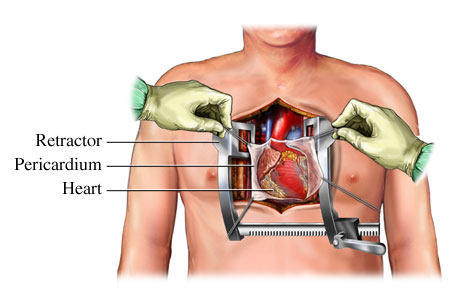 That said, I have included many pictures, drawings and images in this blog (and in my book) to help you better contemplate what occurs during the pre- and post-operative heart valve replacement or heart valve repair experience.
Your responses have so far been very positive. So, I am going to continue posting many more pictures – including human heart diagram, animated anatomy of heart functioning, mitral valve replacement diagram and more.
Above, you will see a very interesting diagram of the patient's chest following the incision and median sternotomy – the sternum is already broken. As you can see, the surgeon now has full access to operate on the heart once the patient is placed on the heart-lung machine (bypass) if required. Then, the heart can be stopped, cooled and then fixed!
I hope you don't think this is too gruesome. I found it educational and thought you might like to see an open heart surgery illustration of the chest during surgery. If you would prefer not to see stuff like this, please leave a reply below.
Keep on tickin!
Adam

James says

on February 12th, 2008 at 2:40 pm
Adam,
Not to gruesome at all. Keep the pictures coming. I was thinking about this same topic this morning. I have aortic stenosis and will need valve replacement next month.
Thanks for this and all the other great stuff on this website.
Best,
James


John T. Smith says

on February 19th, 2008 at 1:45 pm
Adam
The more pictures the better. Keep them coming. Tks for all the information. Keep up the good work. John


mercy says

on February 22nd, 2008 at 8:02 am
I am a mother and one of the caregivers of soon to have valve replacement surgery, John. Though I know some about the surgery, most people in our support group don't. It is almost always anxiety reducing if we know how things and done, rather than creating our own weird thoughts.
We appreciate your site, and all the info you dig up for all of uss.


marlie says

on August 15th, 2008 at 4:44 am
that's interesting. i'm 16 and i had open heart surgery when i was 2.


Alex says

on May 7th, 2009 at 3:51 am
wow this is really interesting i needed the sort of things like this for my health & social course work and it has helped me a lot thanks 🙂 .


LAurie Collins says

on May 7th, 2009 at 4:37 pm
WOW! I am 2 weeks out for a redo surgery where they enlarged the annulus and the aorta itself. IN the process, the scar from the first minimally invasive surgery ruptured.When I see how wide the instrument spreads I can easily understand how it happened.
Once again! Thanks for the images.

Adam's Newest Blogs
Adam's Newest Posts