Patient Recovery Spotlight: The Incredible Taylor Browning
By Adam Pick on November 27, 2007
Every so often, I have an experience that insures my belief that life is nothing short of an amazing opportunity to learn from the extraordinary accomplishments of others.
Last Saturday, I had such an experience.
Four days ago, at the Manhattan Beach Brewing Company in Southern California, I finally met Michelle and Taylor Browning. Below you can see a picture of Taylor, Michelle, Robyn and me (left to right).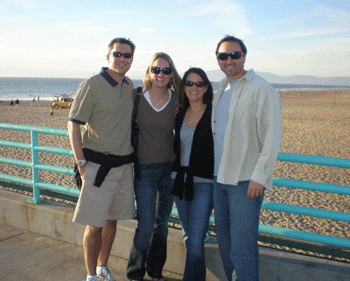 So you know, Taylor had heart surgery (aortic valve replacement, root replacement) due to an aortic aneurysm ten months ago. I met the Brownings shortly after Taylor's wife, Michelle, read my book and sent me some questions.
Since then, the three of us of us have continued to exchange emails as Taylor progressed through his procedure and then his recovery.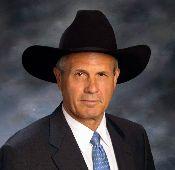 Dr. Craig Miller of Stanford Medical Center performed the operation which resulted in Taylor receiving a St. Jude mechanical valve replacement. (Yes. That's Dr. Miller in the cowboy hat. According to Taylor, Dr. Miller and his team perform most heart surgeries in their cowboy boots.)
You probably figured it out already…. Taylor's surgery was a complete success.
During his recovery, Taylor continuously kept his support group aware of his recovery via email. Every few weeks, Taylor would send out a progress report, which culminated in his final recovery email.
Meeting Taylor and Michelle Browning in-person with Robyn (my wife), was a special moment for me. We hugged and laughed as if we had known each other for a long, long, long time.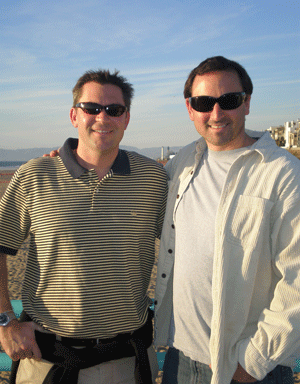 The more we chatted, the more we realized that our lives had already, remotely criss-crossed.
We are all from Los Angeles.
Robyn and Michelle quickly realized that we celebrated our weddings at the Bel Air Bay Club.
We played the name game.
Oh yah, we also have that thing called "cardiac bypass surgery" in common.
Seeing their smiles and hearing their laughs made the day memorable.
I was especially 'Wow'd' by Taylor's attitude toward his surgery / recovery. Typically, when I chat with patients about their recovery, it can be complaint after complaint after complaint. As my recent patient survey showed, about 66% of patients believe they experience some form of heart valve surgery complication post-operation. Furthermore, their caregivers usually contribute to the story – this was wrong, that was wrong, this was wrong, that was wrong.
Not with Taylor.
He didn't complain about anything – except for some residue, tape adhesive that was used to keep one of his drips tied to his body.
"It was really no big deal," Taylor said to Robyn and I.
"I had very little pain and I was able to stay off the pain meds once I left the hospital."
Michelle and Taylor make a very sweet couple. To think, Taylor had surgery just three months after they were married. It is very apparent that, as a result of this cardiac episode, their newlywed bond is stronger than most – given the physical and emotional impact that cardiac surgery can have upon the patient and his/her primary caregiver.
"I'm a pretty excitable person," Michelle said, "But, in stressful times like these, I was able to keep my cool… To focus and help Taylor."
Finally, as you can see in the pictures, TAYLOR IS LOOOOKING GREAT!!!
Robyn and I are still talking about how amazing he appeared. (To be honest, I'm a little jealous. I wish I looked that good following my double heart valve replacement surgery.)
On behalf of Robyn, many thanks to Taylor and Michelle Browning for being such an inspiration to us and hopefully to each of the people reading this post!
Keep on tickin!
dam

Cheryl says

on November 28th, 2007 at 9:51 pm
I am one of those people that like Taylor Browning had an incredibly easy journey. I have only had Tylenol sporadically since I left the hospital. I am no longer taking it as I didn't feel I needed it. I have had 2 -20 min. walks today, albeit a snail's pace (1.7 mph).
I am really wondering if some of those complications are the result of patients overthinking what is going on in their bodies. I know we are destined to feel different twinges, imagine we are a little short of breath, maybe (certainly my case) that I am doing things that I am not supposed to. I tend to wonder that when I put my hands over my head, stoop to pick something up I think is a little heavy, etc.
I have a pig valve so of course one of the huge topics in my imagination is will my body accept it, how long will it last. All questions from a "control freak" which I readily admit to being. I am making a HUGE effort to accept my pain free recovery with gratitude and trust that all that other stuff is just my imagination. After all, if I am charting all of the things I do on the chart I sent you in my last e-mail then if anything was radically wrong I should be getting clues.
Thank you again for all your work and as usual I am looking forward to reading the next e-mail from you. By the way, I am using the book as a resource text when I have questions. Looking at your picture showing your incision it is no wonder you needed lots of Vicodin. Gosh, my 4 inch scar is rookie stuff.


jiniani says

on December 7th, 2007 at 8:41 pm
I live in SF bay area, 36 yrs/m. I had my surgery with Dr.Miller on 20th July, 2006 (aortic valve replacement, root replacement due to an aortic aneurysm and congenital bicuspid aortic valve). I'm pretty confident whoever goes to Dr.Miller will experience a complete success. The team at Stanford is just incredible. In fact, with Dr.Miller as my surgeon, I didn't worry about my surgery at all. I would compare my experience/anxiety similar to taking an intercontinental airplane ride. I felt tiny bit apprehension but confident of the pilot (Dr.Miller) taking me over to the other side of the mountain. Amazing thing for me was… When the nurse asked me to lie on the surgery bed in the OR I felt like I was in Dentist office and just hopped in. I had absolute confidence in Dr.Miller and his team.
I met with couple of Dr.Miller's patients before the surgery. I also met with another guy who had the same surgery just a week before me. Since then we are very good friends.
It is great to discover your blog. Keep up the good work. I'm amazed at my experience. I hope anybody who will go through this experience will get confidence from people like us. If anybody in the bay area/california want to get the perspective and confidence, I'm more than willing to communicate/talk with them.


Tapan says

on July 30th, 2015 at 6:31 pm
Hello. My name is Tapan Mehta and I would love to talk with you as I am about to go through the same surgery that you went through in 2006. I am also considering Dr.Miller for this surgery. Thank You. I can be reached at 408-838-8487 and I am a Bay Area resident as well.

Adam's Newest Blogs
Adam's Newest Posts