Any Images of an Aorta Cat Scan? Pictures, Xray, Diagram Of The Aorta?
By Adam Pick on August 21, 2007
Earlier today, I received a question that reads, "Do you have a cat scan of the aorta? How are cat scan aorta images used during diagnosis?"
I'm not sure I completely understand this questions. But, it turns out that I just found a cat scan image of the aorta. But first, I thought we all might want to know a learn a little more about what a cat scan is and how cat scans are used relative to heart valve surgery. As Radiology Info notes, CT scanning—sometimes called CAT scanning—is a noninvasive, painless medical test that helps physicians diagnose and treat medical conditions.
CT imaging uses special x-ray equipment to produce multiple images or pictures of the inside of the body and a computer to join them together in cross-sectional views of the area being studied. The images can then be examined on a computer monitor or printed. CT scans of internal organs, bone, soft tissue and blood vessels provide greater clarity than conventional x-ray exams.
Using specialized equipment and expertise to create and interpret CT scans of the body, radiologists can more easily diagnose problems such as cancers, cardiovascular disease, infectious disease, trauma and musculoskeletal disorders.
Here is a cat scan picture of the aorta: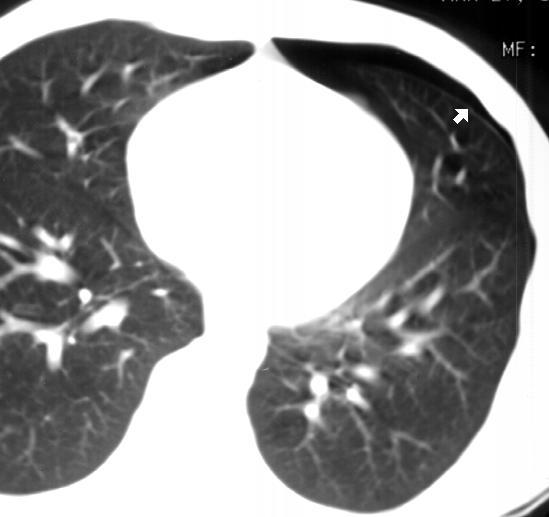 According to Radiology Cases In Peditric Emergency Medicine, the cat scan aorta image above is from a 15 year-old male who is complaining of chest pain. The CT scan demonstrates a small, left-sided pneumothorax. The arrow (above) points to the air space within the pleural space. That said, the aorta is normal.
Wow. That was way over my head!
Regardless, I hope this helps you better understand what a cat scan of the aorta looks like.
Keep on tickin!
Adam

Patti Adams RT(R) CT says

on March 12th, 2008 at 9:10 am
You need a better image of the aorta. The image shown is in lung windows and just shows the heart and aorta as one large white area.