Smidt Heart Institute at Cedars-Sinai
Smidt Heart Institute at Cedars-Sinai
Smidt Heart Institute at Cedars-Sinai
127 S. San Vicente Blvd., Suite A3600,
Los Angeles, CA 90048
Smidt Heart Institute at Cedars-Sinai

Heart disease takes an American life every 34 seconds. The Smidt Heart Institute at Cedars-Sinai is powered by colleagues dedicated to understanding and overcoming this pervasive health threat. Together, we are testing novel treatments and ushering in tomorrow's treatment innovations.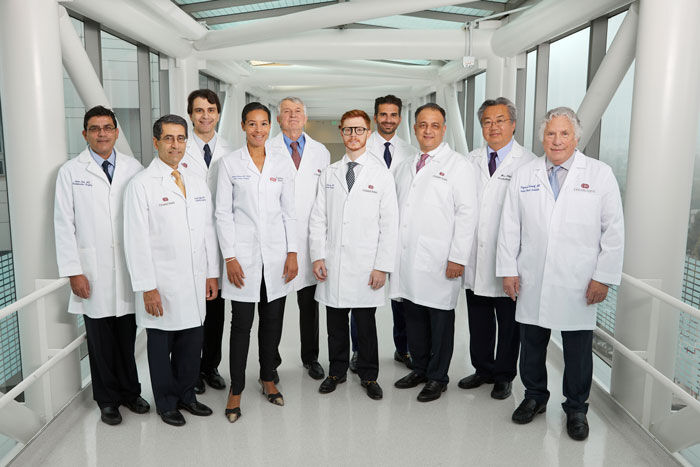 Specific to heart valve treatment, the Cedars-Sinai team is staffed with leading cardiac surgeons and interventional cardiologists that specialize in open heart, minimally invasive, and catheter-based therapies to treat disorders including aortic stenosis and mitral regurgitation.
Learn more.
We Specialize In Minimally Invasive Valve Therapy
Cedars-Sinai has helped pioneer several innovations specific to minimally invasive heart valve procedures. Cedars-Sinai is the largest cardiac center on the West Coast for transcatheter therapies for the aortic valve, the mitral valve and the pulmonic valve. During transcatheter procedures, there is no incision to the patient's sternum or ribs. Last year, Cedars-Sinai performed over 630 transcatheter procedures. In addition, Cedars-Sinai is using robots for the treatment of diseased mitral valves in which blood is flowing backwards into the heart, a condition known as mitral regurgitation.
Watch as Dr. Joanna Chikwe, Chair of the Dept. of Cardiac Surgery in the Smidt Heart Institute, discusses different approaches to mitral valve repair.
Watch this interview with Dr. Alfredo Trento to learn more about his use of robots to achieve excellent surgical outcomes for patients with mitral valve prolapse.
Meet Our Heart Valve Specialists
Smidt Heart Institute at Cedars-Sinai has assembled a special team of heart valve specialists that are committed to getting patients the best results. Our team consists of many leading surgeons and cardiologists that you can learn more about by clicking the links below:
Our Patients Say

In August 2009, I was on a walk while vacationing in Idyllwild, California when I started to experience shortness of breath. I was rushed to Eisenhower Medical Center in Rancho Mirage where ... Read more.

I recently celebrated my third anniversary from mitral valve repair surgery. I now have a strong beating heart with no leakage or murmur for ... Read more.

I didn't adore having heart valve surgery. But, I adored Dr. Trento and the Cedars-Sinai Hospital staff! -- Florence ... Read more.
Clinical References For Our Patients
To help you learn more about Smidt Heart Institute at Cedars-Sinai, here are references for you:
Schedule Appointment
To schedule an appointment, you can:
Call (424) 345-1804 right now
Request an appointment by clicking here.
Our hospital is located at 127 S. San Vicente Blvd., Suite A3600, Los Angeles, CA. For driving directions to this office, please click the map below.
> Click for driving directions.