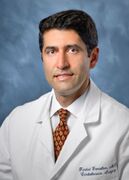 Dr. Fardad Esmailian
Dr. Fardad Esmailian

Heart Surgeon

Cedars-Sinai Medical Center
127 S San Vicente Blvd., Suite A3600
Los Angeles, CA 900048
About Dr. Fardad Esmailian,
Heart
Valve

Surgeon

Hello! My name is Dr. Fardad Esmailian and I am a cardiac surgeon having graduated from George Washington University School of Medicine in 1987. To date, I have performed approximately 5,000 cardiac surgeries, of which over 2,500 involved heart valve procedures. I regularly perform surgery at Cedars-Sinai Medical Center. Read more...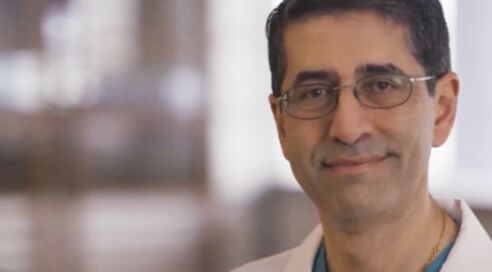 9 Patient Reviews for
Dr. Esmailian
"I have had surgery for various things and Dr. Esmailian is one of the finest surgeon's I've ever had. When I was having trouble with my aorta and the entire root and valve needed to be replaced, it was hard to breathe and I really needed the surgery.
My cardiologist referred me to Dr. Esmailian as "one of the best doctors at Cedars." When I met with Dr. Esmailian, he was the nicest guy. He explained everything and answered all my questions and made me feel much more comfortable. It was a big surgery and took a lot of skill. Afterwards, the care I received from the entire team of nurses in the ICU was all wonderful. They are amazing and do all they can to save and help patients. The entire staff was so friendly and nice and did everything they could to please me. As I recovered, I could breathe better, and I felt like I had my life back.
My follow-up's with Dr. Esmailian after surgery were great as he told me I had recovered well. Dr. Esmailian is my hero and I just love him. I recommend him to anyone who needs heart surgery."
-- Abbas Haider, Aortic Valve, Valve Replacement, Root Replacement, 03/27/2021

"My heart valve problems have been lifelong. When I first had surgery to replace my aortic valve in 2004, I was given a pig valve, or "porcine valve." I was told then that it would only last for 10+ years. So, I knew that I would become a heart valve "repeat offender." Each year I would see my cardiologist for a checkup.
In October 2019, my cardiologist did a Trans Esophageal Echocardiogram on me. When he saw that my aorta was damaged by the extra flow of blood from a weak valve, he said that I would need surgery right away. The diagnostic test was important because I had no symptoms this time. In 2004 I had suffered from fatigue, but in 2019, I was completely asymptomatic.
This time, my cardiologist recommended that I see Dr. Esmailian at Cedars-Sinai. I needed to have a four-inch section of my aorta replaced along with my new valve. Meeting Dr. Esmailian was very comforting. He must be so busy with so many patients. Yet, he was so generous with his time and he never made me feel rushed. Dr. Esmailian was personable and he made me feel at ease. I was able to go into surgery without anxiety, feeling comfortable and confident. The surgery took about 8 hours. I marveled at the sheer skill of what Dr. Esmailian and his team do, and how they can rebuild part of the heart and stay so incredibly focused for so long. The post-operative care was wonderful.
The first night in the ICU was a great experience considering that I was just waking up from major surgery. A guy was assigned to me to help with post-operative pain and he was very helpful, as my sternum and ribs had to heal. The next day I was transferred to a regular room and to my amazement, they had me up and walking in the hall right away. Those first walks were slow, of course, but extremely helpful. The nurses were fabulous, and Dr. Esmailian visited on his rounds several times. I was really tired for the first few weeks. When I got home, I tried to help with the dishes but had to sit right back down and sleep for three hours. In addition to having a great surgeon like Dr. Esmailian, and the great nurses at Cedars, it has been a great blessing to have such a supportive and understanding spouse. Experiences like this teach the value of creating care networks with doctors, nurses, and family. I strongly recommend Dr. Esmailian to other patients looking for a heart surgeon. Dr. Esmailian is superb at every aspect of what he does, from the surgery itself, to talking to patients and making them feel comfortable all the way through the process. I have joked with my wife by saying that I am not sure when Dr. Esmailian will retire, but I would gladly expedite my next surgery just so that Dr. Esmailian can do it! "
-- Daniel Dupont, Aortic Valve, Valve Replacement, 11/19/2019

> See 7 more patient testimonials
My Specialities &
Clinical Interests
My heart surgery specialties include:
Aortic valve repair and replacement
Mitral valve repair and replacement
Tricuspid valve repair and replacement
In addition, I have research and clinical interests specific to:
Surgical outcomes research
Expansion of donor pools for heart transplantation
Education, Training & Certificates
Dr. Fardad Esmailian, heart surgeon, graduated from George Washington University School of Medicine in 1987.
After medical school, Dr. Esmailian completed a General Surgery Residency at the University of Southern California San Diego in 1992 and a Cardiothoracic Surgery Residency at the University of California Los Angeles in 1994.
Dr. Esmailian is board-certified in Thoracic Surgery and has received several acknowledgments including:
* Top Doctors of Los Angeles Magazine * Distinguised Faculty Service Award for surgical excellence and dedication to patients * Teacher of the Year
Schedule Appointment

with Dr. Fardad Esmailian, MD

To schedule an appointment with Dr. Esmailian, you can:
Call

(888) 233-8091

right now
Request an appointment by clicking here.
The office of Dr. Esmailian is located at 127 S San Vicente Blvd., Suite A3600, Los Angeles, CA 90095. To get driving directions to this office, please click the map below.
> Click for driving directions to Dr. Esmailian's office.
News & Online References Featuring Dr. Fardad Esmailian
Here is the latest news featuring Dr. Fardad Esmailian:
Page last updated: March 30, 2021