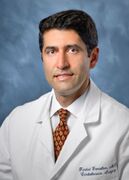 Dr. Fardad Esmailian
Dr. Fardad Esmailian

Heart Surgeon

Smidt Heart Institute at Cedars-Sinai
127 S San Vicente Blvd., Suite A3600
Los Angeles, CA 90048
About Dr. Fardad Esmailian,
Heart
Valve

Surgeon

Hello! My name is Dr. Fardad Esmailian and I am a cardiac surgeon having graduated from George Washington University School of Medicine in 1987. To date, I have performed approximately 5,000 cardiac surgeries, of which over 2,500 involved heart valve procedures. I regularly perform surgery at Smidt Heart Institute at Cedars-Sinai. Read more...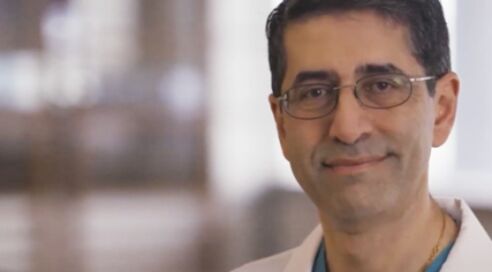 11 Patient Reviews for
Dr. Esmailian
"When my cardiologist diagnosed me with a bicuspid aortic valve with a narrowing of the valve, I was told that I needed surgery. This narrowing of the valve is called stenosis and can lead to heart failure. This condition is the most common congenital heart defect and up to 2% of us are born with it. When my cardiologist referred me to Dr. Fardad Esmailian at Cedars-Sinai, I did my homework and discovered that he had performed around 1,000 of the heart valve procedures that I needed. And past experience does make a difference in successful outcomes. Then, when I came to meet Dr. Esmailian, he spoke to me with a very calm and pleasant demeaner. His very direct presentation of my diagnosis and treatment gave me comfort and confidence. Dr. Esmailian's bedside manner is at all times very relaxed and very professional. I instantly knew why Dr. Esmailian is one of the top ranked heart surgeons in the world. I knew I was in the right hands.
On the day of my surgery, the staff at Cedars made me feel welcome and cared-for from the very beginning. Everyone was wonderful, from the nurses – who were real troopers; to the food ordering staff, and even the janitors. I had chosen a pig valve to replace my own valve and was told that my left atrial appendage could also be removed, reducing the chances of a stroke from a blood clot. I was a bit uncomfortable with the tubes in my mouth after surgery. But the nurses helped me through it and made a challenging situation manageable. I was also resolved to be a good patient, and to do what I was told and not to disobey the orders of my doctors and nurses. I remained true to their wishes and followed their advice as to what I could be ready for in terms of returning to normalcy. This "good patient" approach made my time in the hospital more pleasant and helped my recovery to progress smoothly.
The next part of my recovery was a good rehab program. Following that regimen, my return to normalcy progressed well. Today, I am back to scuba diving for lobsters and to spear fishing. My dives are in the range of ten to seventy feet, and I hope to be in shape to go even deeper again, soon. It feels so great to have my life back. I was all too happy to send a picture of myself holding a fish that I caught after surgery to Dr. Esmailian, who made my catch and certainly many other catches possible!"
-- Glen Richard Fritzler, Aortic Valve, Valve Replacement, Maze Procedure, 09/21/2021

"It was a scary time for my wife and me when we found out I needed aortic valve replacement surgery and a double bypass.
Fortunately, my cardiologist is the best doctor I have ever known. He holds a position of distinction in a leading university medical center where they do this type of surgery so we were surprised when he recommended we go to Cedars-Sinai and see Dr. Esmailian.
After meeting with Dr. Esmailian and his team and researching his record, our fear was replaced by a very confident and positive feeling about moving forward. This is truly a special doctor who has a great team of expert doctors, physician assistants, nurses and technicians. We have heard nothing but praise for his work, even from our outside professional services (cardio rehab, home nurse, etc.).
From the first meeting throughout the process, we knew we were in the right place with the right doctor. If we called with a question, we always received a very prompt and knowledgeable response, usually from Vivian Burkhart, NP-BC, who could not have been more helpful. We appreciate Dr. Esmailian and his team more than we know how to say."
-- John Stallings, Aortic Valve, Valve Replacement, 07/01/2021

> See 9 more patient testimonials
My Specialities &
Clinical Interests
My heart surgery specialties include:
Aortic valve repair and replacement
Mitral valve repair and replacement
Tricuspid valve repair and replacement
In addition, I have research and clinical interests specific to:
Surgical outcomes research
Expansion of donor pools for heart transplantation
Education, Training & Certificates
Dr. Fardad Esmailian, heart surgeon, graduated from George Washington University School of Medicine in 1987.
After medical school, Dr. Esmailian completed a General Surgery Residency at the University of Southern California San Diego in 1992 and a Cardiothoracic Surgery Residency at the University of California Los Angeles in 1994.
Dr. Esmailian is board-certified in Thoracic Surgery and has received several acknowledgments including:
* Top Doctors of Los Angeles Magazine * Distinguised Faculty Service Award for surgical excellence and dedication to patients * Teacher of the Year
Schedule Appointment

with Dr. Fardad Esmailian, MD

To schedule an appointment with Dr. Esmailian, you can:
Call

(424) 320-0488

right now
Request an appointment by clicking here.
The office of Dr. Esmailian is located at 127 S San Vicente Blvd., Suite A3600, Los Angeles, CA 90095. To get driving directions to this office, please click the map below.
> Click for driving directions to Dr. Esmailian's office.
News & Online References Featuring Dr. Fardad Esmailian
Here is the latest news featuring Dr. Fardad Esmailian:
Page last updated: December 5, 2022