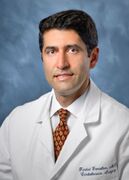 Dr. Fardad Esmailian
Dr. Fardad Esmailian

Heart Surgeon

Smidt Heart Institute at Cedars-Sinai
127 S San Vicente Blvd., Suite A3600
Los Angeles, CA 90048
About Dr. Fardad Esmailian,
Heart
Valve

Surgeon

Hello! My name is Dr. Fardad Esmailian and I am a cardiac surgeon having graduated from George Washington University School of Medicine in 1987. To date, I have performed approximately 5,000 cardiac surgeries, of which over 2,500 involved heart valve procedures. I regularly perform surgery at Smidt Heart Institute at Cedars-Sinai. Read more...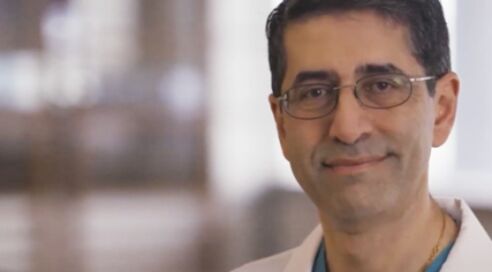 10 Patient Reviews for
Dr. Esmailian
"It was a scary time for my wife and me when we found out I needed aortic valve replacement surgery and a double bypass.
Fortunately, my cardiologist is the best doctor I have ever known. He holds a position of distinction in a leading university medical center where they do this type of surgery so we were surprised when he recommended we go to Cedars-Sinai and see Dr. Esmailian.
After meeting with Dr. Esmailian and his team and researching his record, our fear was replaced by a very confident and positive feeling about moving forward. This is truly a special doctor who has a great team of expert doctors, physician assistants, nurses and technicians. We have heard nothing but praise for his work, even from our outside professional services (cardio rehab, home nurse, etc.).
From the first meeting throughout the process, we knew we were in the right place with the right doctor. If we called with a question, we always received a very prompt and knowledgeable response, usually from Vivian Burkhart, NP-BC, who could not have been more helpful. We appreciate Dr. Esmailian and his team more than we know how to say."
-- John Stallings, Aortic Valve, Valve Replacement, 07/01/2021

"I have had surgery for various things and Dr. Esmailian is one of the finest surgeon's I've ever had. When I was having trouble with my aorta and the entire root and valve needed to be replaced, it was hard to breathe and I really needed the surgery.
My cardiologist referred me to Dr. Esmailian as "one of the best doctors at Cedars." When I met with Dr. Esmailian, he was the nicest guy. He explained everything and answered all my questions and made me feel much more comfortable. It was a big surgery and took a lot of skill. Afterwards, the care I received from the entire team of nurses in the ICU was all wonderful. They are amazing and do all they can to save and help patients. The entire staff was so friendly and nice and did everything they could to please me. As I recovered, I could breathe better, and I felt like I had my life back.
My follow-up's with Dr. Esmailian after surgery were great as he told me I had recovered well. Dr. Esmailian is my hero and I just love him. I recommend him to anyone who needs heart surgery."
-- Abbas Haider, Aortic Valve, Valve Replacement, Root Replacement, 03/27/2021

> See 8 more patient testimonials
My Specialities &
Clinical Interests
My heart surgery specialties include:
Aortic valve repair and replacement
Mitral valve repair and replacement
Tricuspid valve repair and replacement
In addition, I have research and clinical interests specific to:
Surgical outcomes research
Expansion of donor pools for heart transplantation
Education, Training & Certificates
Dr. Fardad Esmailian, heart surgeon, graduated from George Washington University School of Medicine in 1987.
After medical school, Dr. Esmailian completed a General Surgery Residency at the University of Southern California San Diego in 1992 and a Cardiothoracic Surgery Residency at the University of California Los Angeles in 1994.
Dr. Esmailian is board-certified in Thoracic Surgery and has received several acknowledgments including:
* Top Doctors of Los Angeles Magazine * Distinguised Faculty Service Award for surgical excellence and dedication to patients * Teacher of the Year
Schedule Appointment

with Dr. Fardad Esmailian, MD

To schedule an appointment with Dr. Esmailian, you can:
Call

(424) 320-0488

right now
Request an appointment by clicking here.
The office of Dr. Esmailian is located at 127 S San Vicente Blvd., Suite A3600, Los Angeles, CA 90095. To get driving directions to this office, please click the map below.
> Click for driving directions to Dr. Esmailian's office.
News & Online References Featuring Dr. Fardad Esmailian
Here is the latest news featuring Dr. Fardad Esmailian:
Page last updated: March 18, 2022