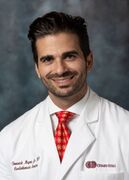 Dr. Dominick Megna
Dr. Dominick Megna

Heart Surgeon

Smidt Heart Institute at Cedars-Sinai
127 S. San Vicente Blvd., Suite A3600
Los Angeles, CA 90048
About Dr. Dominick Megna,
Heart
Valve

Surgeon

Hello! My name is Dr. Dominick Megna and I am a cardiac surgeon having graduated from St. George's University School of Medicine in 2010. To date, I have performed approximately 500 cardiac surgeries, of which 250 involved heart valve procedures. I regularly perform surgery at Smidt Heart Institute at Cedars-Sinai. Read more...
1 Patient Review for
Dr. Megna
"I have nothing but the highest praise for Dr. Dominick Megna and Dr. Alfredo Trento. I was originally referred to Dr. Trento, but he asked me to work with Dr. Megna because he was booked. But both were in the OR for my case and my care was superb.
I was the radio/TV/film producer for the American Heart Association here in Los Angeles for nearly ten years and wrote and produced all our commercials and educational films, as well as voicing most of them, as well. I also portrayed Dr. Harry Severance on a TV favorite, "Untold Stories of the ER." So, I've learned a lot about what it means to have a great surgeon and I can truly say that Dr. Megna gave me the care I was hoping for.
My surgery had to be performed to prevent things from getting to a dangerous level, and my surgery with Drs. Megna and Trento was the New Year's gift I needed for 2019. The Cedars heart program is ranked number 3 in the nation, so I saw no need to travel across country to the Mayo or Cleveland Clinics. Of course, heart surgery is serious, but I sincerely had no misgivings going into my procedure because I had done my homework. I "just knew" I was in the best of hands. My set of procedures lasted seven-and-a-half-hours and woke up in the ICU to the best and nicest nurses and attendants anyone could imagine. Hey, I'd seen my kind of surgery many times while at the Heart Association and I was confident in my two docs. But I never thought I would need it, myself. Trust me: I did.
Dr. Megna's bedside manner, as Dr. Trento's, was delightful. Dr. Trento walked in on my second day in the ICU, gently squeezed my hand, looked me over, and said, "So?" Not much coming from such a famous surgeon, but it was everything. Hmm? What to say? I just said, "thanks!" He responded, "you're welcome." No, it doesn't seem like a lot, but it was more than everything. Then, later, Dr. Megna visited. He mentioned that Dr. Trento and I had met, officially, and that we had a "nice conversation." The best! Dr. Megna spent time with me that I needed to help me return to the sense of my good self, and his quality of care through his concern and kindness are part of my everyday life now. There are things that words don't describe - stuff that you just feel and you know are right. I thank Dr. Megna for helping me have many more years.
During rehab following my surgery, I met several other patients who feel as strongly as I do about Drs. Megna and Trento. Looking back, I am delighted I chose Cedars-Sinai. Dr. Megna is my "surgeon for life." If anyone reading this is looking for the way ahead, just email or even call me! I want you to feel as comfortable and confident as I did and still do. "
-- Ron Stark, Aortic Valve, Valve Replacement, 01/09/2019

My Specialities &
Clinical Interests
My heart surgery specialties include:
Aortic valve surgery
Aortic valve preserving aortic reconstruction
Aortic arch surgery
In addition, I have research and clinical interests specific to:
Surgical outcomes research
Heart and lung transplantation
Aortic surgery
Education, Training & Certificates
Dr. Dominick Megna, heart surgeon, graduated from St. George's University School of Medicine in 2010.
After medical school, Dr. Megna completed his surgical residency at Albany Medical College in 2015. Dr. Megna completed a fellowship with the Department of Cardiothoracic Surgery at Cedars-Sinai Medical Center in 2017.
Dr. Megna practiced as a Clinical Associate at the Department of Cardiovascular and Thoracic Surgery Thoracic Transplant/Advanced Aortic Surgery with Duke University Medical Center in 2017 and 2018.
Dr. Megna is board certified by the American Board of Surgery.
Schedule Appointment

with Dr. Dominick Megna, MD

To schedule an appointment with Dr. Megna, you can:
Call

(424) 345-1789

right now
Request an appointment by clicking here.
The office of Dr. Megna is located at 127 S. San Vicente Blvd., Suite A3600, Los Angeles, CA 90048. To get driving directions to this office, please click the map below.
> Click for driving directions to Dr. Megna's office.
News & Online References Featuring Dr. Dominick Megna
Here is the latest news featuring Dr. Dominick Megna:
Page last updated: March 18, 2022