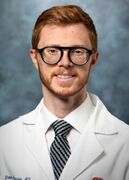 Dr. Dominic Emerson
Dr. Dominic Emerson

Heart Surgeon

Smidt Heart Institute at Cedars-Sinai
127 S. San Vicente Blvd., Suite A3600
Los Angeles, CA 90048
About Dr. Dominic Emerson,
Heart
Valve

Surgeon

Hello! My name is Dr. Dominic Emerson and I am a cardiac surgeon having graduated from University of Washington in 2010. To date, I have performed approximately 500 cardiac surgeries, of which 250 involved heart valve procedures. I regularly perform surgery at Smidt Heart Institute at Cedars-Sinai. Read more...

2 Patient Reviews for
Dr. Emerson
"My surgery was on March 1, 2023 at Cedar-Sinai in Los Angeles. My surgeon was Dr. Joanna Chikwe and assisted by Dr. Dominic Emerson. They performed a mitral valve repair with robotic mini thoracotomy. Today, I am post op 15 days (2 weeks) and doing great. My stay in the hospital was 5 days and I experienced no complications from the surgery during my stay. My surgery went very smooth.
Before my surgery, my regurgitation was severe with symptoms of shortness of breath, chest pain and extreme fatigue. Now, my regurgitation is "trivial" with no signs or symptoms of shortness of breath, chest pain and my energy level is incredible.
My friends and family tell me I look great and sound great. They can tell a big difference in my voice when speaking, no gasping for oxygen as I spoke. I never realized I had this, as this came on gradually and I chalked up to getting older. Now as I climb the stairs in my house and do chores, I have so much energy."
-- Jonette Kruk, Mitral Valve, Valve Repair, Robotic Surgery, 03/01/2023

"Dr. Emerson was friendly and concerned from the get-go. My wife found good remarks about him when she looked him up. He has a great bedside manner and treated me really good.
Dr. Emerson is a heartfelt guy who answered all my questions, took care of my needs and the surgery went really well. The follow up appointments also went well. Dr. Emerson is a great doctor. Going into this, I was scared and thought I would be a mess after. I was tired going into it and could barely stay awake. My family has a history of cancer and I thought it was cancer. But when I saw my doctor, the scan showed the aneurysm. I was scared. My wife researched who to talk to and another friend who is a doctor recommended Dr. Emerson and Dr. Trento.
Dr. Emerson was available and saw me right away. I thought it was amazing that he was calm and patient and answered all of my questions just when he had finished an eight hour surgery! He is young, but also has plenty of experience. He did a great job and I feel really good. He also saw to it that my disability paperwork was taken care of fast. It was a huge surgery and nothing went wrong.
Dr. Emerson is a great surgeon who saved my life. All the nurses and staff at Cedars were friendly and helpful. I feel great now and all my symptoms are gone. I've already recommended him to others, and I recommend Dr. Emerson to anyone who needs a heart surgeon. I never thought I would feel so good after heart surgery!"
-- Luke Lane, Aortic Valve, Valve Repair, Root Replacement, 12/02/2019

My Specialities &
Clinical Interests
My heart surgery specialties include:
Robotic mitral valve repair and replacement
Aortic valve repair and replacement
Heart transplant / ventricular assist devices
In addition, I have research and clinical interests specific to:
Mechanical circulatory support
Heart transplantation
The biology of heart failure
Education, Training & Certificates
Dr. Dominic Emerson, heart surgeon, graduated from University of Washington in 2010.
After medical school, Dr. Emerson completed a general residency at Georgetown University Hospital in 2016. Dr. Emerson then completed a fellowship in cardiothoracic surgery at Cedars-Sinai Medical Center in 2018. Dr. Emerson most recently completed a fellowship in thoracic transplantation / mechanical circulatory support with Cedars-Sinai Medical Center in 2019.
Dr. Emerson is board certified in general surgery by the American Board of Surgery and in cardiothoracic surgery by the American Board of Thoracic Surgery.
Schedule Appointment

with Dr. Dominic Emerson, MD

To schedule an appointment with Dr. Emerson, you can:
Call

(424) 365-1515

right now
Request an appointment by clicking here.
The office of Dr. Emerson is located at 127 S. San Vicente Blvd., Suite A3600, Los Angeles, CA 90048. To get driving directions to this office, please click the map below.
> Click for driving directions to Dr. Emerson's office.
News & Online References Featuring Dr. Dominic Emerson
Here is the latest news featuring Dr. Dominic Emerson:
Page last updated: March 18, 2022