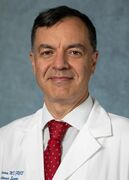 Dr. Pedro Catarino
Dr. Pedro Catarino

Heart Surgeon

Smidt Heart Institute at Cedars-Sinai
127 S. San Vicente Blvd., Suite 3600
Los Angeles, CA 90048
About Dr. Pedro Catarino,
Heart
Valve

Surgeon

Hello! My name is Dr. Pedro Catarino and I am a cardiac surgeon having graduated from University of Oxford Medical School in 1994. To date, I have performed approximately 5,100 cardiac surgeries, of which more than 1,640 involved heart valve procedures. I regularly perform surgery at Smidt Heart Institute at Cedars-Sinai. Read more...
1 Patient Review for
Dr. Catarino
"I am a walking miracle. And I am alive today because Dr. Dominick Megna and Dr. Pedro Catarino and their team at Cedars-Sinai saved my life under the most extraordinary circumstances, and with the most challenging and high-risk of surgeries. How my condition was discovered, and that it was discovered at all, is truly an act of God. I live up in Northern California and I just happened to be in LA visiting my general practitioner about another medical condition. When he saw that my blood pressure was dangerously high, he advised me to go next door to the cardiologist for a doppler. This is when the severity of my circumstances became known. I was told that I was literally a house on fire, and that I had to get to the ER at Cedars immediately. I was told that I had a severe aneurysm of my aortic arch and aorta. The aorta is the large blood vessel arching off the top of the heart and carrying blood to my legs and all my internal organs. An aneurysm means that an artery is expanding and ballooning as its walls weaken. The more swollen it gets, the more danger there is of it rupturing, causing the victim to bleed to death internally within minutes. And the doppler showed that I was getting dangerously close to the edge of that cliff. I was told that I would die soon without emergency surgery.
I was terrified. A rush of events quickly followed. When I arrived at Cedars minutes later, the ER staff was already expecting me. I was placed in an ER bed and told that I needed to spend the night. One of the surgeons walked in gravely concerned about my condition. She then returned with three or four of her colleagues and I was wheeled into a room with a lot of equipment. It was there that I met my surgeon, Dr. Dominick Megna. I also met his colleague, Dr. Pedro Catarino, who would work with him on my very complex operation. As I lay there on the observation table, the images that they projected on the screen were horrifying. I was told that the aneurysm in my aortic arch and aorta had reached nearly seven centimeters, and that surgery is mandatory at five centimeters. I had a rip in my large aortic artery starting where it arches off the top of the heart and for several centimeters as it started to descend down towards my internal organs and legs. The doctors determined that the ballooning of my largest artery had probably started around two years prior. And as is so often the case with aortic aneurysms, I was completely asymptomatic. I had no idea how much danger I was in, and another hospital had already missed it. So, for two years I had been a walking time bomb waiting to explode. I was told that I needed surgery within two days. Prior to surgery, it was critical that they keep my blood pressure under control to prevent a fatal rupture. Medications to control my high blood pressure were administered to me immediately.
I was so scared that I went into emotional shock. It was as is my entire world was filled with the terror of my circumstances. flow. The surgery could easily last from 14 to 16 hours, and they would not know which type of aortic As I met with Dr. Megna and Dr. Catarino, they were very sensitive to my predicament. As I signed the papers at the end of our meeting, they were honest and direct in advising me of the risk of stroke and brain damage due to either possible blood clots, or the interruption of blood valve would be needed until they were inside of my heart and aorta.
This massive challenge had to be a team effort. Looking for something to provide comfort, I thought of my recent business trip to Nigeria where I had learned the Muslim greeting, "Inshalla," which means "God willing." It is customary for Muslims to speak this phrase when expressing optimism and hope for the future. As we concluded our meeting, I asked Dr. Megna and Dr. Catarino to each look me in the eye and to tell me that everything was going to be OK. And as they each clasped my hand and did this, they added — "Inshalla."
The next morning, as I was wheeled in for my surgery, the head anesthesiologist looked at me and asked how I felt. "Terrified," I uttered back. "Well, if you weren't, I'd be worried about you," he replied. Then we started to talk about my career in international food supply. And the next thing I knew — I was waking up in the recovery room. Incredibly, I had survived fourteen hours of surgery. I could tell what was going on and could think clearly. As my recovery progressed, it was clear that not only had I survived, but I had also avoided a stroke and would have no brain damage. Dr. Megna and Dr. Catarino had worked wonders for me.
Everything had started so quickly in my case because my surgery was an emergency. But from the word "go," everyone at Cedars was wonderful. It was in the recovery room that I really got to spend some time with the nurses, doctors, and staff at Cedars. And Dr. Megna's bedside manner is exemplary. His way of communicating with his patients reveals an incredibly professional doctor who is deeply engaged in his patients at a very high level of understanding. Throughout everything, his polite and well- mannered way was constantly comforting under the most frightening of circumstances. He can deliver hard news in a way that is soft — but not too soft. Dr. Megna conveys professional strength and confidence — but without seeming like it's about him. For his confidence is about his patients and what they feel and need to hear. Aside from Dr. Megna and Dr. Catarino, several other surgeons also stopped into my room to visit me because there had been so many concerns that I might not survive my surgery. The entire surgical staff was thrilled by my progress. Even in a heart surgery program known for taking on the hardest cases that other hospitals turn down, I was told that mine was an especially exciting success.
And as my recovery progressed over the next three and a half months, it became apparent that I would not only survive – but thrive. I followed my rehab regiment to the letter. The surgery had certainly affected my body and I had a lot of rebuilding to do. Spending part of my recovery in Palm Desert with my sister, I started to walk a mile each day within a few months after the surgery. By staying true to my rehab plan, I was able to fully return to my career and civilian life by the end of November, just three and a half months after surgery.
Over a year later, my entire experience with Dr. Megna seems like the most incredible miracle. Somehow, I just happened to be visiting LA from Northern California; and I just happened to be seeing my general practitioner for another medical condition; and my GP just happened to suggest that I get checked out by a cardiologist for high blood pressure; where a doppler just happened to show how much danger I was in. All told – if just one of those steps was missing, I wouldn't have gone to Dr. entire aortic arch affected blood flow to every part of my body from my brain to my feet, Dr. Catarino's Because the replacement of my role in the surgery was the huge chore of maintaining perfusion, which means blood flow, throughout my entire body while working with Dr. Megna, who sewed in my new arch and branching arteries made of Dacron.
Megna and his team at Cedars for them to perform yet another round of miracles — and I wouldn't be here now.
Today, over a year later, I feel great. Dr. Megna took me from "terror" to "terrific." I have seen Dr. Megna twice since leaving the hospital. I have brought him a company hat along with fresh produce from my work. Fully back to my career, there is stress in my life again. But it is the right kind of stress related to my successful career. For when it comes to stress, I never have to worry about my heart. Dr. Megna, Dr. Catarino, and their team at Cedars all took care of that. I had asked them to look me in the eye at the most frightening moment in my life and to speak the Muslim blessing asking for the optimistic will of God. They had clasped my hand and said, "Inshalla." And thanks to them, God was willing — indeed."
-- Douglas Williams, Aortic Valve, Valve Repair, Root Replacement, 08/21/2023

My Specialities &
Clinical Interests
My heart surgery specialties include:
Aortic valve repair
Redo aortic valve surgery
Aortic root repair
In addition, I have research and clinical interests specific to:
Laboratory research on heart and lung recovery
Clinical outcomes research in aortic valve repair and aortic dissection
Education, Training & Certificates
Dr. Pedro Catarino, heart surgeon, graduated from University of Oxford Medical School in 1994.
After medical school, Dr. Catarino completed a General Surgery Residency (Senior House Officer) in 1999 at The Royal College of Surgeons of England London. Next, Dr. Catarino completed a Residency in Cardiothoracic Surgery in 2001 at the John Radcliffe Hospital, Oxford.
Dr. Catarino is a Fellow of Royal College of Surgeons (Cardiothoracic Surgery) and a Fellow of Royal College of Surgeons (General).
Throughout his career, Dr. Catarino has earned many awards and acknowledgements including:
* 2000-2002 Royal College of Surgeons Drexler Research Fellowship
* 2007-2008 Society of Cardiothoracic Surgery St. Jude Scholarship
* 2015-2016 Ionescu SCTS (UK) Fellowship
* 2018-2020 Level 5 Local NHS Clinical Excellence Award
* 2019 NHSBT / BTS Excellence Award for Organ Retrieval, Royal Papworth Transplantation
* 2019 ITV (National Broadcast / TV) NHS Heroes 70th Anniversary Award for DCD Heart Transplant Innovation, Royal Papworth Transplantation
* 2020 National Clinical Excellence Award
* 2020 Philips Innovation Award
Schedule Appointment

with Dr. Pedro Catarino, MD

To schedule an appointment with Dr. Catarino, you can:
Call

(424) 788-0548

right now
Request an appointment by clicking here.
The office of Dr. Catarino is located at 127 S. San Vicente Blvd., Suite 3600, Los Angeles, CA 90048. To get driving directions to this office, please click the map below.
> Click for driving directions to Dr. Catarino's office.
Watch Educational Videos with Dr. Pedro Catarino
Learn about heart valve surgery from Dr. Catarino in these videos:
Surgeon Q&A: Who is a good candidate for aortic valve repair?

Surgeon Insights: Why Cedars-Sinai is a good place for aortic valve surgery?
News & Online References Featuring Dr. Pedro Catarino
Here is the latest news featuring Dr. Pedro Catarino:
Page last updated: March 8, 2023