Andy Posts First "5-Star Video Review" for Dr. Neelan Doolabh!
Written By: Adam Pick, Patient Advocate, Author & Website Founder
Published: July 15, 2023
Since launching the Surgeon Finder at HeartValveSurgery.com, I have moderated thousands of patient reviews for heart surgeons.  I downright love seeing patients celebrate their surgeons.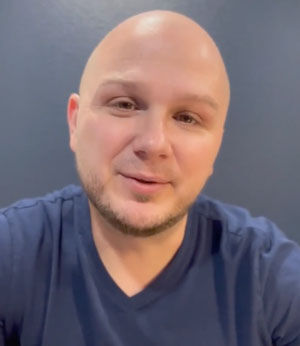 Andy Teel (Aortic Valve Replacement Patient)
Interestingly… Andy Teel, a minimally-invasive aortic valve replacement patient of Dr. Neelan Doolabh, just did something extraordinary.  As you can watch below, Andy sent me our first-ever "5-Star Video Review" about his experience with Dr. Doolabh and the entire UT Southwestern team.
I'm so happy to learn that Andy's minimally-invasive aortic valve replacement was a complete success. Here is what Andy said about Dr. Doolabh and the UT Southwestern team including Steva Smartt, Dr. Doolabh's heart valve coordinator who provides patients a special phone number to call 24 hours a day.

Hey, my name is Andy and I wanted to take a minute and put a video review for Dr. Doolabh and his team.  I'm 44 years old and about a month post-op from a mini aortic valve replacement surgery and just wanted to say that all the way from the consult in the beginning to the scheduling to the test everything leading up to the day of surgery and recovery. Everything was just an amazing experience.

From the very beginning could tell that Dr. Doolabh was concerned about my case and it was important to him and his team. They did a wonderful job of communicating to me.  Even his nurse, Steva, gave me a phone number that you can text or call at any time leading up to surgery and post-op if you have any questions or concerns.  She was always quick to respond and just great with the response again the whole team was kind and professional.

I felt Dr. Doolabh gave me all the information that I needed to help be my own advocate. Really, he was concerned about the things that were concerning to me and did a great job of explaining all the different options that I had. I was able to choose based on the information that was provided.

Steva even told me about a wonderful resource HeartValveSurgery.com which is a great community of people and great collection of curated information about heart surgeries the different options the different types.  So yeah, they even pointed me to that wonderful resource.

I wanted to give a quick review. It is "Five Stars" for me I hope I don't have to see them for a good long time. But, if I do, I will certainly be reaching out to the team at UT Southwestern and Dr. Doolabh. They did a wonderful job. Thanks so much.


Thanks so much to Andy for taking the time – to share with our community – his video review of Dr. Doolabh, Steva and UT Southwestern in Dallas, Texas!!!
Keep on tickin!
Adam
Adam's Newest Blogs
Adam's Newest Posts