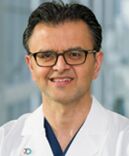 Dr. Neelan Doolabh
Dr. Neelan Doolabh

Heart Surgeon

UT Southwestern Clements University Hospital
2001 Inwood Road, 5th floor
Dallas, TX 75390
About Dr. Neelan Doolabh,
Heart
Valve

Surgeon

Hello! My name is Dr. Neelan Doolabh and I am a cardiac surgeon having graduated from UT Southwestern Medical School in 1995. To date, I have performed approximately 5,000 cardiac surgeries, of which over 3,000 involved heart valve procedures. I regularly perform surgery at UT Southwestern Clements University Hospital. Read more...

13 Patient Reviews for
Dr. Doolabh
"Dr. Doolabh, this is Jessy Baby, one of your patients whom you did an open heart surgery on May 21st, 2020. Let me take this opportunity to thank you, along with my family members, during this great time of Thanks Giving.
We appreciate your great help, acknowledge your skills and expert hands, and above all your passion for your profession. There are no words to express our gratitude. A big Thank you from the bottom of my heart with a New Valve, a repaired Aneurysm, and a CABG LAD.
Prayerful wishes for a wonderful Thanks Giving.
Thank you,
Jessy Baby and family"
-- Jessy Baby, Aortic Valve, Valve Replacement, 05/21/2020

"Had minithoracotomy. No complcations. Home 4th post op day. Good bedside manner. Excellent ICU care and great nurses on surgical floor. "
-- Larry Davis, Aortic Valve, Valve Replacement, 08/01/2018

> See 11 more patient testimonials
My Specialities &
Clinical Interests
My heart surgery specialties include:
Minimally invasive valve surgery
Aortic valve replacement, mitral valve repair and replacement
Tricuspid valve and multi-valve surgery
Education, Training & Certificates
Dr. Neelan Doolabh, heart surgeon, graduated from UT Southwestern Medical School in 1995.
After medical school, Dr. Doolabh completed a General Surgery Residency at UT Southwestern Medical Center in 2000. Dr. Doolabh also completed a Cardiovascular Thoracic Surgery Residency at UT Southwestern in 2003.
Dr. Doolabh is Board-Certified by The American Board of Surgery and The American Board of Thoracic Surgery.
Schedule Appointment

with Dr. Neelan Doolabh, MD

To schedule an appointment with Dr. Doolabh, you can:
Call

(469) 423-8171

right now
Request an appointment by clicking here.
The office of Dr. Doolabh is located at 2001 Inwood Road, 5th floor, Dallas, TX 75390. To get driving directions to this office, please click the map below.
> Click for driving directions to Dr. Doolabh's office.
News & Online References Featuring Dr. Neelan Doolabh
Here is the latest news featuring Dr. Neelan Doolabh:
Page last updated: July 21, 2021