Clinical Trial Update: New TriClip Study Data Released
Written By: Adam Pick, Patient Advocate, Author & Website Founder
Published: June 28, 2023
As more-and-more patients are asking me questions about tricuspid valve disease, I want to relay encouraging news that recently came out of Euro PCR about the non-invasive TriClip device. The TriClip, which is being evaluated for safety and effectiveness in the bRIGHT Clinical Trial, is the first percutaneous device designed specifically for tricuspid heart valve failure.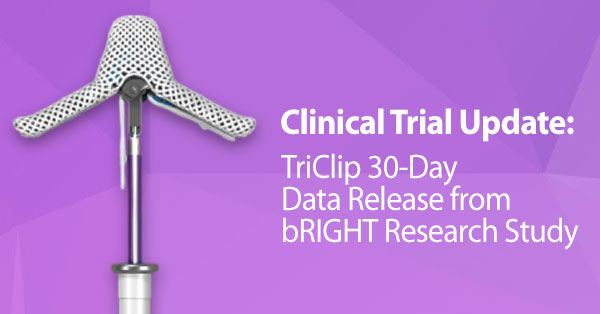 At Euro PCR, 30-day outcomes were released for 511 patients in 26 hospitals across Europe.  According to Abbott, the sponsor of the bRIGHT Clinical Trial, the key findings through 30 days are:
Tricuspid Valve Regurgitation Reduction: The TriClip system resulted in a reduction of tricuspid regurgitation grade to moderate or less for 77% of patients.
Quality-of-Life Improvements: 79% of patients achieved a New York Heart Association Functional Class I/II.  This means that patients reached a point of slight or no limitation of physical activity, a nearly 60% improvement from the baseline proportion of 20%. Plus, 56% of patients reported a 15-point improvement in the Kansas City Cardiomyopathy Questionnaire (KCCQ) score, which means patients experienced a substantial improvement in quality-of-life and health status.
Safety: Just 2.5% of patients who received the TriClip in the bRIGHT Clinical Trial experienced a major adverse event.
Dr. Lurz Says…
The release of data from the bRIGHT study were favorably received by physicians.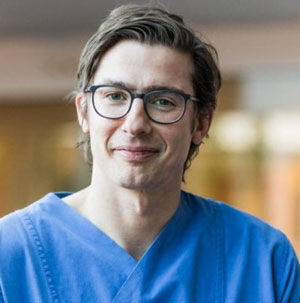 Dr. Philipp Lurz
When reflecting upon the new data, Philipp Lurz, M.D., Ph.D., professor and deputy head of cardiology, Heart Center Leipzig at University of Leipzig, Leipzig, Germany, stated, "Many patients currently undergoing tricuspid TEER are at an advanced stage of the tricuspid regurgitation disease and experience severe symptoms, impacting their overall health and well-being. Building strong clinical evidence around the value of a procedure like tricuspid valve repair is critical, and the real-world outcomes of the bRIGHT study reinforce the safety and effectiveness of TriClip in reducing TR and improving quality of life."


TriClip Taking On "Forgotten" Tricuspid Valve?
Given the data and the comment from Dr. Lurz about the bRIGHT Clinical Trial, this is no doubt good news for tricuspid valve disease patients.  As you might recall, I recently learned many interesting details about the challenges of how tricuspid valve disease progresses and debilitates patients.  In case you missed my interview with Dr. Gorav Ailawadi, the Chair of Cardiac Surgery at Michigan Medicine, I have posted that interview below.
What's Next For TriClip?
The TriClip is approved for use in more than 50 countries including Europe and Canada. In the United States, the TriClip is an investigational device which means the Food & Drug Administration has yet to approve the TriClip device.
That said, Abbott remains optimistic about the future of this device.
Michael Dale
"Just as we lead the way for treating mitral regurgitation with our MitraClip device, we're excited about the opportunity to continue our track record of innovation to treat tricuspid regurgitation with our TriClip therapy," said Michael Dale, senior vice president of Abbott's structural heart business. "TriClip has already helped thousands of people in Europe since its introduction in 2020. As we work to make TriClip accessible to more people around the world, the latest data presented at EuroPCR are further proof that the therapy helps patients who have limited treatment options get back to living fuller, healthier lives."
Needless to say, I will continue to track the development of the TriClip.  To get updates about TriClip and other clinical trials, you can subscribe to my free newsletter.
Keep on tickin!
Adam
Adam's Newest Blogs
Adam's Newest Posts