Patient Webinar: Surgical vs. Transcatheter Aortic Valve Replacement
Written By: Adam Pick, Patient Advocate, Author & Website Founder
Published: June 28, 2021
[July 6 Update: You can now watch or download the free eBook of "SAVR vs. TAVR: What Should Patients Know?" at this link.]
I'm excited to announce that our LIVE and FREE patient education events continue this Thursday, July 1, with a special webinar, "Surgical vs. Transcatheter Aortic Valve Replacement: What Should Patients Know?" Featured speakers include Dr. Charles Davidson, Professor of Cardiology, and Dr. Chris Malaisrie, Professor of Cardiac Surgery, at Northwestern Medicine. This one-hour webinar will start at 5pm CST.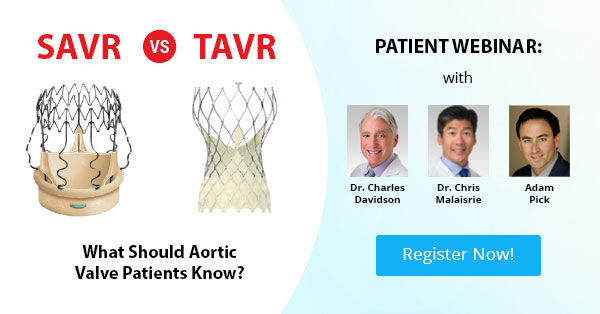 During this online event, you will learn answers to important questions including:
What should patients know about the diagnosis and progression of aortic valve disease?
When is surgery recommended for valvular conditions including aortic stenosis and aortic regurgitation?
What are the key considerations for patients considering surgical aortic valve replacement (SAVR)?
What is transcatheter aortic valve replacement (TAVR)?  How are non-invasive TAVR devices impacting heart valve surgery?
How do cardiologists and surgeons work together to determine whether SAVR or TAVR is best for the patient?
How might SAVR and TAVR techniques advance in the future?
We will also have a live "Questions & Answers" session where YOU can ask your questions to Dr. Davidson and Dr. Malaisrie.
Keep on tickin!
Adam
Adam's Newest Blogs
Adam's Newest Posts