2020 ACC/AHA Guidelines Announced for Heart Valve Disease Management & Treatment
By Adam Pick on December 20, 2020
As valve disease progresses from mild to moderate to severe, there may come a time that patients hear something like this from their cardiologist, "After looking at your last echocardiogram, it appears the valve has gotten worse. Unfortunately, it is now time to start planning surgery to repair or replace your valve."
A flood of emotions can impact the patient in that moment. As a patient, I distinctly remember being scared and confused about the next steps. I even began to question my cardiologist as I didn't really have any symptoms. "I'm not sure my cardiologist is right," I remember telling my mom. "I feel fine."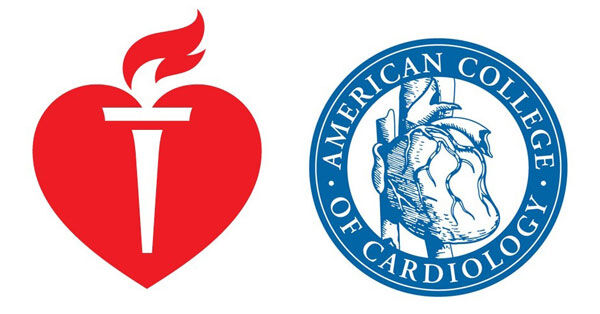 What I didn't know was that my cardiologist was relying on decades of medical research to make his recommendation for timing my heart surgery. In fact, the American College of Cardiology and the American Heart Association have developed a set of
medical guidelines
that cardiologists and surgeons refer to when analyzing valve disease, symptoms and recommended treatments — including surgical and transcatheter approaches.
This important body of work is known as the "ACC/AHA Guidelines for the Management of Patients with Valvular Disease".
For example, here is a schematic/algorithm – taken from the ACC/AHA guidelines – for the treatment of aortic stenosis in adults: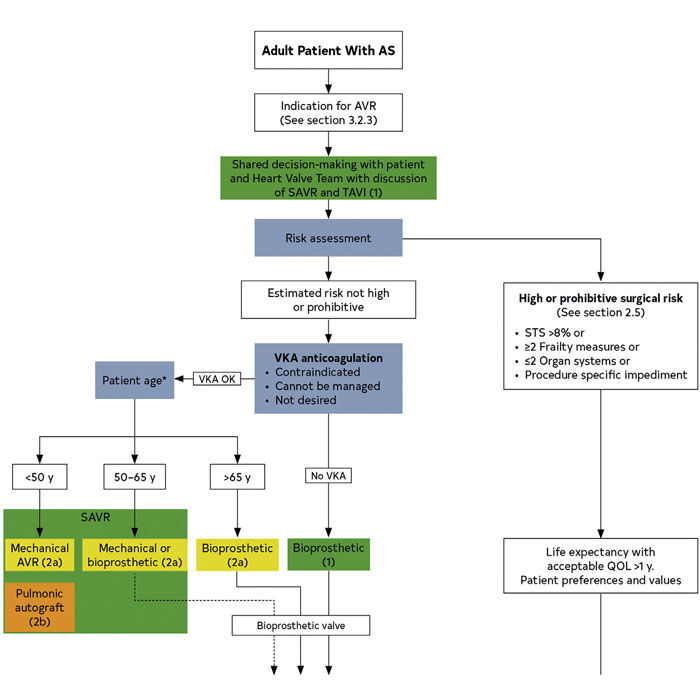 Every few years, the ACC/AHA guidelines are updated to reflect the latest science and best practices for heart valve therapy. The new guidelines were just published.
According to Michael Potts, at the Cardiology Consultant, the big take-home message for this update includes:
Valvular heart disease stages should be classified based on symptoms, valve anatomy, severity of valve dysfunction, and response of ventricle and pulmonary circulation.
Shared decision making based upon the CHA2DS2-VASc score should be used to decide whether oral anticoagulation is appropriate to prevent thromboembolic events in patients with valvular heart disease and atrial fibrillation.
Treatment of severe aortic stenosis with transcatheter or surgical valve prosthesis should be based on symptoms or reduced ventricular systolic function.
Relief of symptoms and prevention of long-term consequences of left ventricular volume overload are both indication for intervention for valvular regurgitation.
Over at MedPage today, Nicole Lou feels, "Transcatheter interventions get more love in updated valvular heart disease guidelines from the American College of Cardiology and American Heart Association." Patients with severe aortic stenosis who have choices for intervention should be included in shared decision-making that considers the lifetime risks and benefits associated with type of valve and type of approach, according to a class I recommendation in the guideline.
Related article:
On behalf of the patients, many thanks to the ACC/AHA for their continuous work on these guidelines for heart valve management and treatment!!!
Keep on tickin!
Adam
Adam's Newest Blogs
Adam's Newest Posts