Special Guest Post: 5 Steps To Prepare for Heart Surgery by Peggy Huddleston
By Adam Pick on July 19, 2018
For years, I've heard about the fantastic, mind-body techniques of Peggy Huddleston.  Many patients in our community, like Gina Fiorentino, have raved to me about the benefits of Peggy's book, "Prepare for Surgery, Heal Faster".   In addition, several cardiac centers – including Brigham & Women's Hospital and NYU Langone Medical Center – recommend Peggy's CD and MP3 to patients.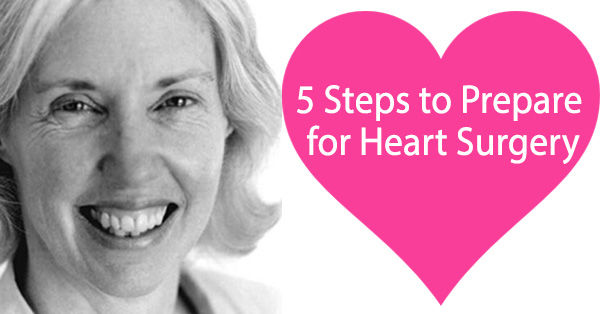 If you didn't know…  Research suggests that Peggy's strategies help patients (i) reduce anxiety before surgery, (ii) reduce pain medication consumption by 25%-50%, (iii) diminish insomnia, and (iv) accelerate healing.  For these reasons, I was thrilled to recently connect with Peggy. During our exchange, I asked Peggy, "What are your most important tips for patients getting ready for surgery?"


Peggy's 5 Steps to Prepare For Heart Surgery
Peggy listed the following 5 steps to prepare for surgery:
Step 1. Calm preoperative jitters guided by relaxation CD or MP3.  Feeling peaceful in the weeks before surgery strengthens your immune system and creates the biochemistry that enhances healing.
Step 2. Visualize your best recovery by turning your worries into positive, healing imagery.
Step 3. Surround yourself in the love of your family and friends before surgery.  Ask them to think of you by wrapping you in a "Blanket of Love" for the half hour before surgery. If you ask 20 individuals to do this, you will feel peace and love surrounding you in the holding area.
Step 4. Use Healing Statements, words spoken during surgery when you are highly suggestible. They reduce the use of pain medication by 23-50%.
Step 5. During your preoperative meeting, ask to have your anesthesiologist or a nurse in the operating room say the Healing Statements during surgery. There is a page of Healing Statements in Peggy's book which you cut out and give your anesthesiologst the day of surgery.
While I was unaware of Peggy's strategies to prepare for heart surgery at the time of my operation, I would definitely investigate and embrace these practices if I needed another procedure.  As many of you know, I personally struggled with anxiety before and after my heart valve surgery.  I also over-consumed pain medication during my recovery.


Hear & See Peggy Talk with Dr. Cohn!
To learn more about preparing for heart surgery from Peggy, here is a great educational video that she filmed with Dr. Lawrence Cohn.  (As you might recall, Dr. Cohn was a leading heart valve surgeon who also had an aortic valve replacement procedure.  While Dr. Cohn recently passed away, his legacy is that of a "titan" among his peers.  Luckily, I was fortunate to know him and to film a few educational videos with Dr. Cohn over the years.)
Thanks Peggy!
On behalf of our community, I would like to extend a mighty "Thank You!" to Peggy for her work, her research and her passion of helping others at times of need!!!  Hopefully, Peggy's mind-body techniques will help patients in our community better prepare for surgery!!!
Keep on tickin!
Adam

rubart says

on July 20th, 2018 at 1:38 pm
The two things which kept me from having *any* anxiety whatsoever before my open heart surgery were:
(1) Fully acknowledging to myself that, in having this surgery, I was making the absolutely 100% right choice; thus, no matter what the outcome, I'd done my best.
(2) Changing my feeling from one of powerlessness to one of power. I'd been feeling as though I was "sick" and I needed outside help to fix me. But about two weeks before my operation, a different realization came to me.
I spoke to my heart and said, "You've been my most faithful friend my whole life [I was 70 at this point]. You've always been there for me when I needed you. Now you need something from me–and I'm going to get it for you. I won't let you down." I wasn't "sick" after all–I was in charge!
Though I had some of the usual ups and downs post-op, I basically breezed through it, and was back to feeling 100% after only six weeks.


Adam says

on July 20th, 2018 at 2:14 pm
Rubart,
Wow! I loved reading your empowering thoughts and ideas leading up to your procedure. I especially liked the internal dialogue that you had with your heart. I never heard any patient refer to their heart as a "friend" before. I hope it's not the last time. Awesome! Great share Rubart! Thanks! Adam


rubart says

on July 21st, 2018 at 12:27 pm
Thanks to you, Adam, for creating this wonderful forum.

Adam's Newest Blogs
Adam's Newest Posts