Barry's Patient Advice: Find The Best Heart Surgeon for You!
By Adam Pick on October 1, 2017
I have to congratulate Barry for being his own… best… patient advocate.
That's right.  Given the common referral pattern – from primary care physician to cardiologist to surgeon – it's fairly easy to let the health system (and the insurance companies) dictate your heart surgeon selection process.  Instead, I always encourage patients to find the right surgeon for them. And, for the patient's specific valvular disorder.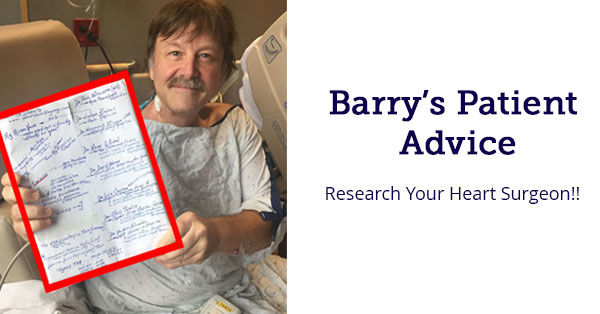 Just one quick look at Barry's heart surgeon research chart (shown below), I knew that Barry took his procedure very seriously.
As I constantly share with patients, "Heart surgery is a whole lot different that getting your hair cut. You need to do your homework.  You need to ask surgeons the tough questions. And, second opinions are a great idea considering the different types of therapies now available to patients."  For more about the questions to ask surgeons, click here.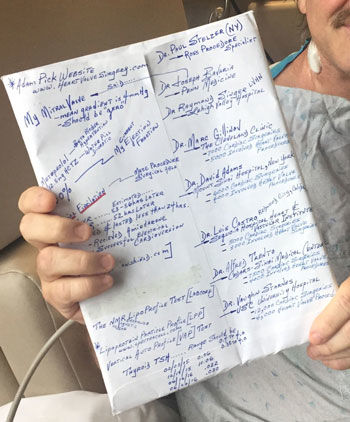 Throughout this research process, it might get frustrating for patients. It might be time consuming. It might be complicated. However, I can assure you… When you are being rolled into the operating room, there is nothing better than having a 100% confidence in your heart surgeon and their medical team.
You might be wondering, "How did Barry do after his aortic valve replacement with Dr. Raymond Singer?"  As they say, a picture is worth a 1,000 words. Here's a picture of Barry just one year after his aortic valve procedure.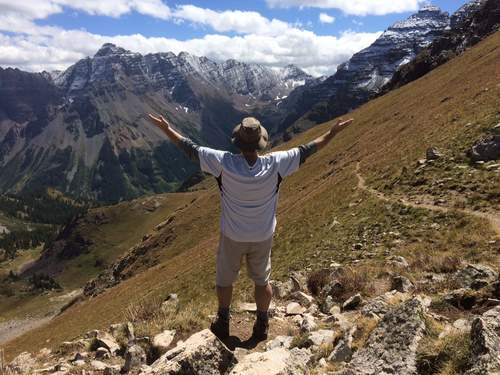 Great job Barry and thanks for sharing your story and pictures with our community! And, thanks to Dr. Raymond Singer for fixing Barry's heart!
Keep on tickin!
Adam

rubart says

on October 2nd, 2017 at 8:08 pm
Absolutely research your surgeon. But don't just look for success rate, extensive experience, etc. In your face-to-face interview(s), see how communicative s/he is. Are you treated as an individual human being rather than just a case? Does the surgeon seem to have time for you? Technically, I had a great surgeon lined up, but he was dry as dust and said very little outside of the operation details.
I realized that, after my operation, I'd want more than that from my surgeon, because I'd be so vulnerable. I decided on someone else, who was not only a superb, ultra-experienced technician, but someone I'd love to have had for a friend. I never regretted it.
Bottom line: If you wouldn't particularly want to be around a surgeon *outside* the operating room, my advice is to not be around that surgeon *in* the operating room.


Barry Kanick says

on October 2nd, 2017 at 10:53 pm
I would hugely recommend Dr Raymond Singer 24/7. It's like I knew him for 30+ years as both a friend & Surgeon. ,,,,He was just stellar as an all around great guy!!! ,,,,Any Thoracic Surgeon who takes 35-40 minutes of his own time & calls me at the house to explain certain technicalities & procedures gets an A++ from me. And it's not just the Surgeon(s) tarck record you have to consider. He & his entire surgical team were together for a solid 28 years and counting. This hugely matter as they all sync together with major efficiency!!! ,,,,,Barry


Barry Kanick says

on October 2nd, 2017 at 10:59 pm
Thank You Adam Pick!!! ,,,,,,,I started at an 8900ft Elevation in Aspen,Colorado near Maroon Lake in that photo & hiked to Buckskin Pass(Elevation 12,642ft). ,,,,,,,,Gave the new heart valve it's 1st grueling rigorous workout & it performed just beautifully!!! My extensive swimming before leaving for Colorado from Sept 8th to Oct 2nd hugely payed off. ,,,,,It was a great proving ground in the higher altitudes of the Continental Divide to test my overall cardiovascular performance & condition,,,,,,,,,Better Days Ahead!!!


rubart says

on October 3rd, 2017 at 9:07 am
Fair enough, Barry. But now I get my turn. I would hugely recommend Dr. Glenn Barnhart at Swedish Medical Center in Seattle, WA. Everything you said about your surgeon goes for Dr. Barnhart too.


Adam says

on October 14th, 2017 at 2:30 am

Adam's Newest Blogs
Adam's Newest Posts