At the Marathon Finish Line, Phil Held This Up!
By Adam Pick on December 9, 2016
A BIG question patients ask me prior to heart valve surgery is, "Will I be able to do the things I love after surgery?"
Well… Let's consider the story of Phil McBride.  At 62, Phil was an avid runner and an active member of Eastside Running Club. His love of competition kept him running at higher and higher levels.   In November 2015, about 1 mile into a race leading up to the USA Track and Field National Cross Country Championships, Phil began having a hard time catching his breath. He was able to finish the race but in his words he "had an awful run".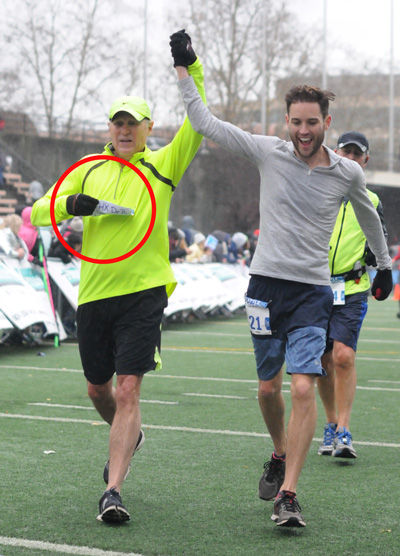 Long story short… After a stress echo, Phil was diagnosed with severe aortic regurgitation, a leaky heart valve. Shortly thereafter, Phil had a successful aortic valve replacement surgery performed by Dr. Glenn Barnhart at Swedish Heart & Vascular Institute.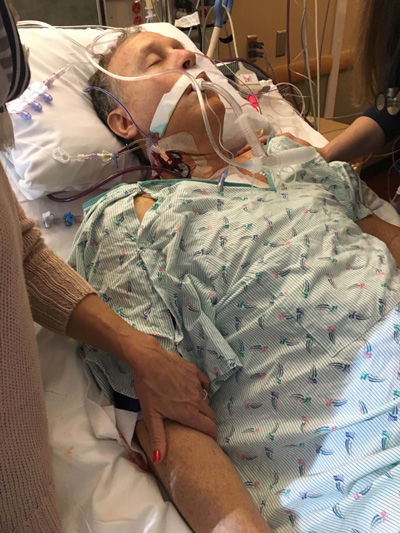 What happened next? In 9 months following heart surgery, Phil ran a half marathon in only 1:55, and placed 2nd in his division! Since then, he's been training for the Seattle Marathon.
On November 27th, 2016, Phil ran the full marathon with his son Sean, wife Lauren, and son-in-law Charlie. Phil finished with an amazing 4:10 and placed 6th in his division! He had tremendous support throughout the race from his daughter Erica and Swedish OR nurse Larissa and her husband Don.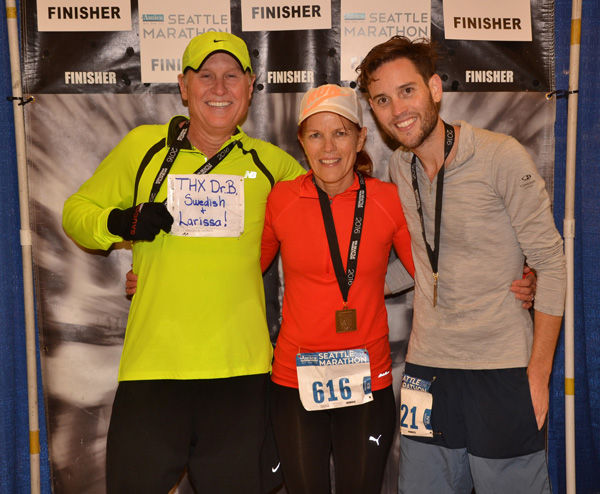 So… What did Phil do at the finish line of the marathon? He thanked his surgeon, Dr. Glenn Barnhart (Dr. B), his OR Nurse, Larissa, and the medical team at Swedish. How great is that?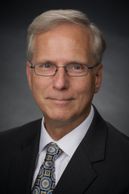 Dr. Glenn Barnhart – Phil's Heart Surgeon
Thanks so much to Phil for inspiring our community! And, many thanks to Dr. Barnhart, Larissa and the entire Swedish team for taking such great care of Phil!
Keep on tickin' Phil!
Adam

pino correale says

on December 10th, 2016 at 3:33 pm
I would like to congratulate Phil on his running achievements after the valve replacement surgery. I too had an aortic valve replacement last Nov./2015 and a former runner. His achievements gave me a bit more hope to return to running.
Thanks for sharing and much good luck.
pinocorreale@hotmail.com


Brian Tinsley says

on November 11th, 2018 at 6:45 pm
How did you decide on Swedish vs U of W or any other area around Seattle area?
Thanks,
Brian
Have you heard of Dr. Ryan there?

Adam's Newest Blogs
Adam's Newest Posts