Technology Update: Understanding TAVI with Dr. Michael Mack
By Adam Pick on May 19, 2013
If you have not heard of transcatheter aortic valve implantation (TAVI), this post will introduce you to a breakthrough technology that recently received FDA approval for 'inoperable' and 'high risk' patients with severe aortic stenosis. If you have already heard of TAVI, the video below will provide you the latest update about TAVI from Dr. Michael Mack, a heart valve guru, a past-president of The Society of Thoracic Surgeons, and one of the clinical pioneers of TAVI at The Heart Hospital in Dallas, Texas — where he practices.
I hope this video helped educate you about TAVI and its current indications for aortic valve stenosis patients who are considered inoperable or high-risk.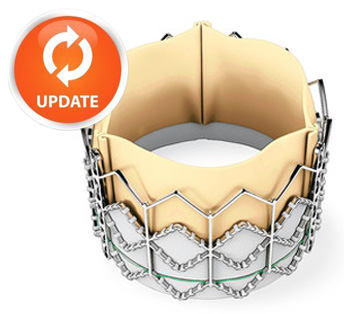 TAVI SAPIEN Device (Edwards Lifesciences)
Many thanks to Dr. Michael Mack for his life-long pursuit of healthy hearts and his willingness to share his clinical experiences and research specific to TAVI with our community!
To learn more about Dr. Mack, please click here.
Keep on tickin!
Adam
P.S. For the hearing impaired members of our community, I have provided a transcript of this interview below:
Dr. Michael Mack: I'm a cardiac surgeon in Dallas, Texas. I'm the Director of Cardiovascular Surgery and Cardiology for the Baylor Healthcare System in Dallas. I practice at The Heart Hospital Baylor Plano. My practice is limited totally to heart valve disease.  About 70% of the procedures are aortic valve procedures and about 30% mitral in the year's period of time.  I do about 200 cases a year.
Adam Pick: Can you share with us what attracted you to cardiac surgery?
Dr. Michael Mack: So, when I was a young, impressionable teenager, heart surgeons were featured on the cover of Life and Time magazines. I can still remember Dr. DeBakey and Dr. Cooley being larger than life — on the front pages of the newsstands. You know my first attraction to it was, I said, "I want to be like those guys."
Adam Pick: Dr. Mack, what is TAVI?
Michael Mack, MD: If you are outside the United States, in Europe, it's called TAVI, which is transcatheter aortic valve implantation. In the United States it is TAVR, which is transcatheter aortic valve replacement. And what that means is putting in heart valves without traditional surgery. So using x-ray guidance and echo guidance, you can put a heart valve in the human heart, threading it up from an artery in the leg — or going through the tip of the heart — or a couple of other different approaches without ever stopping the heart and without ever making large incisions.
Adam Pick: What are the advantages of having a TAVI or TAVR procedure?
Doctor Michael Mack:  From a patient perspective, you always want the less invasive procedure, if you know it's equally as good. So, you can get through a procedure quicker, easier and less recovery time. But,you have to be sure that the long-term results are roughly equal from that. So, all other things being equal, the attraction to TAVR is that it is a less invasive procedure than surgery. You also have to consider, "What's the price or the cost of that in terms of what are the added complications?",  "What are you giving up?", "Does it last as long?", and "Is it worth having the less invasive procedure simply to recover quickly?"
Adam Pick: You just mentioned the potential risks of a TAVI procedure. Can you share what those risks may be?
Dr. Michael Mack: There are a couple of types of patients or patient categories who are candidates for TAVR. First are what's called inoperable patients — which are patients who are not candidates for surgery because they are too old, they are too debilitated, they are too frail or have too many other medical conditions that make them too high risk to be able to tolerate the surgical procedure. Compared to the alternative which is treating with medication, TAVR is the clear cut choice. The next category of patients are patients who are very high risk for surgery. And again, that was studied in a randomized trial in the United States called the PARTNER trial. That showed that the results of TAVR, in other words being alive at 1 year, were the same whether you had surgery or TAVR.
Adam Pick: What is the most important piece of advice for a patient who is considering having a TAVI or TAVR done?
Dr. Michael Mack: So there are a couple of things. One is… Is it an alternative for them? And, is it a good alternative for them? The reflex reaction is just because it is less invasive, "I want it". But, you have to understand the full repercussions of that.  The second thing that you want to know as a patient is, what is the experience with the center performing it. It is still a very new procedure in the United States. It was approved by the FDA in November of 2011, which you want to be sure there is good experience in the center and that their results are good.
Adam Pick: What is the future of TAVI in your opinion?
Michael Mack, MD: So I think it's clear that the future of TAVI is that more and more patients will be treated with it. And the question is, at what rate the adoption of it grows. There are very careful parameters to be sure that the patients that really need it are able to get access to it. Now, the innovation pipeline is full of brand new valves– there are probably 9 or 10 valves — that show very promising results in terms of fixing some of the problems. And, there is a whole lot of ancillary devices that will make the procedures safer, easier to perform, quicker and move beyond general anesthesia to local anesthesia. It's a very bright and promising future, but the term we have used for this is what's called as rational dispersion. It will grow but in a very rational manner.

Jim Pattillo says

on May 21st, 2013 at 12:58 pm
If I am considering a tissue valve v. mechanical valve in a traditional AVR, should the prospect of a TAVR for normal risk patients in 10-15 years impact my decision?


Stephen Cuffman says

on May 21st, 2013 at 1:34 pm
I would be interested in the answer to Jim Pattillo's question.


zafar says

on May 21st, 2013 at 11:19 pm
I would also be interested in the answer to Jim Pattillo's question. My son is about 14 year and would be requiring AV replacement in next 2-3 years.


Adam Pick says

on May 22nd, 2013 at 8:08 am
Hi Jim, Stephen and Zafar –
As requested… I sent Jim's question to Dr. Mack.
Shortly thereafter, I received a response from Dr. Mack that reads, "Answer to question… Absolutely YES. But, at this time, only if the patient is over 50 years old — and they can place at least a size 23mm valve."
I hope that helps!
Adam


Jim Pattillo says

on May 22nd, 2013 at 8:16 am
Interesting. I had AVR (via mini thorocatomy which is the way to go) at age 38 and got a mechanical valve. My friend had AVR at 40 and chose tissue which guarantees another surgery in 8 to 15 years. However, his surgeon thought TAVR would be an option to replace his replacement by then.


Sybil says

on May 24th, 2013 at 10:15 am
I am seriously considering a TAVR procedure. The physician who is easily available to me has not done very many of these – I think when I talked with him it was 22. Of course, this is so new than not many surgeons have performed more than a few. I have tended to put off the surgery until he has more experience. How many procedures would be considered adequate experience?

Adam's Newest Blogs
Adam's Newest Posts