I'm Going To The Cleveland Clinc… Wanna Meet?
By Adam Pick on March 30, 2012
Hey everybody!
I'll be going to the Cleveland Clinic for a tour of their Heart Center from April 24-25. If, by chance, you happen to be at the Cleveland Clinic for surgery (or anything else), please let me know. I'd love to say "Hi!"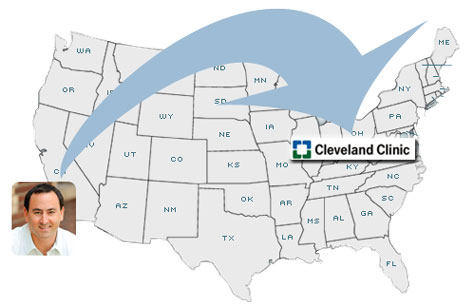 Keep on tickin!
Adam

Ruth Howell says

on March 30th, 2012 at 4:15 pm
Hi Adam,
I will be at the heart center at the Cleveland Clinic April 24, 25 and 26 for my follow-up appointments with Dr. Griffin and Dr. Gillinov. As you may recall, it's been about a year since my surgery there. Would love to say hi if we can catch up with one another.
Ruth


Adam Pick says

on March 30th, 2012 at 6:05 pm
Hi Ruth,
Sounds great. Amazing that it's already been one year.
I look forward to seeing you in Cleveland!
Adam


Ruth Howell says

on March 30th, 2012 at 6:32 pm
I sent you an email with my cell phone number. You can send me yours if you like and we'll catch up with one another while there. We will be staying at the Guest House across the street from the heart hospital. If you've never been to CCF, prepare to be amazed. Looking forward to meeting you. Ruth


Linda Dixon says

on March 30th, 2012 at 6:45 pm
Hi Adam and Ruth!
Tell Dr. Gillinov that I said hello and I'm doing great!!!
Linda Dixon


kathryn weitzel says

on April 25th, 2012 at 10:00 pm
Hey Adam & Ruth,
I am going into my 3rd year since mitral valve mechanical replacement done by Cleveland Clinic's Mihaljevic. Y'all have fun ya hear.
Kathryn from the panhandle of Florida


Dianne Wright says

on April 26th, 2012 at 10:10 am
Hi Adam,
Had my mitral valve replace on 12-12-2011 at the HillCrest Campus of CCF. Dr, Marc Botham, an amazing, super surgeon and individual performed the surgery. The cardiac department at HillCrest is fairly new and very state of the art – Dr. Botham was very impressed with your book when I told him about it. He works with Gillinov but had not heard of the book. If you have time, you really need to visit HillCrest – you will be very impressed as to the personable, small town hospital feel you get with the caliber of care of world known Cleveland Clinic.
Love your book, has been so much help to me.
Dianne Wright


Dianne Wright says

on April 26th, 2012 at 10:25 am
Adam:
Opps!!!!!! Guess I've lost all track of time – this is April 26th, missed you. Hope your visit was super. Guess I have lost all track of time along with the my heart surgery ;o) .
Dianne