New Reports Surface About The SAPIEN Aortic Valve Replacement
By Adam Pick on November 17, 2011
In case you missed it… Some very interesting reports came out about the SAPIEN, a non-invasive aortic valve replacement for patients with aortic stenosis that just received FDA approval for inoperable patients, at the recent Transcatheter Cardiovascular Therapeutics conference in San Francisco.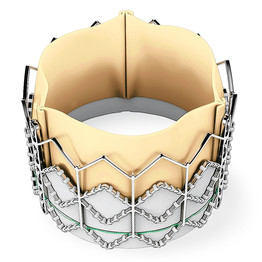 As reported in Medical News, two-year follow-up findings of the PARTNER trial indicate that transcatheter aortic valve implantation (TAVI) may be a better option than standard treatment. For more, click here.
As reported at TheHeart.org, a study comparing the transapical approach for transcatheter aortic-valve implantation (TAVI) against conventional aortic-valve replacement surgery was stopped early due to an increase in adverse events, including an increased risk of major stroke and severe paravalvular leakage, in elderly patients eligible for surgery. For more, click here.
As reported in Cardiovascular Business, the cost effectiveness of transcatheter aortic valve implantation (TAVI) compared with surgical aortic valve replacement (SAVR) depends on whether TAVI is performed via the femoral artery or transapically, through a small incision in the chest. For more, click here.
As always, I will continue to keep you updated on the latest news and reports regarding the advance of heart valve technologies — including the transcatheter based devices.
Keep on tickin!
Adam

Elizabeth Bird says

on November 21st, 2011 at 9:46 am
Hi Adam,
I'm excited about the Sapien aortic valve, but I am curious whether this valve is able to be used with patients who have already had a traditional aortic valve replacement? The video shows it replacing the natural valve, but for those of us who've already had the valve replaced through traditional means, will the Sapien valve ever be a viable option?
Elizabeth Bird


Maxine DiDonna says

on February 12th, 2014 at 6:57 pm
I am having Aortic Valve Replacement in the artery (which one I don't know) and it is like the one you describe with the expanding mesh stent. I understand it has a balloon to inflate. What is the recovery time & what should I expect. I have your book, and it was informative but not about this kind of surgery. I go to Stanford Hospital in Stanford, CA on Feb 24 with surgery the 25th. I have other medical problems, but would like more info on immediately after surgery, etc. Can you help me?


Elizabeth Bird says

on February 17th, 2014 at 10:54 am
Hi Maxine,
I saw this procedure done at a Scottsdale, AZ hospital shown on our local PBS station about a year ago. The surgery took less than an hour to perform and the patient, an elderly woman in her 80's, was awake and talking the next morning and was going to be released in about a day. Since she didn't have to have her chest opened surgically her body didn't have to recover from such a traumatic experience. You may still feel tired and a tad sore, but you'll probably be up and around fairly quickly. I hope it all goes well for you!

Adam's Newest Blogs
Adam's Newest Posts