For His 40th Birthday Present, Matt Unwraps A Mechanical Aortic Valve & Aortic Root Replacement
By Adam Pick on June 13, 2011
When diagnosed with a life threatening illness, such as severe heart valve disease, patients often confront uncomfortable emotions. Personally, I remember feelings of fear, anxiety and confusion. How me manage those emotions is often a test of our character, our courage, our self and our love for life.
One patient who just passed this test with flying colors is… Matt Fountain from Sarasota, Florida.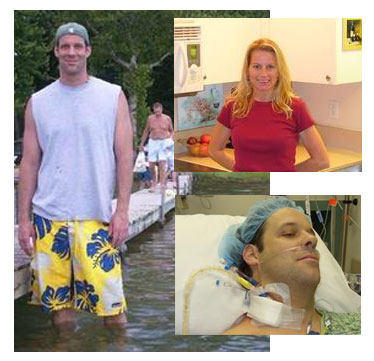 I first learned of Matt's story six weeks ago. In an email, Matt told me that he was scheduled for an aortic valve replacement and an aortic root replacement surgery due to severe aortic stenosis and an aneurysm. (To learn more about stenosis, click here.)
What struck me about the words in Matt's email was his extraordinary attitude towards his upcoming surgery. Matt wrote, "My 40th birthday is June 2nd and my procedure is June 7th… I can't think of a better birthday present for myself."
"Hmmmm…. Open heart surgery? A birthday present?" I thought to myself, "Now, that is incredible!" As I continued to learn more about Matt and Sandy, his wife, through his heart valve journal, I became humbled by his unique perspective, his positive attitude and his desire to restore proper heart function.
Today, I am happy to share that Matt's surgery was a complete success. Thanks to Dr. Vinay Badhwar, Matt's calcified bicuspid aortic valve was replaced with an On-X mechanical valve. Plus, as you can see below, a Dacron graft was used to correct the aneurysm.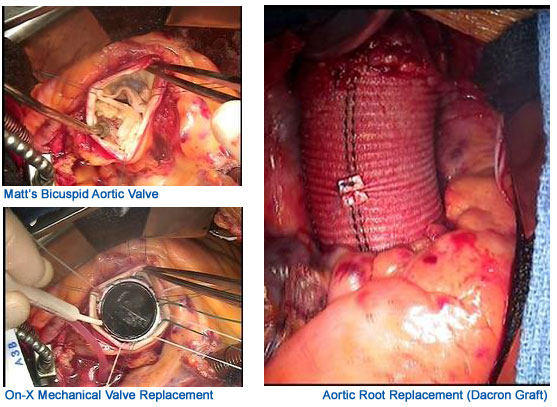 At his journal, Matt's latest post reads:
"Surgery went great… My experience with everyone associated with my surgery has been wonderful. Doctor Vinay Badhwar is the BEST! Wonderful surgeon, extremely down to earth and compassionate. The entire staff at Osceola Regional Medical Center were just wonderful. — Matt Fountain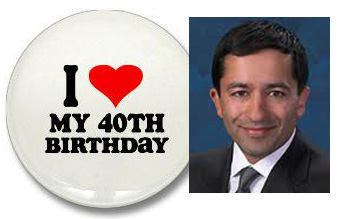 Dr. Vinay Badhwar – Matt's Surgeon
Thanks to Matt for sharing his 40th birthday present with all the patients and caregivers at HeartValveJournals.com. And, a special thanks to Dr. Vinay Badhwar, my heart surgeon, and his team for taking such great care of Matt.
Keep on tickin!
Adam
Adam's Newest Blogs
Adam's Newest Posts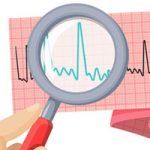 "How Do I Know When My AFib Is Gone After Heart Surgery?" asks Linda Learn More.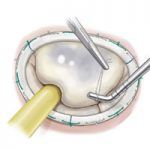 New Findings: Mitral Valve Repair Restores Normal Life Expectancy! Learn More.