"Can Heart Valve Replacement & Atrial Fibrillation Treatment Occur During The Same Surgery?" Asks Wendy
By Adam Pick on March 11, 2011
Wendy just sent me an interesting question about heart valve replacement surgery and atrial fibrillation. She writes, "Adam – At 68, I'm confused and nervous. I've been dealing with atrial fibrillation for some time. But, I was just diagnosed with a severely leaking mitral valve. Can a surgeon fix both problems during one operation? Or, will I need two separate procedures? Thanks, Wendy"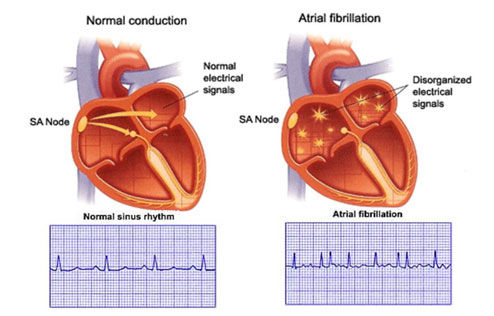 To answer Wendy's question, I spoke with Dr. Niv Ad, a leading cardiac surgeon at White Oak Medical Center in Takoma Park, Maryland. Dr. Ad shared several helpful facts about atrial fibrillation and its connection to heart valve disease.
According to Dr. Niv Ad, between 35%-50% of heart valve patients have some type of atrial fibrillation (abnormal heart rhythm) at the time of their surgery.
Dr. Ad suggested that atrial fibrillation (A-Fib) is seen most commonly in patients with mitral valve disease but not infrequent in patients with aortic valve disease.
Atrial fibrillation is more common in patients over 65 years of age, according to Dr. Ad.
While A-Fib may not be directly related to valve disease, it is common that patients with atrial fibrillation can develop a dilated left ventricle that, in turn, results in significant mitral regurgitation.
Specific to Wendy's question about the surgical treatment of heart valve disease and A-Fib during the same operation, Dr. Ad believes that approach is not only possible but appropriate.
"Your surgeon should have more than a good reason not to address atrial fibrillation during a valve procedure… Correcting A-Fib is going to improve surgical outcomes and the patient's quality of life — without increasing the operative risk in the majority of cases." — Dr. Niv Ad
Last year, I was fortunate to observe Dr. Niv Ad and Dr. Paul Massimiano perform a minimally invasive mitral valve repair and Maze procedure (for atrial fibrillation) during a 4-hour operation.
Thanks to Wendy for her question about atrial fibrillation and heart valve replacement surgery. And, a special thanks to Dr. Niv Ad for sharing his clinical expertise. To learn more about heart valve replacements, click here.
Keep on tickin!
Adam

robert witt says

on March 12th, 2011 at 1:04 pm
In '09, at age 69, I had my aortic valve replaced and my mitral valve repaired. At the same time my surgeon, Dr. Vincent Gaudiani, performed a MAZE procedure to correct my A-fib. I have been in sinus ever since.


Paul Klaassen says

on March 12th, 2011 at 3:28 pm
Hi Wendy,
I was just 39 when I had my aortic valve replace and had a simultaneous maze procedure. I had the good fortune to have a couple of aquaintances, one a head of cardiology at a major hospital and the other a cardiac surgeon, to consult with before hand, as well as a fantastic cardiologist and surgeon taking care of me. All agreed that there is an extremely high likelihood of success in treating the a-fib and an extremely low risk of complications from treatment. I had the Maze and have had a very regular heartbeat ever since. Sometimes I have the sensation that used to come just prior to the irregular beats but then the irregular beat never comes.
Good luck with your surgery and recovery.
Paul K.


Patricia says

on March 12th, 2011 at 8:40 pm
Ditto on the previous comment. My husband had a bicuspid aortic valve replaced, a mitral vale repaired and the Maze procedure performed by Dr. Guadiani in November 2009. Has been doing very well.