Top 6 Questions About Dr. Roselli's Internet Chat
By Adam Pick on July 6, 2010
My inbox is overflowing with great questions about Dr. Eric Roselli's chat scheduled for today, Wednesday, July 7 at 2pm (EST). That said, I will use this blog to answer the six, most common questions about this special event: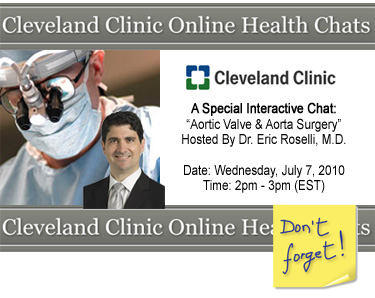 QUESTION 1 – Can I still register for the event?
Answer: Yes, you can still register for the event. To sign-up for the event, simply click this link and follow the instructions.
QUESTION 2 – Is the online chat free? Or, do I need to pay?
Answer: The event is completely free for everybody.
QUESTION 3 – What phone number do I need to call? Can I listen over the Internet?
Answer: Dr. Roselli will be chatting over the computer – in an instant message setting. So, there is no phone number or audio equipment required for this event.
QUESTION 4 – Do I need special software to participate in the online chat? How do I download the software?
Answer: To participate in the online chat, you must have JAVA software installed on your computer. To test whether-or-not you have JAVA, simply click here. If you do not have JAVA installed on your computer, you can download the software by clicking here.
QUESTION 5 – When and how do I login to the interactive chat?
Answer: The Health Chat will open several hours prior to the 2pm (EST) start time. When you login to the event, please have your username and password handy. You most likely created your username and password when you registered for the event.
VERY IMPORTANT: Click this link to login to the event 10-15 minutes before 2pm (EST) on Wednesday. You will see an orange "Join" button at the bottom of the screen. Simply click the "Join" button (shown below) and enter your username and password.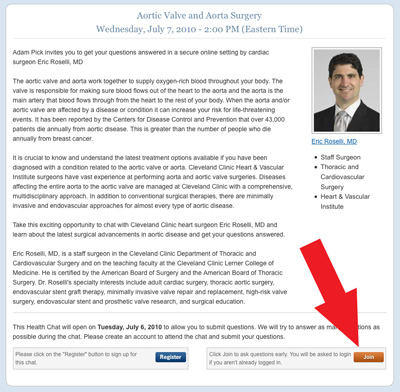 Once you are logged in, you will automatically be redirected into the interactive chat screen. Here is a picture of the chat screen.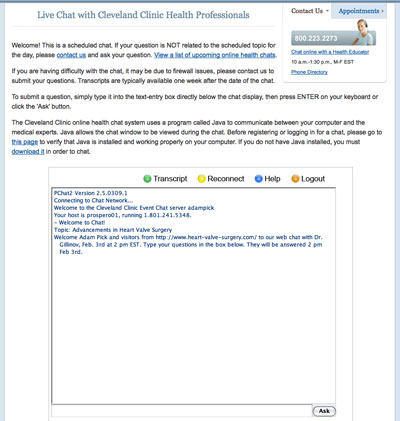 QUESTION 6 – Will a transcript of the chat be available if I can not attend the actual event?
Answer: Yes, we will post a free transcript 3-4 weeks following the online chat with Dr. Roselli.
Finally… For those people who have difficulty logging into the chat, the Cleveland Clinic team will be monitoring my blog during the chat. Should you experience any challenges, please submit your questions in the comments field below.
Please also note, however, due to the great interest in this chat, they may not be able to get to every question. That said, we may need to schedule another chat in the near future.
I hope that helps! I realize it is a tad confusing. However, I think this is a great opportunity to learn more about heart valve surgery from one of the best heart surgeons on the planet.
Keep on tickin!
Adam
Adam's Newest Blogs
Adam's Newest Posts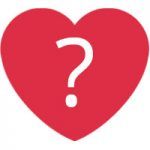 Doctor Q&A: "What Criteria Do Surgeons Use to Choose a Heart Valve Replacement?" asks Peter Learn More.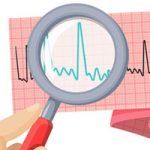 "How Do I Know When My AFib Is Gone After Heart Surgery?" asks Linda Learn More.