Barbara Walters Recovering From Heart Valve Replacement Surgery (Updated)
By Adam Pick on May 10, 2010
In case you missed the Monday edition of "The View", it was announced that Barbara Walters will be having heart valve replacement surgery sometime this week.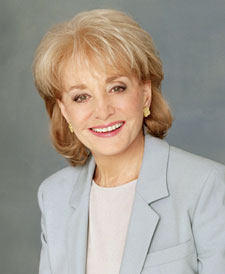 Although Walters knew of her upcoming heart valve surgery for sometime, her co-hosts on The View (Whoopi Goldberg, Elisabeth Hasselbeck, Joy Behar and Sherri Shephard) received the news Monday morning — shortly before viewers did.
Barbara Walters, who is in amazing shape for being 80 years old, stated, "I thought it best not to talk about it [heart surgery] too far in advance."
Whoopi Goldberg asked Walters one of the most common questions of heart valve surgery patients, "You scared?"
In response, Walters said "Oh, only you would ask that question… It's not elective, it's not like… having your face lifted."
Then, reflecting upon her upcoming heart surgery, Barbara Walters stated, "I don't think I'm really scared. I'm glad it's going to be over with. It's going to be taken care of."
Funny… I personally remember having that same feeling prior to my aortic and pulmonary valve replacement surgery. Furthermore, as you understand the statistics and risks of heart valve surgery, the fear of cardiac surgery can be dispelled / rationalized to some degree.
As this story broke only a few hours ago, I will surely update this blog about Barbara Walters upcoming heart valve surgery. I'm curious to know all the common, patient questions specific to Barbara's valve disorder (e.g. mitral regurgitation, aortic stenosis), surgical procedure (e.g. sternotomy, minimally invasive) and valve replacement selection.
Tuesday Update: Earlier today, I learned that Barbara Walters is suffering from aortic valve stenosis. As you may know, aortic stenosis is a narrowing of the heart valve which impacts the flow of blood through the body. If not treated, severe aortic stenosis can lead to a damaged heart muscle and heart failure. Below is a picture of a stenotic aortic valve.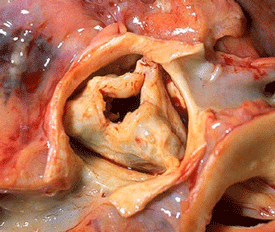 I still do not know what type of procedure Barbara's surgeon will use nor do I know what type of aortic valve replacement device she has selected.
Friday Update: According to her spokesperson, Barbara Walters' aortic valve replacement surgery went well and she is recovering as expected. Still, I have yet to learn who Barbara Walters' surgeon was or what type of device replaced her stenotic aortic valve — although I assume it was most likely a pig or cow valve.
Keep on tickin' Barbara!
Adam
Adam's Newest Blogs
Adam's Newest Posts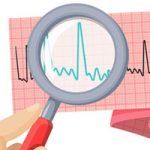 "How Do I Know When My AFib Is Gone After Heart Surgery?" asks Linda Learn More.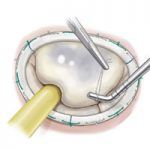 New Findings: Mitral Valve Repair Restores Normal Life Expectancy! Learn More.