Barbara Walters Recovering From Heart Valve Replacement Surgery (Updated)
By Adam Pick on May 10, 2010
In case you missed the Monday edition of "The View", it was announced that Barbara Walters will be having heart valve replacement surgery sometime this week.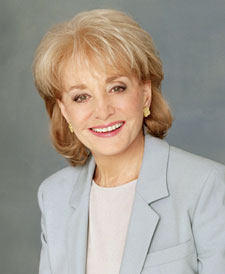 Although Walters knew of her upcoming heart valve surgery for sometime, her co-hosts on The View (Whoopi Goldberg, Elisabeth Hasselbeck, Joy Behar and Sherri Shephard) received the news Monday morning — shortly before viewers did.
Barbara Walters, who is in amazing shape for being 80 years old, stated, "I thought it best not to talk about it [heart surgery] too far in advance."
Whoopi Goldberg asked Walters one of the most common questions of heart valve surgery patients, "You scared?"
In response, Walters said "Oh, only you would ask that question… It's not elective, it's not like… having your face lifted."
Then, reflecting upon her upcoming heart surgery, Barbara Walters stated, "I don't think I'm really scared. I'm glad it's going to be over with. It's going to be taken care of."
Funny… I personally remember having that same feeling prior to my aortic and pulmonary valve replacement surgery. Furthermore, as you understand the statistics and risks of heart valve surgery, the fear of cardiac surgery can be dispelled / rationalized to some degree.
As this story broke only a few hours ago, I will surely update this blog about Barbara Walters upcoming heart valve surgery. I'm curious to know all the common, patient questions specific to Barbara's valve disorder (e.g. mitral regurgitation, aortic stenosis), surgical procedure (e.g. sternotomy, minimally invasive) and valve replacement selection.
Tuesday Update: Earlier today, I learned that Barbara Walters is suffering from aortic valve stenosis. As you may know, aortic stenosis is a narrowing of the heart valve which impacts the flow of blood through the body. If not treated, severe aortic stenosis can lead to a damaged heart muscle and heart failure. Below is a picture of a stenotic aortic valve.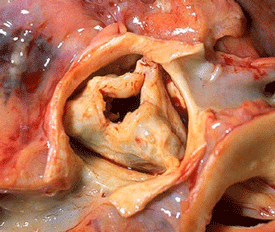 I still do not know what type of procedure Barbara's surgeon will use nor do I know what type of aortic valve replacement device she has selected.
Friday Update: According to her spokesperson, Barbara Walters' aortic valve replacement surgery went well and she is recovering as expected. Still, I have yet to learn who Barbara Walters' surgeon was or what type of device replaced her stenotic aortic valve — although I assume it was most likely a pig or cow valve.
Keep on tickin' Barbara!
Adam

Pat Cook says

on May 10th, 2010 at 2:09 pm
Hi Adam,
I saw The View today too and wondered if Ms. Walters was having the Aortic or Mitral Valve replacement. None of the newspapers had any more information either. Barbara could sure use a copy of your book right now! We. the people with valve replacements do wish her well don't we?
Best regards, Pat Cook


Maria Williams says

on May 10th, 2010 at 4:48 pm
Pat Cook is absolutely right. Ms. Walters needs a copy of your book. I am curious about the type of surgery she is going to have.
Sincerely, Maria Williams


Megan says

on May 10th, 2010 at 5:11 pm
Do we know where the surgery will be?


Ricky P.Laufer says

on May 10th, 2010 at 5:16 pm
Boy,our ,"ZIPPER club" is getting lager by the minute…. My prayers go to Barbara and everyone having surgery in the near future.


Grace Jacobs says

on May 11th, 2010 at 7:00 am
Barbara Walters surgery covers her aortic stenosis. I wish her a fine recovery.
My question is, will she get a mechanical valve or one from an animal and who decides this.


Tim Purnell says

on May 13th, 2010 at 1:28 pm
Aoritc for Barbara Walters-same as Mr. Baseball Bob Uker two weeks ago.


Dr. Ciuffo says

on May 15th, 2010 at 12:56 pm
Everybody is entitled to their privacy on their health conditions but I am glad that Ms. Walters has decided to go public about her Aortic Valve Stenosis. Her decision will help countless senior citizens and their families become acutely aware of this condition and its life saving surgical treatment. That's what is known as the "celebrity effect". Aortic stenosis is a very common and deadly disease (if left untreated) among our elderly population and surgery is often denied to otherwise functional and sharp minded patients solely because of their advanced age. Ms. Walters is 80 years old and I am sure we all agree on her choice to have her aortic valve replaced before it is too late. My best wishes to her for a prompt recovery and a quick return to her life style and good health
Giovanni B. Ciuffo, MD
http://www.bigappleheartsurgery.com


Gloria says

on May 16th, 2010 at 8:24 pm
Our Heartfelt Wishes for a Speedy Recovery To You!
My Boyfriend had Arotic Valve Repalced due to a Heart Attack.
He recovered and was back to work in three months.
The worst for him is the blood thinner Coumindin. His Valve is Titianum.
He told that the wires they use to hold the chest together may brother You.
Filling with fuild was also a problem. You should have no problem.
Our Prayers for a Speedy recovery to You.
Gloria Preston and Glen Woolsey


susan beck says

on May 18th, 2010 at 10:38 pm
i am writing for my father who just had aortic valve replacement (cow valve) and triple bypass surgery. he waited until he was up against the wall. it is a miracle he survived the surgery, recovered so quickly, had a few complications but left the hospital 7 days after and is now one week into rehab and they hope to have him leaving next monday. he got your book one day before the appointment to discuss the procedure with the surgeon and read it within the hour.(thank goodness, since he was admitted to the hospital after the appt.) i do believe this gave him the confidence to go thru with everything !! He is 81 years old with CLL and kidney disease. My father worked out at Bally's every day of the week until a few months before the surgery. he was in ICU for only 28 hours after surgery. it is amazing how well he is doing considering he was in heart failure days before the surgery. his surgeon was Dr Peter Horneffer in Towson, MD and my father loved him. Your book was very helpful !!


Paul Smith says

on May 24th, 2010 at 8:18 pm
I am a 61 yo male who just had aortic valve, root and ascending aorta replacement May 11th. I am now 2 weeks post-op. I am active outdoors, so after reviewing the information on this web site, participating in the chat room with Mark Gillinov at the Cleveland CLinic, and of course consulting with my surgeon, Dr. Prem Shekar at Brigham and Women's in Boston, I had a Carpentier-Edwards Magna bovine valve installed. I didn't want to deal with Coumadin on a long-term basis. Because I went into aortic fibrillation a couple days post-op (when the wires were removed), I need to take Coumadin for a few weeks until I am past the risk of a re-occurance of the a-fib. The a-fib was resovled by cardioversion (defibrillator – not awake) as it would not resolve with 24 hours on IV meds. I was hospitalized a total of 7 days. I am now walking a mile at a time at my home on a fair grade in one direction.
I had an allergic reaction to Amiodarone (rash, visual halos, nausea) so it was discontinued upon return home by my primary care provider in consultation with Dr Shekar. This med is to help prevent a re-occurance of the a-fib.
Having worked in healthcare for over 40 years, several of those as a nurse/EMT and surgical technologist (yes, I scrubbed on some open-heart cases during my training in the 70's), I can confidently state that the work and care that I received by Dr. Prem Shekar and the staff of Brigham and Women's hospital in Boston was SUPER.
My incision was closed with a running subcuticular suture (not staples), so it is neat and healing well.
Incidentally, my 85 yo mother-in-law had a percutaneous arotic valve replacement a month ago and is doing well (also at Brigham and Women's in Boston).
I am having those "sternal clicks" occasionally, but they are not painful. They are just a reminder to not do 200 lb bench presses for a while :-).
I am a runner, paddler, cyclist, rock/ice climber, hiker so I am looking forward to getting back into the shape that was in a few years ago. I used to do triathlons, but this past year I had all I could do to run a mile. Dr Shekar says my aortic valve, on a scale of 1 to 10, 1 being perfect, was about an 8.
Many thanks to Adam and his book and web site. The information that I gleaned from these sources was invaluable in helping me to make the best decision for my surgery and have a good perspective on what my expectations for recovery should be.


Pauline Souilliere says

on May 28th, 2010 at 9:35 am
Barbara, you have a lot of fans in Canada, we wish you well. I had a mitral valve replacement (mechanical valve) 4 years ago, it has given me a new lease on life. It's amazing the new technology they have now to preserve our hearts. Wishing you well from Canada, and remember "it will get better".
Sincerely,
Pauline Souilliere


Jim says

on May 29th, 2010 at 9:45 am
Thanks to all of you, and to Adam, for this invaluable website. I am a 67 year old male with aortic stenosis and long-term atrial fibrillation. I am facing aortic valve replacement in the near future. I am asympotmatic but my valve is at .8 centimeters (severe). I am hoping to get a tissue valve and have minimally invasive surgery. I have been told that the minimally invasive option is not advised when you also have long-term atrial fibrillation. Has anyone had any experience with this.
Thanks very much.
Jim

Adam's Newest Blogs
Adam's Newest Posts