New HeartValveSurgeon.com Website Now Live!
By Adam Pick on December 17, 2009
I'm very, very, very excited to announce that the new Heart Valve Surgeon Database (Version 2.0) is going public today. You will quickly note there are several advanced features of the database including:
A completely revised look (shown below). I found a web design team that made the database incredibly easy for patients and caregivers to use.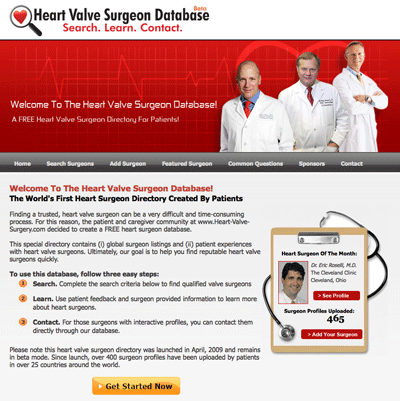 Over 470 surgeon profiles!!! Thanks to your contributions, the database now has surgeon reviews from patients in 25+ countries around the world.
New surgical procedure descriptions. On the "Search Surgeons" page, we created pop-up windows which describe the different types of heart valve surgery.
A new, easy-to-remember domain name. You can now access the database directly at www.HeartValveSurgeons.com. And, if you look above, you will notice a permanent link to "Heart Valve Surgeon Database" is at the top of every page in this blog.
Special Featured Surgeon page. Each month, we are going to feature one surgeon that you nominate.
Interactive Listings for heart valve surgeons. Now, sponsor surgeons have interactive buttons which read "Learn More" and "Contact Surgeon". The Learn More buttons hyperlink to dedicated, surgeon profile pages which provide patients with biographical information, educational videos and more. Also, patients and caregivers can now contact surgeons directly through special Contact Surgeon buttons.

Thanks again to all the former patients that contributed your surgeon profiles to the database! And, a special thanks to all the heart valve surgeons (Dr. Gillinov, Dr. Starnes, Dr. Paul Stelzer, Dr. Gaudiani, Dr. Chitwood, Dr. Stewart, Dr. Massimiano, Dr. Khan, Dr. Adams, etc.) for your ideas and support of this project!
Because of our combined efforts, I believe the Heart Valve Surgeon Database will continue to grow and help patients all over the world.
Keep on tickin!
Adam

Robert says

on December 17th, 2009 at 1:49 pm
Adam,
I can not tell you how helpful the new database is…
I was recently told my regurg is now severe due to mitral valve prolapse. I've been researching surgeons like crazy. Several of the surgeons in your database were on my short-list. It was great to see what other patients had to say about their experiences.
Thank you. Thank you. Thank you for taking the time to organize and develop this tool.
Best regards,
Robert


Ashish says

on December 17th, 2009 at 3:00 pm
Hi Robert
I have also been diagnosed with the same and looking for a surgeon. Can you please contact me on ashishyadukaATgmail.com? Thanks.
Ashish


Ted Shearer says

on December 17th, 2009 at 3:13 pm
Adam,
Do you have a fan page for Face Book? This would be a great way to have my friends and many others to be aware about their heart needs and a source for their questions to be answered.
Have a Great Christmas with your family.
Ted Shearer


Adam Pick says

on December 17th, 2009 at 3:32 pm
Ted,
You raise a great point. That said, please stay tuned…
In a few days, I'll be making an announcement that relates to your question. 🙂
Keep on tickin!
Adam


Simone B. says

on December 17th, 2009 at 10:01 pm
Adam,
Great job! Thanks for all you do!
Simone


Joan Parkinson says

on December 18th, 2009 at 12:33 pm
Hi Adam
I just want to wish you a Merry Christmas and thank you for all the information I have gleaned from you in the past year. I had my aortic valve replace Jan 27th, 2009. FYI, we are embarking on a seven week trip to Australia and New Zealand – we are taking a 14 day motorcycle trip there. Then a month in Florida and I am trying to unclutter my mailbox while I am away. I always enjoy reading the experience of others and providing comments to assist others through the process.
Thanks again,
Joan Parkinson


Samantha says

on December 18th, 2009 at 7:49 pm
Braaaaaaaaahhhhh-voh Adam!!!
The new database is a huge step up from the earlier version.
Many thanks!
Sam

Adam's Newest Blogs
Adam's Newest Posts