David Shifts From Edwards Lifesciences' Employee To Patient
By Adam Pick on December 3, 2009
Some may call David's story ironic. I call it fantastic. That said, I thought you might find this unique story of interest. Here is what David wrote to me:
Hi Adam,
I just had my calcified aortic bicuspid valve replaced with an Edwards Lifesciences pericardial (bovine) valve on October 28, 2009. I also had a single mammary bypass for a calcified lesion in my LAD coronary artery. I am 69 years old. I think I have a little different perspective on all this as I worked for and retired from Edwards Lifesciences, the world's largest heart valve replacement manufacturer, after 33 years employment.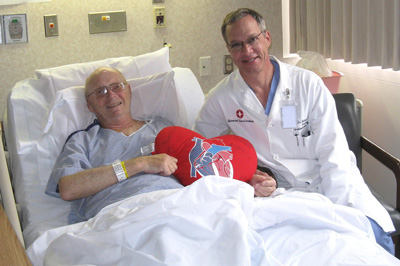 David Swendson With Dr. Bethencourt – Discharge Day!
I was a product development engineer starting work at Edwards in 1965 when it was a very small company. I worked on the earlier Starr-Edwards prosthetic heart valves and later, on all sorts of other heart related products.
I knew a lot about artificial heart valves, but did not know much about preparing for or what to expect following heart valve surgery. I discovered your blog site and got your heart valve book. It was a great help in preparing me for the surgery and afterward. I really thank you for that.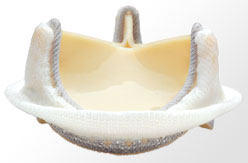 Edwards Lifesciences Bovine (Pericardial) Aortic Valve
I had my surgery done at Long Beach Memorial Hospital in California. My surgeon was Dr. Daniel Bethencourt, a very experienced heart surgeon and really nice person. He does quite a bit of minimally invasive heart surgery using the Da Vinci robotic system. Instead of using this approach for my valve, he did it the "old fashioned way," a median sternotomy so he could also do the bypass that I needed.

Dr. Daniel Bethencourt
My recovery has been going well. My only real problems are heart palpitations and A-fib, which is not that uncommon following this type of surgery. Medicine is controlling these for now, but if my heart doesn't revert on its own to normal sinus rhythm in the next couple of weeks, I will have to have an electrical cardioversion done on me.
Other than that, I really feel good and am walking 1-1½ miles a day.
Thanks for your heart valve surgery book and all that you do!
David Swendson
Garden Grove, CA
Adam's Newest Blogs
Adam's Newest Posts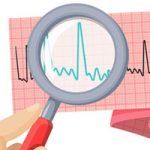 "How Do I Know When My AFib Is Gone After Heart Surgery?" asks Linda Learn More.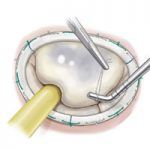 New Findings: Mitral Valve Repair Restores Normal Life Expectancy! Learn More.